One of the most complex pass routes to complete is the Fade Route, especially when used in the Red Zone, and even more so inside the five-yard line. Oregon has had difficulty completing this pass in recent years (fourth down against Stanford, anyone?), and a couple of us have been pondering if the unique touch of Vernon Adams throwing to freakishly athletic Kirk Merritt won't solve that issue.
Note: I do not have the endorsement of any coach for this analysis. This is my own contemplation of "what if?" scenarios.
All the videos below are set to start right at the spot so you will see the one play, and in this first case — a classic fade route.
As you see above, the idea with the fade route is that the receiver runs straight ahead while "fading" slightly to the sidelines, then going up and high-pointing the ball on the catch. Oregon runs this route with both wide receivers and tight ends when the appropriate matchup presents itself.
The quarterback's job on this play is simple, but not easy: for a successful completion, the ball needs to be thrown to the outside shoulder of the wide-out, while putting enough air under the ball to allow the receiver to high-point the ball. Throwing too far to the outside (i.e., out of bounds) is preferable to under throwing the ball, which often results in an interception.

The video above shows the same call, but on a different play. Note how the receiver "leans" inside on the defender with his hips and shoulder to free up space to the outside before catching the ball. Mike Leach made this inside hip/leaning technique famous with his "Air Raid" passing offense while at Texas Tech, and now implements this concept at Washington State.
Above, Vernon does a great job executing a three-step drop from behind center (a one-step drop from the shotgun) and throwing to a spot 15-20 yards downfield and a few yards from the sideline.
I cannot decide what is most insane about the GIF above; is it Vernon throwing that route on fourth down (Forget Big-Balls Chip … we have a new gunslinger!)? Is it the incredible throw, or the even more amazing catch? I'm thinking of athletes Oregon has at wideout and wondering if they would not give Adams that much more confidence throwing the fade.
When the corner is in press coverage, the key component to getting open is making the corner move his feet one direction or another to allow the receiver to run up the field and get separation. Head fakes inside, simulating an inside-breaking route, can help move the corner's feet and gain the separation needed.
As you can see above, Vernon also likes to throw a longer fade from the 20-yard line area and has far more touchdowns with this variation of the fade than the classic version inside the five-yard line. The play starts at 3:01 if you want to watch it a second time.
This play (above) is more typical of how Eastern Washington utilized their superior quarterback and receivers. Adams throws a dime while the wideout runs a sweet double move to get past the corner and open for the touchdown! Now that we have seen Vernon's skills in throwing the fade route, who will emerge as the go-to fade route runner for the Ducks?
Every July the best high school athletes are invited to The Opening football camp in Beaverton, Oregon, to show their skills and compete in the SPARQ National Championship that highlights the best overall athlete in the nation. Louisiana superstar Kirk Merritt won the event prior to coming to Oregon with an incredible 43-inch vertical jump (36 inches is considered elite status).
However his best jump was not at the The Opening, but in a private session you can see in the video below.
Are you kidding me? Merritt (above) jumped fifty-two inches off the ground? Are you thinking what I'm thinking about the fade route now? These two new Ducks could make the fade almost routine for the Ducks. I would like to think that such athletic feats would inspire competition among this most elite group of Oregon receivers, and that this atmosphere could produce the best season ever of jaw-dropping plays for the heroes in green (and that, my friends, is a very high bar).
Yes, I believe that between the accuracy of Adams and the skills of the greatest receiving corps in Oregon history, athletic plays like the one above could be routine in the 2015 season.
"Oh how we love to learn about our new Beloved Ducks!"
Charles Fischer  (FishDuck)
Oregon Football Analyst for CFF Network/FishDuck.com
Eugene, Oregon
Top Photo from Video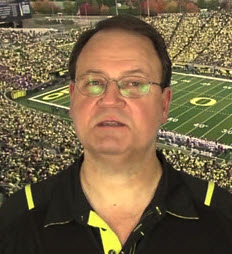 Charles Fischer has been an intense fan of the Ducks, a season ticket holder at Autzen Stadium for 34 years and has written reports on football boards for over 23 years. Known as "FishDuck" on those boards, he is acknowledged for providing intense detail in his scrimmage reports and in his Xs and Os play analyses. He and his wife Lois, have a daughter Christine, reside in Eugene Oregon, where he was a Financial Advisor for 36 years and now focuses full-time on Charitable Planned Giving Workshops for churches and non-profit organizations.
He does not profess to be a coach or analyst, but simply a "hack" that enjoys sharing what he has learned and invites others to correct or add to this body of Oregon Football! See More…
Articles EVERY DAY Again on FishDuck!
Our focus is now on this wonderful Oregon Sports Community, and we will have at least a short article every day to begin the Duck Discussion.
You are also welcome to post other current events or items about Our Beloved Ducks in the comments as well.
Our 32 rules can be summarized to this: 1) be polite and respectful, 2) keep it clean, and 3) no reference of any kind to politics. Easy-peasy!
Take note though, there are NO STRIKES, NO WARNINGS, and NO SLACK given. Violate the rules and you are gone, as this is what the 99% who post superb comments want. (The Ban could be for weeks, months or permanent)
For the 1% out there who do not have impulse-control … as you write your comment that violates our rules, ask yourself, "is this worth getting banned over?"
FishDuck members….we got your back.  No Trolls Allowed!