Philadelphia Eagles fans have two main emotions. The most common one is irascible doom-mongering. "The team sucks"; "I loved the guy they got rid of"; "that was the stupidest decision ever." As Brandon Lee Gowton of Bleeding Green Nation puts it:
Some people are not happy unless they're not happy. #makesuthink

— Brandon Lee Gowton (@BrandonGowton) August 8, 2014
Chip Kelly has been a great target for these fans, who can be found still sputtering about how stupid the DeSean Jackson trade was, not to mention the Sam Bradford trade or the LeSean McCoy trade.
Never mind that Jackson's production dropped almost as much as his paycheck on the open market (30-40%) after he was released, or that LeSean McCoy (now in Buffalo) will probably start the season injured and inactive, or that Sam Bradford was 10 for 10 with three touchdowns and no interceptions against the Green Bay Packers last Saturday. (His quarterback rating was 156.7, just short of the perfect 158.3 that slightly longer passes would have earned.)
Never mind that Nick Foles has been erratic at best in St. Louis. Check out how desperately the Rams' SB Nation blog is rationalizing Foles' lack of accuracy:
Foles throws passes with more faith; to receivers he believes in. … Bradford relied on pin-point, "you-better-be-there", passes. Small catch windows in tight coverage were the norm. If a pass was completed, everyone hailed Bradford's accuracy. But life isn't accurate at all, and relying on it is a fool's errand at best. Foles reads coverage, then throws to an option-filled zone for his receivers.
Right, you wouldn't want that pin-point accuracy on your team when you can have a QB who throws in their general vicinity and trusts his receivers to go find the ball!
This isn't about rational analysis or even pessimism. It's a question of faith — or anti-faith, whatever you call the evil twin brother of faith. It's what earned Benjamin Franklin's home town the nickname "Negadelphia."
The rest of the football world is taking notice, however, that this Chip Kelly guy might actually know what he's doing. Cris Collinsworth (of NBC and the NFL Network) told Zach Berman of the Philadelphia Inquirer that
"I'm kind of blown away by the guts of the guy….So far he's proven to be smarter than everyone put together."
Robert Mays at Grantland wrote that if Bradford stays healthy, Kelly's shrewd move will not only help his team but
"there's also a chance Bradford becomes a new benchmark in quarterback acquisition and evaluation."
College football analyst Steve Beuerlein predicted Bradford would win Comeback Player of the Year.
And it's not just bloviating journalists — Las Vegas is putting its money behind the Eagles' chances. VegasInsider has doubled the Eagles odds of winning the Super Bowl since the preseason began; at 10 to 1 they're now nearly twice as favored as Dallas (17 to 1).
All of this excitement has led to the other typical (if more rare) Philadelphia emotion: wild, manic optimism. Fans are hyped, pumped, and barely able to contain themselves.
The Eagles have been very successful over the past 15 years. In the past, though, this type of mania has always led to tragedy. The team collapses just short of a Super Bowl, causing the emotional supernova to collapse into a black hole of despair, and the entire cycle starts over again.
There are solid reasons to think Chip Kelly will eventually break this cycle, though maybe not this year. If nothing else, all of the rapid turnover will require some time for the team to re-establish its chemistry.
Furthermore, there is no clear winner at nickel corner back or backup safety, and no real depth on the offensive line, though the two replacement starting guards — Allen Barbre and Andrew Gardner — have looked fine so far.
There are minor injury concerns with Kiko Alonso, who reported tendinitis in his surgically-repaired knee, and kicker Cody Parkey, who sat out with the same groin injury he had at the end of last season, nine months ago.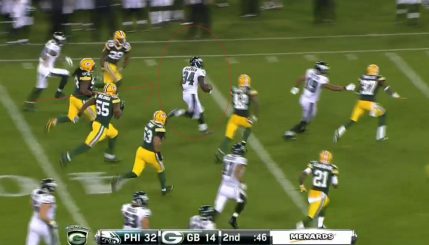 But otherwise, this team is deep, talented and a great fit for Chip Kelly's scheme. Not only on offense, either — the team that was 31st and 32nd in pass coverage the last two years has two interceptions in each game so far, including Walter Thurmond's pick-six against Green Bay. The front 7 is one of the best in the NFL, dominating against Green Bay's two best running backs (Eddie Lacey and John Starks).
The third preseason game is typically the most similar to a real game, though the Packers sat Aaron Rogers (since three of the starting offensive linemen were out injured). You can read my instant analysis and post-game takeaways for more detail.
By the way, Kenjon Barner had a beautiful 50-yard screen marked by tremendous field vision and timing — had he run faster, he would have been tackled a lot sooner.
Tonight's preseason game against the Jets will not be that interesting, unless you're curious about the roster battles between Matt Barkley and Tim Tebow at QB3 — I would cut both, honestly — and between Jerome Couplin, Chris Prosinski and Ed Reynolds for the third safety spot. The game should feature the first extensive action for either Kiko Alonso or Josh Huff, however, so that alone will be worth watching the first half anyway.
After that, it's time for final roster cuts and the actual season. On September 14, the Eagles launch the real deal on the road against the Atlanta Falcons. Atlanta is unlikely to slow down the Eagles' offense much. If the revamped secondary shows up against a stiff passing attack (Matt Ryan to Julio Jones), it might be time for every one to start getting excited.
Featured photo from video, courtesy of PhiladelphiaEagles.com.
Mark Saltveit's newest book is "Controlled Chaos: Chip Kelly's Football Revolution" (Diversion Books, NY) has been recently released. He is the author of "The Tao of Chip Kelly" (2013) and writes on science, religion, wordplay and political scandals. He is also a standup comedian and the world palindrome champion.
Daily Articles NO MORE on FishDuck
Please see this explanation right here… and to learn about the impact of FishDuck on so many–check the summary right here.  I will be writing intermittently on FishDuck (as the mood strikes) this summer, and a couple of times a week during the football season, and those articles and analyses will be posted here on FishDuck, and the links to my articles will also be available on the new site PuddleHuddle, when it is up soon.
New at FishDuck? Learn about the site right here!
Our 32 rules can be summarized to this: 1) be polite and respectful, 2) keep it clean, and 3) no reference of any kind to politics. Easy-peasy!
Take note though, there are NO STRIKES, NO WARNINGS, and NO SLACK given. Violate the rules and you are gone, as this is what the 99% who post superb comments want. (The Ban could be for weeks, months or permanent) For the less than 1% out there who do not have impulse-control … as you write your comment that violates our rules, ask yourself, "is this worth getting banned over?"
FishDuck members….we got your back.  No Trolls Allowed!