I liked seeing Eastern Washington on the schedule at first, because my study of the Eagles (for Vernon Adams articles) revealed a sophisticated passing offense. Their strength matched up against our weakness? I love it.
I wanted our young turks to get schooled and learn a ton before the games that count (beginning in late October) are upon us. I thought there was a ton of talent in our underclassmen DBs, but the only way to get them serious about absorbing it all was to be toasted early and often during the games of September.
I personally predicted a 55-34 Oregon win because I believed in the expertise at EWU and the scoring potential of the Oregon offense with Vernon Adams. Like you, I did not like getting 42 points hung on the Ducks, but what can we expect?
Just as I told you in July that Adams was going to be special for us, I believe on the defensive side of the ball that the Ducks will be just fine, and will materialize into a formidable force by the time they play Arizona State.
"All the mistakes are coachable." — Ryan Mitchell   
I decided to contact former Oregon Safety Ryan Mitchell and a few coaches that consult with us at FishDuck.com, who offered some interesting comments about the defensive backs and this defense.
These defensive backs are young and very athletic, and fortunately young defensive backs make the kind of mistakes that can be fixed.  
Ryan explained that these rookies made many rudimentary mistakes that veterans don't, such as looking into the backfield and losing the receiver downfield, or not placing a hand on the receiver and giving up the slant route.
He noted that if the hand is up higher, you are going to get the pass interference call against you as a corner. "Place your hand on the hip and the refs don't see it, but you influence where the wide-out can run."  
Wow. We are going to learn a lot about secondary strategies and techniques with Ryan around!
He went on to explain how so many little things change a play and turn a game — and by November, "we will have a pretty good defensive backfield."
What about this game against Michigan State, Ryan?
"Oregon always bounces back well if they felt disappointed in a game such as EWU. If the rookie defensive backs tackle better and take care many of the little things, it could allow the Ducks to load the box and slow down the Spartan run-game. Look for a 17-point win as the Ducks will figure out a way." 
"John Neal was right." (A coach in the FishDuck.com network)
This other coach thought defensive back coach John Neal's recent comments echoed his sentiments.
"You can't stop a well-run spread offense unless you have a talent advantage on defense." Since that does not happen when you play the better teams, other factors have to enter into it.
"Every time the Eagles blitzed, Adams hit the wide-open hot receiver quickly, just as Eastern Washington did to Oregon. When EWU throws the ball that rapidly, and has that much expertise on the Eagle sideline from the coaching staff, it is going to be a rough day for young defensive backs."
The coach thought that even in retirement … he could stop an NFL offense or traditional offense played in college; but when facing a spread offense, a defensive coordinator can only hope to slow them down.
"Oregon has stopped a bunch of traditional offenses, such as Florida State."
What about this Saturday against the Spartans, Coach?
He answered, "It takes three games to learn how to tackle again, and nobody knows what they're doing the first game." I asked whether the DBs can improve much in one week, and he answered, "The knowledge gained from Game 1 to Game 2 is the biggest improvement all season. They'll be better!"
"They'll be good this weekend! It's a traditional offense … "
My friends, this is why I spend a ton of time talking to coaches — because they know so much more than us fans, and because it is great fun to learn more about the sport our beloved Ducks have become so good at.
My prediction? Look for a 45-27 Oregon win that is much closer than the final score appears.
Things will be neck-and-neck until Vernon Adams makes some kind of "Big-Play" that turns the game, just as the pitch-out from Marcus Mariota to Royce Freeman did last year.
We love our Ducks!
Charles Fischer (FishDuck)
Top Photo by John Sperry
Want to hear what Sports Illustrated predicts?  (Short Video below from them)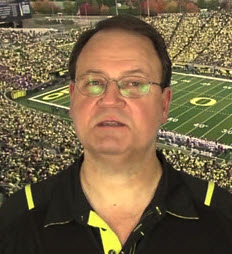 Charles Fischer has been an intense fan of the Ducks, a season ticket holder at Autzen Stadium for 35 years and has written reports on football boards for over 23 years. Known as "FishDuck" on those boards, he is acknowledged for providing intense detail in his scrimmage reports and in his Xs and Os play analyses. He and his wife Lois, have a daughter Christine, reside in Eugene Oregon, where he was a Financial Advisor for 36 years and now focuses full-time on Charitable Planned Giving Workshops for churches and non-profit organizations.
He does not profess to be a coach or analyst, but simply a "hack" that enjoys sharing what he has learned and invites others to correct or add to this body of Oregon Football! See More…
The Comments Below are CLOSED, as we are moving to the OUR BELOVED DUCKS Forum!
Comments below articles are now closed as we have moved all conversation over to the free Our Beloved Ducks Forum. It has been a big success already with many more posts than what we could fit into the comments below articles.
The Our Beloved Ducks Forum is where we we discuss the article above and many more topics, as it is so much easier in a message board format over there.  At the free OBD forum we will be posting Oregon Sports article links, the daily Press Releases from the Athletic Department and the news coming out every day.
Be a part of the forum and stay caught up!  When you wish to post there, do know that you are protected just as you were on FishDuck. Join us on the free forum right here!
Our 33 rules at the free OBD Forum can be summarized to this: 1) be polite and respectful, 2) keep it clean, and 3) no reference of any kind to politics. Easy-peasy!
OBD Forum members….we got your back.  No Trolls Allowed!