In a previous analysis I discussed Oregon's Run-Pass Combo. In this follow-up analysis, I will look at how the Ducks use the same strategy to attack defenses by focusing on a single player.
With the Duck offense, any defender can be the focus of an offensive play. Tendencies, leverage and spacing are all key points that coaches ponder when calling a specific play.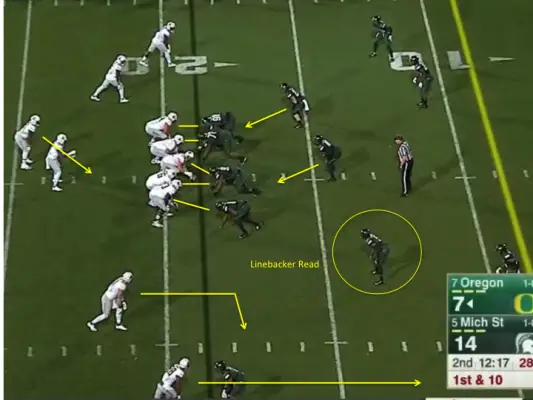 In the play above; notice how the Michigan State defense is aligned in the basic 4-3 set. At this point in the second quarter, the Ducks have run the zone play successfully several times.
This formation clearly sets up for another Inside or Outside Zone Read running play. You can see how both Spartan inside linebackers are focused on stopping the run, as the outside linebacker (yellow circle) over No. 81 Evan Baylis, is slightly wider, creating more space.
The Michigan State cornerback at the bottom of screen is in tight coverage, likely man-to-man given MSU's overall defensive scheme. No. 88 Dwayne Stanford (bottom of screen above) will run a vertical route forcing the corner and safety to go with him. This isolates Baylis and the outside linebacker in space. The linebacker must choose to either be a run stopper or cover the pass.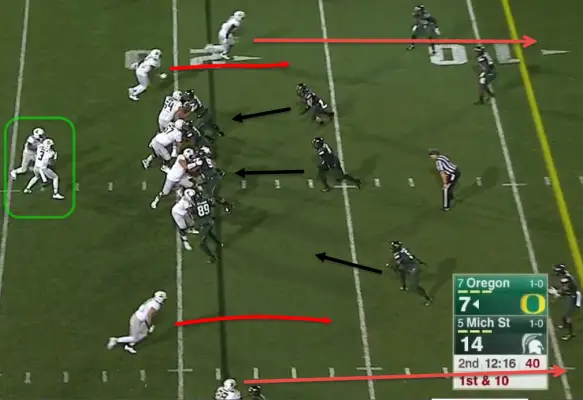 In this case (above) the Ducks change up their run action, reading the outside linebacker on the play side instead of a linebacker or down lineman on the back side. Here the OLB (lowest black line/arrow) takes two steps forward upon reading the run, creating a good separation for Baylis to make a 15-yard gain.
In the above image, quarterback Vernon Adams is clearly reading the OLB aligned over Baylis. This places the OLB in a bind as to how he should be react. They say football is a game of inches, and this image perfectly illustrates that statement. It only takes a couple of false steps by the OLB for this play to be successful.
As mentioned above, this is not the typical way to read the zone play, which is exactly why the Ducks did it. Being unpredictable stresses the defense by forcing it to react to a new situation on the fly, leading to a greater chance of a positive play for Oregon.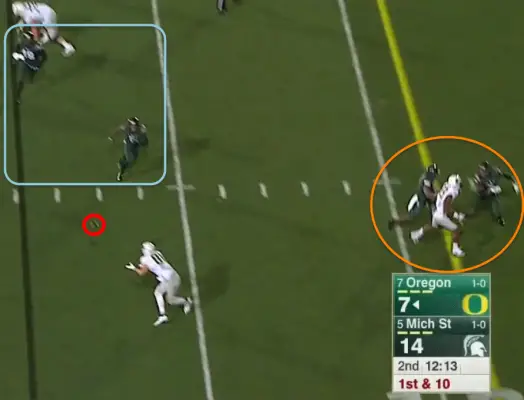 Above you can see the separation Baylis gets from the OLB, which was set up by the run action. Also, Stanford (orange circle above) does a great job forcing coverage from two Michigan State players, enabling more yards for Baylis after the catch.
Final Thoughts
Typically you will see Oregon QBs read the OLB to the back side of the run action (away from the ball fake). It is more difficult to read the OLB on the play side because the QB's back is turned that way, but as the above images demonstrate, it can be done effectively.
Combine an effective read with pinpoint accuracy from Adams, great route running by Baylis, a route from Stanford that absorbed multiple MSU defenders, and big yardage gains are the result.
Last, let's not forget why this play is possible: the offensive linemen, as their work in the trenches is what allows everything to unfold on the outside. Watch the play in real time below to get the full effect of the concepts described above.
We are witnessing the evolution of the Duck spread offense under head coach Mark Helfrich.
Last week we learned about the new Quarterback Power play, and this week we saw a twist in the Zone Read.
Now instead of reading a back side defender to dictate where the ball will go in the running game, Oregon is reading the play side OLB to dictate a packaged run-pass option. Wow!
The Oregon coaching staff works hard to stay a step ahead of the defenses, and as they do — we at FishDuck.com will work hard to learn about it and share it with you!
I may be in Kentucky, but "oh how I love to learn about your beloved Ducks!"
Jeremy McGuire
Oregon Football Analyst for CFF Network/FishDuck.com
Lebanon, Kentucky
Top Photo by Tom Corno
In his tenure as football coach he has had the opportunity to coach in 5 State Championships, winning 3. As the high school game continued to change, Jeremy began to study the Ducks style of play beginning in 2007. Jeremy took some time away from High School football to begin a career in School Administration. Football was never far from his thought as he continued to help local High School Coaches with game planning. After spending 5 years in School Administration Jeremy had the opportunity to start a Graphic Design program and get back into High School full time. Relocating to Lexington, Ky. Jeremy began coaching at Frederick Douglass High School. Jeremy was able to fulfill another goal by coaching his own son who is also a member of the Douglass Broncos. Over the past two years, this 6A powerhouse has a record of 20-4 winning back to back District Championships. His career has come full circle as he is now calling the defense for the Freshman team that is made up of over 30 players each of he 2 years he has coached. He also stays with his roots and works with skills players on offense for JV and Varsity. There are over 95 players on the Frederick Douglass team where Core values are at the center of their success.
As a former Campbellsville University quarterback, and over 20 years of coaching experience he is excited to provide football analysis with the FishDuck team.
Daily Articles NO MORE on FishDuck
Please see this explanation right here… and to learn about the impact of FishDuck on so many–check the summary right here.
Our 32 rules can be summarized to this: 1) be polite and respectful, 2) keep it clean, and 3) no reference of any kind to politics. Easy-peasy!
Take note though, there are NO STRIKES, NO WARNINGS, and NO SLACK given. Violate the rules and you are gone, as this is what the 99% who post superb comments want. (The Ban could be for weeks, months or permanent)
For the 1% out there who do not have impulse-control … as you write your comment that violates our rules, ask yourself, "is this worth getting banned over?"
FishDuck members….we got your back.  No Trolls Allowed!
New at FishDuck? Learn about the site right here!