Back before Marcus Mariota, Darron Thomas, and even before Dennis Dixon, Oregon had another famous quarterback or two. Of this lot, only Joey Harrington had Oregon's interest from birth.
Born to former Oregon quarterback John Harrington, Joey's potential was recognized immediately by his dad's old head coach Len Casanova. Casanova sent his congratulations to his former quarterback on becoming a father with a letter that was jokingly written as a letter expressing his interest in signing Joey – 18 years later, Joey accepted a similar offer from coach Mike Bellotti.
In his sophomore season Harrington got his shot to fight for the starting job, replacing Akili Smith who went into the NFL draft. His competition was junior quarterback AJ Feeley, a man who had much more raw arm talent than Harrington and similar accuracy. Despite a close race, Feeley wound up winning the job on the field in a strong performance against Michigan State.
Feeley kept the job through a few more games, blowing out cupcake opponents Texas-El Paso and Nevada and winning a triple overtime game against USC.
The following week Feeley injured his elbow in a loss to Washington. After another close loss to UCLA, in which his injury was likely to blame for an underthrown pass that could have won the game, he lost the starting job to Harrington.
After taking the job, Harrington led the Ducks to five straight wins to close out season, culminating in the team's first Sun Bowl appearance since 1963. In that game, Harrington ran for two TDs and threw for a third, in what would be the first of three straight bowl victories for Oregon and Harrington.
Oregon started Harrington's junior season with a win over outmatched Nevada before being brought back down to earth by Wisconsin in a 27-23 loss.
Harrington and the Ducks went on to win their next eight games, including a 56-55 marathon against Arizona State, a game where a few lucky bounces and Harrington's greatest Captain Comeback magic led them to a double-overtime victory.
Although the Ducks lost the following week to the Oregon State Beavers, in the only Civil War game to feature both teams ranked in the top 10, they still qualified for the Holiday Bowl where they faced the No. 12 ranked Texas Longhorns.
The Holiday Bowl was an unusual game that featured Harrington catching a touchdown on a trick play as well as Oregon deliberately giving the other team a safety to get better field position. Ultimately Oregon prevailed over the Longhorns in a 35-30 nail biter.
While Oregon had done well under Harrington through his sophomore and junior seasons, going into his senior year the expectations were sky high — the athletic department paid for a New York billboard declaring Harrington as "Joey Heisman."
Oregon began the season by winning 9 of their first 10 games, some in typical Captain Comeback fashion and some in blowouts against cupcake opponents.
Harrington and the Ducks went into the Civil War in the interesting position of being alive for the BCS National Championship game while the Beavers were coming in at 5-5 attempting to salvage a winning record and a bowl berth.
After a first half of trading field goals amid a winter deluge, junior Keenan Howry scored the game's first TD on a 70-yard punt return.
After trading a few scores, Harrington lost control of the ball on a quarterback keeper play and nearly gave the game to the Beavers. In the end, though, the Duck defense was able to make a play and hold on for the win, although the closeness of the game unfortunately kept Oregon out of the BCS championship game.
And while that game also cost Harrington his Heisman chances, he really doesn't seem to care, saying today, "The thing that made me the most upset was that stupid computer saying we didn't beat our in-state rival by enough in a monsoon in December, and because of that we don't get to go to the national championship game. That was ridiculous."
While Harrington was not Mariota or Norm Van Brocklin, he was still one of the most impressive quarterbacks in Oregon history. Always exciting to watch, Captain Comeback led Oregon to wins in many games that they really shouldn't have won.
The fact is, while he might not have been as flashy as other quarterbacks, Harrington elevated the level of play of everyone around him and made Oregon into a much better team than they would have been without him.
With a career record of 25-3 and only one loss in Autzen Stadium, Harrington was a winner, especially in the fourth quarter where he led Oregon back from behind on 10 different occasions.
Top photo by Kevin Cline
Article inspiration from Tales From The Oregon Ducks Sideline by Brian Libby.
It's the perfect gift for yourself or loved one, get your copy here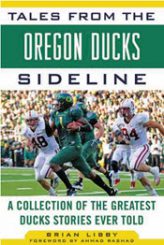 Noah is an undergraduate student from just outside of New Orleans, Louisiana. Noah is currently pursuing a communications degree with the goal of becoming a sports journalist. Noah is a die hard Duck fan, mainly because of his obsession with football's X's and O's. In his free time he enjoys watching both pro and college football games,playing and listening to music, and drawing up his own playbooks.
For Football Season: FishDuck Back to Seven Days a Week!
I had to shut down the daily articles on July 20th because I could no longer work the extra 3 to 12 hours per week of certain managerial/editorial duties. (beyond the usual ones with FishDuck)
I've had a blast writing without those duties, and now, due to a new agreement with the writers, I can announce that we will have articles seven days a week again. I wish to thank the writers publicly for their graciousness in coming to a solution, as now I still do not have do those extra duties with our agreement, and meanwhile the writers are back having fun creating articles as I am.
Everybody is happy! So below is the new schedule through football season:
Monday: Mr. FishDuck
Tuesday: Darren Perkins
Wednesday: Joshua Whitted & Mr. FishDuck
Thursday: Coach Eric Boles & Alex Heining
Friday: David Marsh
Saturday: Mr. FishDuck (GameDay Baby!)
Sunday: Jordan Ingram
A couple of writers could not join us as they have new projects in their lives, and cannot write for anyone at the moment–but perhaps we will see them back later.
Things rarely work out so well for all parties in agreements, but this time it has and truly….everyone wins!
Our 33 rules at FishDuck can be summarized to this: 1) be polite and respectful, 2) keep it clean, and 3) no reference of any kind to politics. Easy-peasy!
FishDuck members….we got your back.  No Trolls Allowed!