I was very surprised, and pleased, by what I saw at Oregon's open practice on Monday, and my poor Duck-buddy, Gageac (as he is known on the message boards), had to listen to me drone on about it. I wasn't planning to write about my impressions, as I assumed that other media and message board gurus would be all over what left me so stunned at the end of the day.
But nobody did … so I will share with you what I found exciting about the new-look Ducks.
It feels like the old days – going to a scrimmage/practice and then coming back and sharing with fellow Oregon enthusiasts online. Back then I knew nobody was going to write what I wrote because they did not have the passionate Duck memory capacity to remember as much as I attempt to. Either that, or I could count on the traditional media to not engage in the gossip I am wont to share. Funny how they share it now …
BIG DEFENSIVE DEVELOPMENTS
From where I was sitting, the defensive front seven was practicing on the end of the second practice field away from me. But I honed in and could see Brady Hoke running a drill that caught my interest. When he blew his whistle the current group of seven on the field sprinted off and a new group sprinted onto the field and to the cones he had set up. I soon realized they were practicing their Zone Blitzes!
Often Hoke had all seven defenders lined up right on the line of scrimmage; he would then bark out the defensive call and snap the ball. The defenders had clearly practiced the calls enough to know their assignment and carry it out. Then the group would line up again very quickly, Hoke would yell out another call and snap the only two seconds later – and again we saw them rush five, and drop back two.
Yet the next play it was a different five rushing and a different two dropping back into coverage; on another play the defense morphed into a four-man rush, but you would not know who was blitzing. This makes the comments from the offense after the first scrimmage or two – comments such as "not knowing where the defense is coming from" – suddenly make a lot more sense.
It was cool to see the defense practicing rushing four from one side of the ball, and I was thrilled to watch them practice the Fire Zone Blitz (for those freaking out - I am not giving secrets away; every team has a Fire Zone Blitz just as they have an Inside Zone on offense)!
There was even a play where the whole front seven blitzed! I remember Nick Aliotti doing that on occasion, and I can't help but wonder if this is not an effective run-blitz strategy, as all seven gaps are being attacked by either a defensive lineman or linebacker at the snap.
But what was truly exciting was the variety of looks Hoke employed. He would rush five, then six, then a base defense, then Fire Zone, then seven, then base, etc. The thing that impressed me most is how fast they were doing this; Hoke would shout the defense and then snap the ball and either the defenders knew their stuff, or they didn't – but I did not see anyone mess up an assignment during the drill.
Putting them into action …
After the drill, it was time to play against the offense and see whether the new attacking defense could pull it off in live action. Mind you, these sessions were not like scrimmages; they went full speed until a tackle was about to be made, and then the defense would hold up. The bottom line: Hoke's defense was messing up the offense by mixing up its alignments and disguising the blitz (or lack thereof). In short: it was an attacking defense that was unpredictable…in Eugene!!
The offense truly did not know who was attacking from the defense, nor from where they were attacking. Once, the defense did decide to blitz all seven in live action, and they just swarmed and swallowed up the pocket. Prukop did not get sacked, but he had to throw the ball away in a flash to prevent it.
It was also so cool to see a safety up on the line of scrimmage and blitzing; Hoke's pressure schemes literally came from all directions and nearly all positions!
The result was an Oregon offense that was not smooth or methodical. The defense often dictated a dump off to a running back on a flare pattern simply as a result of immense pressure. The resulting short gain would not be enough to move the sticks on third down.
Thus, it was the defense that was often determining the fate of the drive through confusion and by forcing a quick decision from the quarterback. This is certainly a welcome change in philosophy from past defensive regimes.
Further, the defense carried out these blitzes and different looks fast, as the offense was running at a quite a pace. The defenders were getting the call and responding immediately before each play began. It was impressive!
I remember back before Chip Kelly closed practices, I attended a practice during fall camp on a hot summer day in August. Jerry Azzinaro (former defensive line coach under Kelly) was drilling the front seven on blitzes and defensive assignments, and he was not happy. Either they were not playing fast enough, or they were committing too many mistakes when they tried to go full speed. Coach Azz would stop and make a quick correction or admonishment and proceed, but it was evident things were not to his satisfaction.
You could see the steam building and building, until finally he just blew up cursing:
"Everybody wants to f**king blitz, and nobody wants to do the f**king work!"
I laughed pretty hard at that, wrote about it and have never forgotten the episode. But pondering the recent practice and thinking of Coach Azz blowing up that day years ago helped the real lesson hit home for me.
Azzinaro was not able to get the defenders to blitz and disguise the right way while still playing fast, but Brady Hoke is!
It was very exciting to see a defense emerging the way so many of us have hoped. Oregon is not doing anything new with blitzes such as the Inside Zone Blitz and other plays that all teams have. Nor is running a 4-3 Under and attacking in a one-gap format anything earth shattering. But doing it so rapidly and changing the defensive alignment so frequently add additional components that can create confusion, which leads to short drives and turnovers. I believe we will see both come fall.
Of course, it was not all perfect, as once in awhile the defense would get burned on the risk taken, but then the drive would bog down from there. Hoke is playing the percentages with what he is doing on defense, estimating that by playing aggressively, he will deliver the ball back to the offense more often. The staff has thought this through, and I will elaborate in a future article.
For Saturday's game, will the Ducks show what I saw? I doubt it. Perhaps parts of it, but I am skeptical this coaching staff will bear all in a televised Spring Game.
The only component of the defense I am not sold on is the safety spot – everywhere else has the talent to carry out what we lust for in a defense. But most important, I love the overall strategy and attacking philosophy that Brady Hoke is bringing to our new inspired defensive look.
"Oh how we love to learn about our beloved Ducks!"
Charles Fischer  (FishDuck)
Oregon Football Analyst for FishDuck.com/DayliO Networks
Eugene, Oregon
Top Photo by Gary Breedlove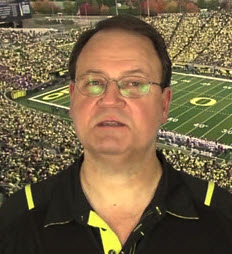 Charles Fischer has been an intense fan of the Ducks, a season ticket holder at Autzen Stadium for 35 years and has written reports on football boards for over 23 years. Known as "FishDuck" on those boards, he is acknowledged for providing intense detail in his scrimmage reports and in his Xs and Os play analyses. He and his wife Lois, have a daughter Christine, reside in Eugene Oregon, where he was a Financial Advisor for 36 years and now focuses full-time on Charitable Planned Giving Workshops for churches and non-profit organizations.
He does not profess to be a coach or analyst, but simply a "hack" that enjoys sharing what he has learned and invites others to correct or add to this body of Oregon Football! See More…
FishDuck Has New Off-Season Schedule and see the OUR BELOVED DUCKS Forum!
FishDuck articles will now be on Monday-Tuesday-Wednesday only during the off-season, and then we will go back to seven days a week during the football season beginning in August.
We will have some occasional guest articles later in the week, but the hottest Oregon football information will be posted in the OBD forum!
The Our Beloved Ducks Forum (OBD) is where we we discuss the article above and many more topics, as it is so much easier in a message board format over there.  At the free OBD forum we will be posting Oregon Sports article links, the daily Press Releases from the Athletic Department and the news coming out every day.
Be a part of the forum and stay caught up!  When you wish to post there, do know that you are protected just as you were on FishDuck. Join us on the free forum right here!
Our 33 rules at the free OBD Forum can be summarized to this: 1) be polite and respectful, 2) keep it clean, and 3) no reference of any kind to politics. Easy-peasy!
OBD Forum members….we got your back.  No Trolls Allowed!