After a tough loss we have to consider the prospect of learning more simply to enjoy the game of college football, but it is especially important when you lose a game. In my case, I wish to offer youth and high school football coaches around the nation a peek at Oregon's playbook, which is large, yet the Ducks do not use much of it in any one game. Oregon went years without running a Counter Play, and I could not understand why; it finally surfaced briefly in a game three years ago, and my analysis explained how it worked.
It was great to see the play again against Colorado, but it was the surprise element that really sprung the play – along with superb blocking, of course. In keeping with our new tradition at FishDuck.com, we will examine a second example of the play in which it did not go as well. I will offer my thoughts as to why, but I welcome the input from coaches among our readership, as well.
I apologize for the play recording (above) beginning long after the snap, but that is the incompetent Pac-12 Network video editors who are showing people on the sideline instead of the beginning of the play. I began it at the instant they began to show the play. They did have a good replay, so let's break that down instead.
At the beginning of the play (above), we see two running backs next to the quarterback. The Ducks often begin a Straddled Triple Option from this formation, which would have been my guess in advance. However, notice the wide splits between the offensive linemen for Oregon; this creates bigger gaps, hence larger holes for the running backs to run between the tackles.
We have a lot going on here as Tony Brooks-James, No. 20 (above), appears to be taking a hand off from Dakota Prukop (far right), for an Outside Zone Read going to their left. Meanwhile, we see Shane Lemieux, No. 68, pulling with Brady Aiello (lineman on the bottom) sealing the gap Shane vacated. We see Jake Hanson taking on the big Colorado nose tackle (No. 58) and getting an angle on him. Note how one of the running backs is headed to the side of the pulling guard; that RB is none other than tight end Evan Baylis, No. 81, who is operating as a lead blocker, or fullback, if you will.
Suddenly (above), we see Tony plant a foot and pivot back the other direction following his blockers. This action actually resembled a play I saw against UC-Davis that I had not recognized yet and could use some help doing so. That other play was a QB Power going right, and an Outside Zone Read play going left at the same time.
When the pulling is going to the same side as the Outside Zone Read … then it becomes the Inverted Veer I covered earlier, but that aforementioned unique combination is not something I've yet to identify (please email me at charles@fishduck.com or comment below if you know).
This Counter play (above) runs counter to that play, and messes up the defensive keys the 'Buffs must have set up in scouting the Ducks.
Calvin Throckmorton, No. 54 (above), does a superb job to open a huge hole that Brooks-James dashes through; those redshirt freshmen can really run-block well, which says a ton about coach Steve Greatwood, the National Offensive Line Coach of the Year in 2008.
That is a sweet looking play that was blocked just wonderfully (above).
The Counter Play (above) was run later and this time it was Duck OL Cam Hunt, No. 78, pulling who just did an incredible job. In fact, the play was busted were it not for his continued work in sustaining his block for a long time.
I am curious as to what the coaching community viewing this thinks of the play; why did it get so busted?
My theory is that I believe the running back needs to take another step or two in the direction of the Outside Zone Read Oregon is trying to imitate. I think he needs to sell it better going to the right before planting and going back left. Thoughts?
Our Oregon Playbook is growing, and when we introduce the entire directory of more than 240 analysis articles and videos, you will love learning from it as I have. This is a nice addition … the Oregon Counter Play!
"Oh how we love to learn about our beloved Ducks!"
Charles Fischer   (FishDuck)
College Football Analyst for FishDuck.com
Eugene, Oregon
Top Photo from Video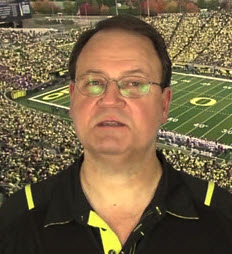 Charles Fischer has been an intense fan of the Ducks, a season ticket holder at Autzen Stadium for 35 years and has written reports on football boards for over 23 years. Known as "FishDuck" on those boards, he is acknowledged for providing intense detail in his scrimmage reports and in his Xs and Os play analyses. He and his wife Lois, have a daughter Christine, reside in Eugene Oregon, where he was a Financial Advisor for 36 years and now focuses full-time on Charitable Planned Giving Workshops for churches and non-profit organizations.
He does not profess to be a coach or analyst, but simply a "hack" that enjoys sharing what he has learned and invites others to correct or add to this body of Oregon Football! See More…
FishDuck Has New Off-Season Schedule and see the OUR BELOVED DUCKS Forum!
FishDuck articles will now be on Monday-Tuesday-Wednesday only during the off-season, and then we will go back to seven days a week during the football season beginning in August.
We will have some occasional guest articles later in the week, but the hottest Oregon football information will be posted in the OBD forum!
The Our Beloved Ducks Forum (OBD) is where we we discuss the article above and many more topics, as it is so much easier in a message board format over there.  At the free OBD forum we will be posting Oregon Sports article links, the daily Press Releases from the Athletic Department and the news coming out every day.
Be a part of the forum and stay caught up!  When you wish to post there, do know that you are protected just as you were on FishDuck. Join us on the free forum right here!
Our 33 rules at the free OBD Forum can be summarized to this: 1) be polite and respectful, 2) keep it clean, and 3) no reference of any kind to politics. Easy-peasy!
OBD Forum members….we got your back.  No Trolls Allowed!