The only things that marred the Ducks' decisive win over Portland State last Saturday were a blocked extra point, a roughing the kicker penalty, a face mask penalty, a roughing the passer penalty and for the second straight game, a substitution penalty which was blamed on the coaching staff.
Otherwise, it was a country whupping and the Vikings were never in the game as they chose to keep their No. 1 quarterback out, and predominantly ran the ball to take as much time off the play clock as they could before snapping the ball on offense. One couldn't blame them because this was not a fair fight. Portland State had a combination of 57 freshmen, redshirt freshmen and sophomores on their 93-man squad.
Except for penalties that could have been avoided, the Oregon offense started fast, scoring on five of six first-half drives. The defense held PSU in check, giving up three pass plays — two of which went for touchdowns. No one has run for a touchdown yet on the Duck defense.
Justin Herbert throws perfect pass slightly away from outside defender to hole between him and the inside defender. Dillon Mitchell (above) needs to turn slightly inside to catch the ball in the open window, has his hands on the ball and drops it. NFL scouts will give him a bad mark for that drop; he should have been able to show up in the open window and catch it with his fingertips.
Johnny Johnson III tries to cross hand catch a Herbert pass (above) and drops it, the second straight pass dropped by Duck receivers on Herbert's first two attempts in the game. Johnson doesn't have his thumbs and forefingers together and may have had more strength in the catch if he caught in a cradle with the edges of the palms together.
This is an example (above) of a quarterback panicking and running out of the pocket when he could've had a better chance stepping up in his protection. By going outside, he nullifies any chance his linemen had of protecting him longer.
Watch how Herbert, (above) by calmly stepping up in his protection, easily sidesteps an outside rusher who was unblocked. By stepping up, Herbert uses the out-of-control speed of the rusher against him. Herbert's footwork has improved tremendously since his "dancing feet" days as a freshman.
In experienced Viking offensive line is outmatched (above) by Oregon's NFL prospects Jalen Jelks (No. 97) and Justin Hollins (No. 11) on this pass play. Portland State's left tackle has no chance or quickness to slow Hollins off the edge and Jelks demonstrates great defensive line handwork in getting rid of the center and guard's attempt to block him as he literally runs over them. The Ducks were able to get a sack with only a three-man rush against five offensive blockers, something they may not be able to count on after the San Jose State game.
This week, the Ducks take on San Jose State, an 0-2 team that is capable, perhaps, of putting up a better fight than Portland State, particularly through the air. As in the previous two games, Oregon is heavily favored. Coach Mario Cristobal wants to see a fast start and a killer instinct from his offense and not have the defense get fooled by any trick plays. You will probably still see a lot of young, new faces getting some action as a prelude to when things get serious the following week against Stanford.
Saturday, look for all the elements of a disciplined football team: no penalties, no turnovers and no missed tackles. Cristobal has set a high bar for his squad, and has his team believing that's the only way they will be successful this season. So far, that's been fairly evident from the press box and apparent in the Ducks' first two games.
Coach Ken Woody
Eugene, Oregon
Top Photo by Eugene Johnson
Mike Bellotti, ESPN analyst and Former-Oregon coach: "Ken Woody's ability to break down the game with interesting, entertaining insights comes from a career as a college player and coach, influenced by some of the top coaches in football. Woody spells it out in a simple, refreshing, humorous manner."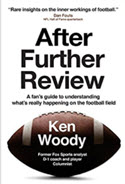 Dan Fouts, NFL Hall of Fame, Oregon Ducks quarterback: "Entertaining and easy to understand."
"Every Oregon fan should have a copy to learn from as I do." Charles Fischer
Buy the book here to learn from Coach Woody, or give a gift of football, a great gift for the fan who wants to learn and enjoy more of the Duck (or whoever your favorite team is) football experience.
Ken Woody is a former Fox Sports football commentator who played defensive back, receiver and kicker for Oregon from 1966 to 1970. He coached college football for 18 years, including stints as an assistant coach at Oregon, Washington, Washington State and Utah State, and was head coach at Whitman College and Washington University-St. Louis. He writes x's and o's, a weekly column in the Register-Guard, RG online coverage of Duck football and is the author of "After Further Review—an inside look at what's really happening on the football field." Woody is on KUGN (590 am) 2:45 before kickoff and 30 minutes after each game with coaching and game analysis.
Ken also conducts weekly coaching clinics for fans at Eugene's Valley River Inn every Thursday during football season at 6:00 PM. The clinics are free and open to the public.
"I learned football working under many great coaches, among them Len Casanova, Jerry Frei, John Robinson, Bruce Snyder, George Seifert,and Ron Stratten at the University of Oregon, Jim Owens at the University of Washington and Jim Walden at Washington State University. Most of my coaching experience was on the offensive side of the ball with quarterbacks, receivers and kickers although as a head coach I coached defensive backs, linebackers and offensive line.
I achieved my first goal of being the youngest head coach in college football at the age of 26 and throughout my career in coaching and outside of it, as a journalist and broadcaster, have experienced how exciting and gratifying it is teaching the game to others."
Daily Articles NO MORE on FishDuck
Please see this explanation right here… and to learn about the impact of FishDuck on so many–check the summary right here.  I will be writing intermittently on FishDuck (as the mood strikes) this summer, and a couple of times a week during the football season, and those articles and analyses will be posted here on FishDuck, and the links to my articles will also be available on the new site PuddleHuddle, when it is up soon.
New at FishDuck? Learn about the site right here!
Our 32 rules can be summarized to this: 1) be polite and respectful, 2) keep it clean, and 3) no reference of any kind to politics. Easy-peasy!
Take note though, there are NO STRIKES, NO WARNINGS, and NO SLACK given. Violate the rules and you are gone, as this is what the 99% who post superb comments want. (The Ban could be for weeks, months or permanent) For the less than 1% out there who do not have impulse-control … as you write your comment that violates our rules, ask yourself, "is this worth getting banned over?"
FishDuck members….we got your back.  No Trolls Allowed!