(Note: This is a time that the Oregon Athletic Dept. is concerned about too much disclosure in reports given to the public over the internet.  Note that I do NOT speak of injuries in my report, (I leave that in the good hands of Rob Moseley of the R-G who gets it straight from Chip) nor do I talk about the  particular formation on offense this last week, that while surprising…I'm glad to see.   What is it?  Not telling.  Over the last dozen years of writing these reports I've done three or four each spring and fall which would bring the total to somewhere between SEVENTY to NINETY of these reports written without a single problem of exposure of sensitive information.  The following will continue in that tradition…)
Can you believe the summers in Oregon?  We had 82 degrees today, but a 15 mph breeze which brought it down to the high sixties-low seventies.  We do NOT have the oppressive humidity of the south, in fact none at all.  We do not have the singed, dry baked trees and vegetation of the SoCal, Arizona, and Texas, but have the lush green trees, and vegetation that matches the comfortable environment the players are performing in.  There no better place for summer workouts than Eugene Oregon….and the Florida, Texas, and Arizona players on our squad have got to be thankful for the decision they made to play for a powerful team in such a temperate climate.  (It's nice on the fans too)  Today was a joy for August……..
There are some really great reports about this practice on many boards, and while I did not chart the practice, and some of my interpretations may not be precise….I will add my own brand of entertainment to it.  Today I saw some wondrous things that make me begin to rethink some of my basic original assumptions about this team.   Grab a cup of Java or a cool tall one and indulge your inner duck-child who craves the "good-stuff" as I do.  This is shaping up to be one of the more unique teams I've ever seen assembled on the practice fields at our Mighty Oregon.
Stats or not…it seemed to me that Costa moved the offense better today, primarily at crunch times.  He throws that nice zippy pass that is fast and spiral, but not too much and is a very catchable ball.  He can throw over the field well, and the skinny post pattern to Brandon Williams for 20 yards was a beauty.  Yep…it's "Crow-Time" as I wrote that I was largely unimpressed with Mr. Williams the other day, but today he made David Paulson seem invisible.  While Nate was lighting up the middle of the field….it made it tough for the defense to cover the sidelines as well.  By over-committing to the middle, (as they must) it left a safety valve on the sidelines that Costa punished the defense with all day.  He has a flair for looking downfield first…and making it obvious to the defense that if they don't cover deep and middle that he will burn them—and then he passes to a wide open WR in the flat for an easy 8-10 yards.  Damn that's good Quarter-backing!
More Crow for my dinner tonight as the Wide Receivers that I have been so critical of over the last two years…are playing like the savvy veterans that they are.  Body language is something I watch carefully now, while brushing past it in my youth.  Now I watch how they carry themselves during the play, after the play, and on the sidelines.  I CAN tell who the backups are on the sidelines without looking at the numbers, but simply reading the body language.  (One of the few benefits of being an old fart)  I was talking to one moderator of a large Football board who pointed out the body language of Eddie Pleasant.  He said, "look how he's carrying himself as he prepares for this play.  You can tell that he is having a blast playing football right now."  Gadfry, the fellow was right.  Eddie's whole posture shouted, "I am kicking a$* and taking names, and then I'll rub your nose in it!"  I didn't have to ask…Pleasant was loving college football.
The body language of the WRs is different than before.  They EXUDE a confidence of knowing that they will get open and make the first down.  I can REALLY see a difference from two years ago.  All three seniors have such a confidence to them!  The QBs shamelessly pad their stats by looking the Jeff Maehl first on the pattern as he is always open!  Time after time I see the QBs look to Maehl after the first option, and that is with a defense that is fully conscious of Jeff's abilities, yet they still can't stop him.  He is operating in Stratosphere-WR territory at Oregon and nothing I saw today changes that contention made at the Competition Day.  Tuinei has a confidence that frankly…I never thought I'd never see.  In the 3-on-3s…he made a separation as he left LB Land and into the secondary but positioned his body to the side of the Free Safety.  The ball was thrown to the open side, but TOO HIGH, yet LT kept running before making his move.  As I watched with a clear expectation of it going too long…I was slack-jawed to see him wait to the last possible moment and then launch himself upward and reach as far as he could and pull down the ball with one hand!  I slid my pad into my pocket and singularly applauded him for a gymnastics type of effort.  Wow.
Davis is looking like ten yards every time as he is so buff.  Look at his arms and ask yourself honestly…"are those the arms of the typical Wide Receiver?"  I love the concept of throwing to him on a regular basis right at the LOS and letting him catch it and run over the little DBs covering him.  We did that plenty last year and it is a smart strategy to keep the corners up tight…and then run past them for big passes.  This year is harvest time with our WRs as I have been dissatisfied with production in the past as they gained experience and confidence.  They really are ready to be a focal point of our offense.  (Gee…what good timing!  We lose an excellent running QB, and need the passing game to balance the offense and offset the yardage gained by the running QB last year!)
BTW….the nickname that Beaver fans have of our coach, "Chip Belly" will have to be replaced.  Look closely at the Duck CEO and you will see that he's lost a ton of weight from last year and his belly is almost completely flat.  A great example for the players and fans like "yours truly".  I would bet that his detractors in Corvallis have a bigger midsection by far than our Duck Commander.  Good for HIM.
On special teams…the punts by Rice were SUPERB, as they had excellent hang time and went deep.  It created problems catching with the wind, and the inexperience of the newbies taking their shot.  (We had one blocked on a center snap that hit the ground and skipped before Jackson could scoop it up)  Kickoffs went to the 15 yard line against the wind, and out of the End Zone with the wind.  I like the looks and body language of Robby Beard; he kicked the crap out it.  He could be an excellent Place-kicker before long…but we'll watch the battle.
The front seven on defense were practicing the switch into different Zone Blitzes based upon offensive formations and the calls from the sideline.  Now keep in mind that you have to sort out where to line up, and who is blitzing, and which player is coming back in coverage, and what angles the blitzers are taking.  It becomes complicated and a little hairy as the offense changes to confuse the defense and Coach Azzinaro is back there barking signals to his group.  He simply wants them to quickly walk their path of assignment, but they aren't doing it fast enough for him.  He is slowly building up a slow boil until he really get pissed off and says, "Everybody wants to Blitz…and nobody wants to pay the f#cken price…and THIS is the price!"  (Which is learning the signals and doing it quickly before the play begins)  Damn Right Coach—In life as well as on the football field!  I wanted to drop things and fricken applaud him, but it would have looked weird in the cluster of people.  Gawd I love a coach like that!
Look…I'm a people-watcher.  I love seeing the oddities of nature, in the Shopping Mall or on the football field.  Tony Washington, #91 has a tiny head for this humongous DE body.  Big wide shoulders, muscular arms, and this little head?  It reminds me of Paul Wiggins, an offensive tackle on the Rose Bowl team of '95 who played in the NFL for awhile and is now in my field (financial services) in Eugene.  Big body and small head.  It looks funny…but it works!  Conversely…look at Terrell Turner; he has the most obvious DE body for D-1 or the NFL yet.  I LOVE his look; he's big, yet not fat, yet not sleek, as he looks fast and powerful.  (I believe he is in for a MONSTER year)
C'mon.  My wife will tell you I'm not gay, but I can get a "Man-Crush" on Oregon Players.  Trust me…it's healthy.  (And you're a good fan)
Cliff Harris is not going to win the cornerback spot by default.  Anthony Gildon is stepping up with his enormous personal improvement.  On back-to-back plays…he changed my mind about him.  Costa was throwing to Davis on a slant-in where DJ had the position and the knowledge of where he was going in advance and could beat the CB to the spot.  Gildon was glued to DJ and was there to knock the accurate pass away.  (I said, "Wow")  Then on the next play we see Costa get into trouble and throw a sharp pass outside to his safety valve and even though the WR had his body shielding Anthony from the play…..the DB burst through to make the knock down without interfering.  Holy Toledo that's good defense!
OK.  I admit it.  I have got the biggest "Man-Crush" on Josh Kaddu in a long time.  He IS the stud profile of the fast, built, and smart Outside Linebacker that we see in the SEC…and he's a wrecking crew at Oregon.  Lache Seastrunk took the handoff on an Outside Zone Read, and did a nice burst at the LOS to begin to enter LB Land.  (The space of five yards off the LOS)  Suddenly the crowd there was "aaahhed" as Kaddu plastered Seastrunk for no further gain beyond his five yards.  It was a big hit that reminded us that his father WAS the heavyweight Boxing Champion of Uganda, and Josh isn't thinking jabs…he's wants to apply a defensive knockout.
That darn Boyett makes me turn my "Man-Crush" his direction when he makes big hits in the Red Zone.  Seastrunk had a gain going until John met him in the hole outside the tackle and the crunch made us all wince.  Lache got up…and I swear he looked drunk.  Boyett rung his bell and Lache stumbled to the sidelines for awhile to clear his head.
It was another sweet pass by Costa to the middle of the field to Brandon Williams the JC transfer whose physical appearance has been impressive.  As he caught the ball he was met square by Javes Lewis who just "splatted" on the front of him.  It was like Might Mouse hitting Superman and bouncing off.  Williams stood there over Lewis who had to be helped off the field.  Who won?  Lewis did as the pass was knocked away.  (Sacrificing his body on defense)  Geez we love these guys!
At the end of the practice we saw some great last stands as we had a blitz overload one side to allow Josh Kaddu to force a ball OOB.  (Out of bounds)  There was another 4th down Zone Blitz that forced another throwaway.  Good coaching and good execution.
When I began to report on Nate Costa four years ago, I told you he was  "sneaky fast" with his bow legs, and big thighs.  Three knee surgeries later and the analysis is the same.  He fools defenses…even our own!  Nate is faster than he looks to any defense.  He gets into trouble as the pocket crumbles on the 10 yard line and he rolls out left, and after arm-pumping he runs to the nearest flag and almost easily makes it!  I maintain….and you can quote me on this….Nate is sneaky fast.  He is faster than the defense realizes.  (Both ours and the opponent)
Dontae Williams is a broad-shouldered  big back…who is a freshman and not fully developed yet.  Even so…he did a nice spin move…so Jamesescue…for  a four yard gain that otherwise would have been a big TFL.  On another play he exploded outside for 15 yards.  He has the big shoulders…but he is not the huge back we have used in the past.  I call him, "Blount-Lite" for now.  Even then…he was impressive on a number of plays.
Do we have the smallest Offensive Line in all of Division One Football?  It averages only 295 lbs, yet is it fast, athletic  and agile which is needed for the blocks in space for the Spread Offense.  On a TD Screen pass from Costa…the block by Carson York on the Corner was legendary.  The DB was laid out and hurting getting up…which is what sprung the RB to the easy TD.  You gotta have fast, athletic, and agile Offensive Linemen to pull this off…and we do.
Darron Thomas had some good plays this day as well.  He had a sweet 15 yard gain to Davis on 3rd and long that was just  a laser right to the numbers.  DT has "slingshot" motion to his passing that was pointed out to me by a Football Board Moderator.  Let's call him, "Mr. M".  He identified how the Darron went over-the-top on passes to get it over the defense and while it helped get it over the Defensive Line…it made his passing inconsistent and unreliable.  That is a good observation!
I will say the DTs throwaway passes can be dangerous to bystanders.  One pass thrown away hit a fan who deflected it elsewhere.  Another hit a Golf cart and ricocheted around inside.  I missed my chance for a sideline completion when I saw DT throw another one away….right at me!  I was so surprised that I could not decide to catch it and drop my stuff, or finish my note and knock it away?  I went with finishing the note while it was fresh, and consequently I took one hand and guided it away.  Problem is that I guided it right into the gut of another bystander.  I salute him as he "manned up" and didn't show any pain at all….and brushed it off.  (I KNOW it hurt)
The biggest "oh crap" comments of the day came from watching Lache Seastrunk.  If you don't watch him…his moves will be a slap on the side of the head as a reminder.  A short sideline pass…a dump-off by Costa for five yards to Seastrunk turns into a micro-second juke inside and a burst outside for eight yards where there was nearly nothing. It wasn't just me as ALL the old farts in that section gave our a collective "aaahhh" as he cut his move.  Geez.
I knew something was up when he met a DT in the backfield and did a JJ shoulder shrug inside to freeze the man while Lache went the other direction into a hole for four yards.   It was very "Onterrio-like" and demonstrated how the little plays show us champion talent.  A TFL is turned into a four yard gain?  He has speed that climbs quickly and on one play used his speed, (once he was in LB Land) to surge forward for eight yards after contact primarily due to his speed barreling space after the defense's contact.
I love to figure out the Running style of our tailbacks.  Lache has the quick feet…turn-on-a-dime like LaMichael, yet he has fluidity to him, a smoothness.  Then it hit me….he kinda floats like McCullough between the quick cuts like LaMichael.  Saladin McCullough reminded me of the Back-to-the-Future Movie where Marty is riding a future skateboard that cruises on a bed of air.  McCullough seemed to run that way….smooth comfortable cuts like he was that future skateboard….and Lache has that unique combo of quick cuts like James, and then floating on the skateboard to the next cut.
He had a play where he took the handoff going right on a Outside Zone Read where he went outside, and then cut inside, floated and cut on a dime outside, and then made Casey Matthews* miss on the inside, and then he floated outside and dove into the end zone for the TD!  Holy Crap…this guy is good!  (I gotta say that the Matthew wiff…was seen by Badmother, who was standing next to me…and if I don't credit him I'll never hear the end of it)
After gasping at the plays….I was in wonder as I realized that I had only seen Lache run on INSIDE plays this far.  I have not seen what he can do in the open field yet!  Oh baby!
I am reluctant to write this…but I had a vibe from today's practice that I've NEVER had; and that is that BOTH sides of the ball are damn good.  Savvy QBs, experienced OL, confident WRs, and a defense that is smart, experienced, and hungry.  I am trying desperately to hold my screaming confidence within….as this team is looking like none other.
I know…give me the rest of fall camp to be certain.  But I have never seen this combo of talent, coaching, and strategy come together quite like this before on BOTH sides of the ball.  It gets scary sticking your neck out as I am….but it is honestly how I feel.
Look out for these Ducks!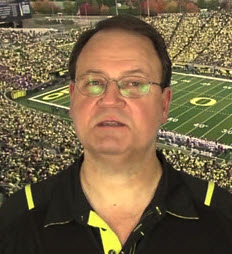 Charles Fischer has been an intense fan of the Ducks, a season ticket holder at Autzen Stadium for 35 years and has written reports on football boards for over 23 years. Known as "FishDuck" on those boards, he is acknowledged for providing intense detail in his scrimmage reports and in his Xs and Os play analyses. He and his wife Lois, have a daughter Christine, reside in Eugene Oregon, where he was a Financial Advisor for 36 years and now focuses full-time on Charitable Planned Giving Workshops for churches and non-profit organizations.
He does not profess to be a coach or analyst, but simply a "hack" that enjoys sharing what he has learned and invites others to correct or add to this body of Oregon Football! See More…
FishDuck Has New Off-Season Schedule and see the OUR BELOVED DUCKS Forum!
FishDuck articles will now be on Monday-Tuesday-Wednesday only during the off-season, and then we will go back to seven days a week during the football season beginning in August.
We will have some occasional guest articles later in the week, but the hottest Oregon football information will be posted in the OBD forum!
The Our Beloved Ducks Forum (OBD) is where we we discuss the article above and many more topics, as it is so much easier in a message board format over there.  At the free OBD forum we will be posting Oregon Sports article links, the daily Press Releases from the Athletic Department and the news coming out every day.
Be a part of the forum and stay caught up!  When you wish to post there, do know that you are protected just as you were on FishDuck. Join us on the free forum right here!
Our 33 rules at the free OBD Forum can be summarized to this: 1) be polite and respectful, 2) keep it clean, and 3) no reference of any kind to politics. Easy-peasy!
OBD Forum members….we got your back.  No Trolls Allowed!