In Oregon we have our natural cycle of summer transformations, of the warmth with the lush green vegetation everywhere that will begin to change. We see the geese begin going south, and we now see Duck fans flocking to Eugene to live the beginning of our football season. For many of us—we cannot help ourselves, as it has become part of our own DNA. Like a salmon, this "Fish" is drawn up the Willamette River to the focal point of the most exciting football on the planet. I can't help myself…like jumping through the rapids or swimming around a dam, I am wiggling, drawn upstream or up-street through Eugene to end up with fellow fans who too, could not stop the natural flow of migration to these hallowed fields. It is early August, and as I look around at those drawn to this location, we nod to each other knowing that we are right now where we should be and at the precise time. Our intuition was correct, and a cycle of our lives, of football, has begun.
Even the ospreys nesting above the practice fields are excited to observe the football practices.
It is time for Oregon football, and many of us simply lose all sense of priority and control as we are drawn to Autzen to bask in the yellow rays and blue skies. Lately it has been in the low 80s with a light breeze and I cannot believe that any player would not want to practice in such a perfect environment. Today it was 68 degrees and again no humidity, as always. It is just ideal for players and fans; let's play football baby!
Trying to squint and take notes at such a distance reminded me of a variation of a story told by Larry the Cable Guy. "I was seeing a hot Oregon Cheerleader and man, she knew how to get me going! 'Course I wasn't seeing her anymore after I lost my binoculars." Yeah Larry, you're kidding around but without binoculars you won't see much of the practice at all. That is—if you can see around the massive Hi-Lift where most of the plays are centered around, or through the players standing on the sideline, or if you bob your glasses to where the ball is going. This is not as bad as NOT being there…but it is not far off.
It's always interesting to check the body language of players and usually you can tell the rookies from the veterans before looking at the numbers. It was so reassuring to see such experienced veterans line up on offense. Looking out there and seeing Thomas, LaMichael, Paulson, Tuinei, Weems, York, Asper, and Golpashin and knowing all the big plays they have been involved in over the last two years was so comforting. They carry an atmosphere about them that is not cocky, but confident, and sure that they will get the job done. Darron is 100% different in his body language from a year ago when he was neck-and-neck with Costa. It is HIS team now, and he knows it and the team responds to his confidence with an all-knowing body language of their own. This is a group that has been through the wars together, and I sense an earnest feeling, a hunger, a desire to go complete their ultimate goal. This is a GREAT looking group, and rarely have I been hit with such an experienced and confident tone in how an offense carries itself in fall camp. It is a unique group, one that CAN achieve the highest of BCS challenges.
There are a couple of newcomers that turn heads right away; Marcus Mariota is the tallest QB, so his reported 6'4″ must be valid. He is also thicker to begin with than Dixon ever was, and the potential to fill out further is exciting as we ponder his durability. French looks almost more like a basketball player than football, but he is surprisingly fast and made some good catches. When he fills out—wow. The one that knocked me over was Tra Carson; he passes the eyeball test immediately and looks like a ready-made LB, but he's fast and runs with a smooth air to him. That fellow looks like he's ready to plow for first downs on 3rd and short already (Thick legs, but runs fluidly). I'm trying recall who he reminds me of, and RBs, LBs, and TEs come to mind. I've decided on a cross between Latin Berry and Reuben Droughns. NOW we see why he broke LMJ's records at the same high school.

Tra Carson broke nearly every rushing record LaMichael James held in high school in Texarkana, TX.
In fact, I was amazed at the overall size of the newbies. When French, Mariota, Lyerla, Vaughn, Fisher, Carson, Euscher, and Johnstone stand near each other….it is a tall group! Another thing I was struck with, even at a distance, is how talent level just entered "Elite Status." You look at all the young talent across the board, and it becomes very hard to predict who WON'T contribute. At cornerback alone Oregon has quite the ongoing discussion about who is going to prevail among the young guns. This no longer looks like a team that has a few stars it is focused upon with a remaining cast of overachievers and scrappers. This team is acquiring the look of what we've seen at USC or in the SEC over the years from their better teams. It is clear to me that our best teams (talent-wise) are rotating in over the next three years. This is not my father's Oregon team—it is a clear and discernable step up over a few years ago with the depth across the board. It actually left me with an odd feeling; I always had an identity, a feeling about my beloved Ducks. That identity based upon previous talent is changing, and while it is exciting, it also leaves one uncertain. This is new air for Oregon!
Watching the QBs was one of the few things I could do with the distance, and I am very pleased with all they demonstrated. Mariota looks very comfortable running the Zone Read and firing passes down the field already, and he didn't shy from pulling the ball and beating the DE to the corner. While he was not as polished as Thomas—he was far above the QBs we have seen coming into their first fall camp in the past. The preferred walk-on, Brennan Doty from Texas, has got some zip to add to his passes and he appears to be taller than the reported 6'2″. You may have read how Thomas is performing like the veteran that he is and it is refreshing to see how he runs the team. He must have noticed the QB runs by Mariota and Bennett, and thus to not be out-shined by the young guns he also took off, followed a block to the outside, juked someone inside while he went out and BOOM! He's down the sideline and I believe he was on his way to scoring the way he did against the Huskies from 37 yards out. Darron also had a great connection going with Tuinei and Vaughn for many of the 7-on-7s that gave me great encouragement as "go-to" players emerging.

Big things are expected of Lavasier Tuinei in 2011. (Photo courtesy: Michael Wilkes)

To me the player that stood out was Bryan Bennett with just how hungry his play seems. He wants to play and believes he can play well and help the team win. He is aggressive as heck running the Zone Read, and I think he does it better than DT. BB rides the hip of the RB during the mesh and really pulls the DE inside; then when BB draws the ball out—the DE has committed enough of his body weight forward to prevent him from cutting off Bryan on angle as both sprint to the sideline. While Costa was sneaky-fast….Bennett just flat-out has jets. On one play I noted how the DE stayed home perfectly which would generate a hand-off to the RB by Bennett. But Bryan saw how the DE tried too hard to stay home and thus now was flat-footed. When Bennett accelerates with a "whoosh" it is just too difficult for a DE to catch him. So what is it that I'm seeing? BB is developing the confidence that even if the DE stays home—Bennett can still outrun him and beat him to the corner. If this occurs in a game a couple of times it will put pressure on the defense to stay home more often to prevent backside runs behind the defense by the QB on the Zone Read. What happens when we get good hat-on-hat blocking on the play-side? Oregon will get more explosion plays now because the backside defense is not there for backup pursuit. If the RBs break some tackles—they could be GONE in that scenario. All this occurs because a QB is so good at the Zone Read and FAST? Doggies—this is going to be interesting to watch!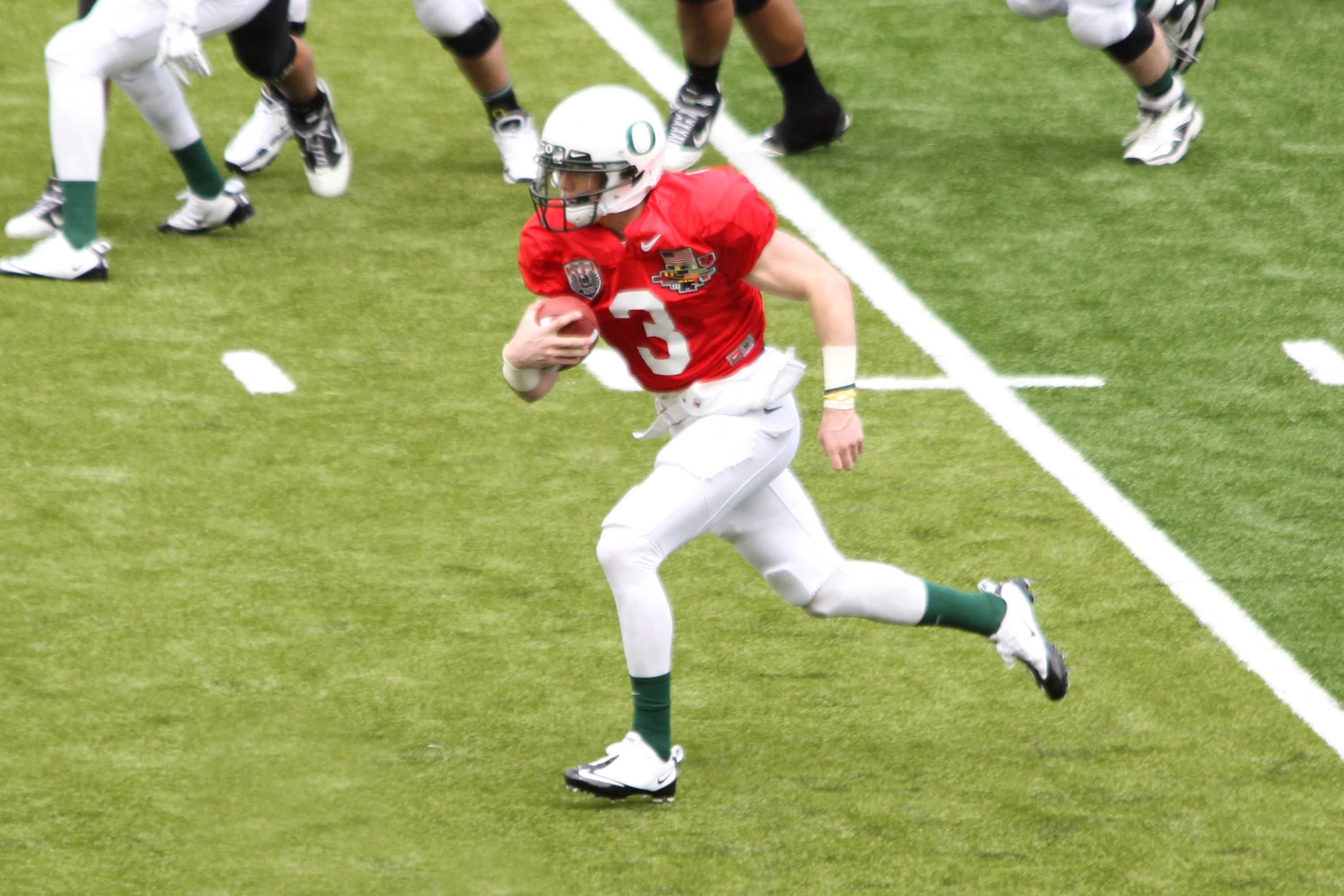 Bryan Bennett runs during the 2011 spring game. (Photo courtesy: Michael Wilkes)
I was watching a special teams drill where a defensive back would have to go through a blocker and then make a tackle on a RB. Troy Hill is a young corner who has Walter Thurmond III-type speed and athleticism, as he just passed his blocker and lined up his sights to tackle Lache Seastrunk. This is PRECISELY the scenario I depicted in a recent report about the Triple Tailback Threat Formation. The play would leave our most talented Tailbacks one-on-one in open field against corners and safeties, and in the milliseconds passing before they met I was musing about how what I'm seeing is exactly what I described about the TTT play. Troy was not fooled by the first mini-juke and was preparing to launch himself for the tackle when Lache went limp on a leg and froze. This made Hill hesitate for a fraction and that was all Seastrunk needed to blow by him during that fraction-of-a-second pause. Hill had to see if Lache was changing directions, and Seastrunk's explosion (as if he was coming out of sprinters blocks) was the key getting past the defender. Oh baby….did I just see a glimpse of the future in a major game? The possibilities—wow.
Lache Seastrunk running with the ball in the 2011 spring game. (Photo courtesy: Michael Wilkes)

I apologize for not providing the usual plethora of details, but it's really hard from that distance. Even then, this "Fish" is pleased to be at the epicenter of great football in the making. The migration up the Willamette was worth it!
Geez we love our Ducks!
FishDuck
P.S. We will have a video coming out this week that will rock your world. My biggest and most important work/analysis yet….stay tuned.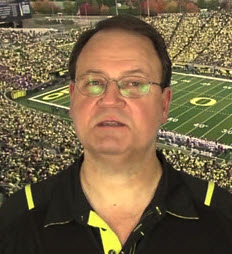 Charles Fischer has been an intense fan of the Ducks, a season ticket holder at Autzen Stadium for 35 years and has written reports on football boards for over 23 years. Known as "FishDuck" on those boards, he is acknowledged for providing intense detail in his scrimmage reports and in his Xs and Os play analyses. He and his wife Lois, have a daughter Christine, reside in Eugene Oregon, where he was a Financial Advisor for 36 years and now focuses full-time on Charitable Planned Giving Workshops for churches and non-profit organizations.
He does not profess to be a coach or analyst, but simply a "hack" that enjoys sharing what he has learned and invites others to correct or add to this body of Oregon Football! See More…
FishDuck Has New Off-Season Schedule and see the OUR BELOVED DUCKS Forum!
FishDuck articles will now be on Monday-Tuesday-Wednesday only during the off-season, and then we will go back to seven days a week during the football season beginning in August.
We will have some occasional guest articles later in the week, but the hottest Oregon football information will be posted in the OBD forum!
The Our Beloved Ducks Forum (OBD) is where we we discuss the article above and many more topics, as it is so much easier in a message board format over there.  At the free OBD forum we will be posting Oregon Sports article links, the daily Press Releases from the Athletic Department and the news coming out every day.
Be a part of the forum and stay caught up!  When you wish to post there, do know that you are protected just as you were on FishDuck. Join us on the free forum right here!
Our 33 rules at the free OBD Forum can be summarized to this: 1) be polite and respectful, 2) keep it clean, and 3) no reference of any kind to politics. Easy-peasy!
OBD Forum members….we got your back.  No Trolls Allowed!