Why the odd name for the website?  Is it really named after you, or the other way around?  Where did this name come from?  What IS a FishDuck?  How did this unusual all-volunteer website with tons of people on staff really begin-and why?  And stop giving away all of Oregon's secrets, aren't you helping the opponents?
All of these are the usual questions that I've fielded in FishDuck.com's existence, so let's have some entertainment from their true answers, as I couldn't make some of this stuff up!
What is a FishDuck? Well, it is not the mythical creature, but the answer is much more prosaic than that. When internet messageboards began for college teams–Oregon had theirs begin as well–the first major one emerging was Duck74, or what later became E-Duck of the national network by Scout.com.
Steve Summers of Duck74/eDuck began a place for us intense Oregon fans to discuss the football subjects of the day…and to do so you had to register your actual name and create a "handle" that you would be identified by on the board, as all boards or forums do today.
Of course being an Oregon forum—everybody had some form of "Duck" in their handle name. BigDuck, GreenDuck, BendDuck, OldDuck, PortlandDuck just to name a few. Since my last name is Fischer—I simply adopted the handle name, "FishDuck" when I began back in either 1997 or 1998 (I cannot recall which year for certain).
It was about this time that I was becoming disenchanted with the news coverage given our beloved Ducks during the spring and fall practices.  I would go to the scrimmages and note the exciting plays—and then read the boring reports in the local newspaper and yawn (McCullough ran for 57 yards on seven carries). 
While I knew I was not a great writer, I felt I could add some more detail to what was happening on the field, thus the beginning of my infamous Scrimmage Reports, which became well known among the hardcore online Oregon fans. I would describe in detail many of the plays that occurred, simply for the entertainment of us all. I would add elements of what I would call "football gossip," describing the physical attributes of many of the new players, again for the amusement of Duck fans everywhere (he looks to have much broader shoulders than you would expect for a wideout, and the QB throwing to him has the skinniest calves of any football player I've ever seen). For a dozen years—Oregon fans came to know of the "FishDuck Scrimmage Reports," and I had great fun describing the action in a very non-professional method.
The picture to the right froze a moment that signaled a new phase of my life about to begin. The picture was shown in one of the newspapers-(Register-Guard, Statesman, Oregonian or the Tribune) in spring 2010, as I cannot recall which one specifically. In the background you see three men sitting with another man (whose head you cannot see) is to the left of them. The three men sitting from left to right are Larry Balding, (BadMotherDuck) me (Charles Fischer, a.k.a. FishDuck) and Steve Richardson (Gageac). The man you see standing to the left is Casey Matthew's father, Clay Matthews, there to watch his son during spring drills. It was within a few minutes that Steve would get up to introduce himself to Mr. Matthews and chat, I joined them a few minutes later.
In our discussion I mentioned how in real-time the plays happen so fast…but it appears that we're doing something different on defense. Mr. Matthews answered that we ARE doing things different, as we are in the beginning of the second year of a new defense. WHAT!?! This was news to me! How is it that we're running a new defense and I've heard NOTHING about it in the statewide media? Clay (Sr.) went on to explain that many of the components of our new defense are similar to what his other son Clay (Jr.) was running in Green Bay! Now my head was spinning, and it began a two-month quest doing an intense research project into NFL websites, and sites devoted to examining the different defensive strategies and alignments being used today.
The end result was a 5,000 word White Paper distributed on many Oregon football sites in the summer of 2010, which created quite a stir over that summer. Chip Kelly was barraged by questions about our "New" defense, and for two weeks going into fall camp—he denied it. He finally relented to Fox Sports and admitted, "if you call sixteen months ago new, then I guess we have a new defense."
This is what I reported, and I'm proud to say that I out-scooped ALL the major media sources right here in Oregon on this major development of Oregon football. I also wrote and released a follow-up article going into our Zone Blitzes in, "Fish Report: RB (Rose Bowl) Zone Blitzes." The combination of the two articles created more discussion about Oregon football and about that "FishDuck" guy who brought this information forward.
It was fun learning about the new defense, but I was primarily an offensive mind, having played offensive tackle in high school football. Thus I wanted to answer the many questions I had about the spread offense, and a subsequent research project produced the first explanation of the Oregon Spread Offense written in the statewide media, "Mysteries of Oregon's Offense."
This report derived it's information from the Coaches Clinic notes featured today by Chip Kelly, and again brought more eyes upon this "FishDuck" character. While I apologize for appearing to be bragging with the unfolding of events—it is this gradual recognition by many of my commitment to learning and sharing this information that led me down this path to create FishDuck.com.
I posted my first reports with pictures on a blogger's site last spring, and I heard the question often about "starting a FishDuck website," I even have an e-mail from December of 2010 telling my technology consultant that I "don't have the money or time to create a website, thus let's forget about it."
Then the BCS National Championship game between Oregon and Auburn occurred, and I heard a nationally-recognized sportscaster (below) make unbelievable mistakes describing the actions of our offense. It put me over the top and I knew that I HAD to begin a website that would provide information to all Oregon fans about the basics of our offense and defense.
So why is the site called "FishDuck.com?"
It was NOT supposed to be called that! I was in the process of filing for the domain name for what was going to be called "Oregonfootballanalysis.com." My web developer told me that he had done a search and noted that "FishDuck.com" was available and that I should purchase it as well for use as a backup for later. I figured since it was only ten bucks, for a backup for whatever he had planned, so why not?
My web developer then worked hard on the website for months, and eventually set up a meeting with me to unveil the new website and show me the key components of it. As he began, he said, "and here is your new website, FishDuck.com!"
I sputtered at this young man, "What are you doing? You KNOW it was supposed to be Oregonfootballanalysis.com! That is what I want!"
He partially closed his eyes and shook his head back and forth. "No, Mr. Fischer—that's not going to work." I could not believe my ears, since I was the one writing checks to pay for all of it. He went on to explain that, "FishDuck.com is easy to remember, and easy to spell. How many people can still remember how to spell the word analysis?"
At that point I laughed out loud and realized that this wise young man was right; we needed something that was easy to recall and it tapped into an audience that already knew of my prior work. It is a "funky" name, as Chris Brown of Smartfootball.com reported, but one that IS easy to remember and pass along to others. FishDuck.com was now official!
The compromise, the logo would be "FishDuck presents Oregon Football Analysis."
---
Gathering the FishDuck Team
My web developer informed me that we needed new daily content for the site to work, and I admit that I do not have the time to write every day—I needed to look for those who would. In June of 2011 I made contact with the infamous "keeerrrttt1" (Kurt Liedtke) about my ideas for the website.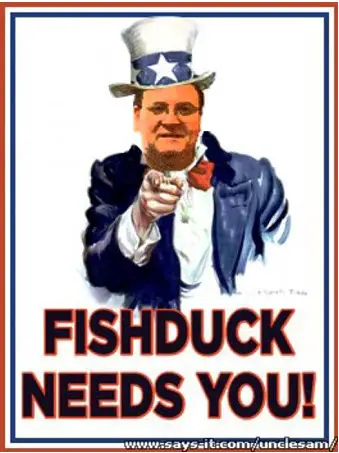 While the nickname FishDuck was known to many on the various Oregon message-boards, Kurt Liedtke was actually famous among Oregon fans and former players for his extensive video library of past Duck football games. He was truly a video historian for Oregon football, and I learned that he was also a professional writer as well.
Kurt not only began writing for the site, but his many contacts attracted other great writers, thus our daily written content section The FishWrap was born.
Kurt became indispensable to the site within a short time and has been added as a business partner to the budding enterprise. I am very grateful for the skills, expertise, and long hours that Kurt has dedicated to the site as we share a vision of creating something truly unique among college football websites. We have begun features that no other website has, and we have more ideas that we hope to put into place in the near future. Kurt has since left the site, but we will always be grateful to what he has contributed for the benefit of Duck fans everywhere.
The site has grown by leaps and bounds in the time since, both in content and presentation. We now have over 50 instructional videos of the Oregon offense and defense, have new articles daily,and will have a cool new Oregon Playbook area and football technique section of the site soon. As our facilities have grown, and we've all learned a lot in the process. More talented individuals have joined the team, volunteering their time to the site as writers, videographers, consultants, and tech experts solely to show their passion for University of Oregon Ducks sports by being a part of FishDuck.com.
All of this is provided 100% free to Oregon fans at great personal expense, to better appreciate Oregon athletics through a deeper understanding of the sport. FishDuck.com has even expanded beyond solely football coverage, as numerous writers for FishDuck.com showcase teams and individuals making a difference at the University of Oregon past and present.
Our slant on presenting schematic analysis and historical content is second to none, and we as a team are determined to continue providing for you top-quality content. The best news is…
…We Are Getting Started again!
We are actively seeking new writers to join the FishDuck staff, so if have a passion for Oregon sports and think you have a knack with words, please contact us.
"Oh how we love to learn about our beloved Ducks,"
Charles Fischer 
(FishDuck)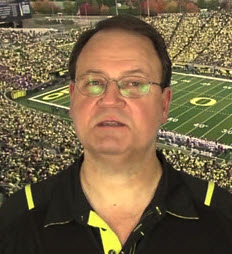 Charles Fischer has been an intense fan of the Ducks, a season ticket holder at Autzen Stadium for 35 years and has written reports on football boards for over 23 years. Known as "FishDuck" on those boards, he is acknowledged for providing intense detail in his scrimmage reports and in his Xs and Os play analyses. He and his wife Lois, have a daughter Christine, reside in Eugene Oregon, where he was a Financial Advisor for 36 years and now focuses full-time on Charitable Planned Giving Workshops for churches and non-profit organizations.
He does not profess to be a coach or analyst, but simply a "hack" that enjoys sharing what he has learned and invites others to correct or add to this body of Oregon Football! See More…
FishDuck Has New Off-Season Schedule and see the OUR BELOVED DUCKS Forum!
FishDuck articles will now be on Monday-Tuesday-Wednesday only during the off-season, and then we will go back to seven days a week during the football season beginning in August.
We will have some occasional guest articles later in the week, but the hottest Oregon football information will be posted in the OBD forum!
The Our Beloved Ducks Forum (OBD) is where we we discuss the article above and many more topics, as it is so much easier in a message board format over there.  At the free OBD forum we will be posting Oregon Sports article links, the daily Press Releases from the Athletic Department and the news coming out every day.
Be a part of the forum and stay caught up!  When you wish to post there, do know that you are protected just as you were on FishDuck. Join us on the free forum right here!
Our 33 rules at the free OBD Forum can be summarized to this: 1) be polite and respectful, 2) keep it clean, and 3) no reference of any kind to politics. Easy-peasy!
OBD Forum members….we got your back.  No Trolls Allowed!