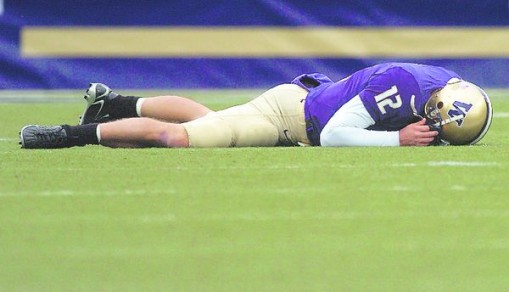 Once upon a time, there was really only one consistently successful football program in the northwest. The Washington Huskies, at times dominant, other times laughable, had stood as a power program for much of the past century. Located in the largest metropolis of our rainy corner of the continent, for years Washington seemed to have a stranglehold on the best recruits and would undoubtedly field successful teams year in and year out.
In the last few decades, however, the mutts have begun to lose a step or two. Sure, in the all-time series against our beloved Ducks, Warsh-ington still leads 58-41-5, and they can still lay claim to the largest margin of victory by the score of Washington 66, Oregon 0 in a game that happened way back before things like home computers, gas mileage, the original Nintendo, and remote controls for TVs existed–October 26, 1974.
The two teams have a long history of despising one another, as the Washington Huskies vs. Oregon Ducks series first originated December 1, 1900. Almost regardless of the scores and stats over the years, the two teams have fought tooth and… beak(?) in 104 separate contests. While the Huskies tallied most of their victories between the 1960's-1980's, since Kenny Wheaton scored 18 years ago, the Ducks have earned victory in all but four contests.
It has been with its controversial moments of course, only adding to the seething dislike between the two fan-bases. In 1926 Oregon's Bobby Robinson intercepted a pass along the goal line and would have returned it nearly 100 yards for a TD had a Washington Husky player not come off the bench to tackle him on the field. Robinson was awarded a touchdown anyway.
In 1948 the Huskies played politics with a clear vendetta against Oregon, voting for Cal to represent the conference in the Rose Bowl, then lobbying Montana to vote the same way to keep Oregon out of the game, a season in which Oregon's only regular season loss had come at Michigan.
In another heated battle in 1962, Washington fans stormed the field on the last play disrupting a pass that would have resulted in Oregon's last-second comeback touchdown. That one the referees let stand for some absurd reason, perhaps fearing for their lives amidst the rampaging crowd on the turf.
It would have been hard to believe at the time following Kenny Wheaton's now immortal interception to seal the 1994 game, but who would have guessed that while Neu-weasel and his troops were dancing on the O in Autzen now nearly 10 years ago (2002), carefree and genuinely giddy, that it would be their last gasps of victory against the Ducks. The Huskies won the series again in 2003…and have lost every game to the Ducks ever since.
Yes Duck fans, I am happy to report some good news today: it has been exactly 3,163 days since Washington last beat Oregon at football. By the time the game kicks off in November, it will have been 3,262 days; or 8 years, 11 months, and 5 days. Wow.
From a human life perspective, consider that currently no middle-schooler in the country has any memory of the Huskies EVER beating the Ducks. Why does that matter? The elementary and middle school days can be the most impressionable time in a youngster's life. It is the age where kids are perhaps most enamored with sports teams. It is when friends trade football and baseball cards, hang posters of their favorite athletes on their walls, and emulate their idols in backyard football games. How many kids in Washington do you think are currently daydreaming about playing for an uncompetitive team with the worst uniforms in college football?
There is also something about huskies and their fans that is just plain unlikable. I'm just going to go ahead and say it. There is however, something very enjoyable about watching this fan base suffer, and especially on their home turf. Scanning the crowd and seeing so many dejected faces during these last 8 games has been almost as much fun as watching the repeated beat-downs that have ensued on the field.
Eight straight times Husky fans have left with their voices hoarse from barking like dogs, and cramps in their arms from that ridiculous hat-tipping thing they do before kickoffs. Eight straight times they have left with their spirits crushed, and extra-mean Oregon fans like me simply can't get enough of it.
Now, maybe if I were born in Seattle and brainwashed since birth, or not so passionately drawn to the other side, I may have a different opinion. But the truth is that purple is arguably the worst color of all-time, especially for a football team. I laugh hysterically each time I see a big, mean looking guy rocking a periwinkle shirt.
Their fans absolutely loathe the Ducks. In fact, you can see looks of sheer desperation on the faces of the modern day Husky fan. Like their partners in mutual hate to the south in Corvallis, it seems their enjoyment in sports comes out of hating the Ducks more so than cheering for their own team. For eight years, their fans have hoped for a return to relevance, and eight straight years their team has failed.
This past season they ended with a particularly grand showing of ineptitude, giving up an unbelievable 77 points in a bowl game to a Baylor team that looked eerily similar to Oregon both in uniform and style of play.
Let's recap the longest win streak in the history of the storied rivalry between the Ducks and Dawgs, the current 8-win streak held by the Oregon Ducks.
2004 Eugene, OR 31-6
Kellen Clemens found freshman Cameron Colvin for two touchdown passes to lead Oregon over northwest rival Washington, in the game that started the run of consecutive Oregon victories.
Duck defensive end Chris Solomona returned a Casey Paus interception 8 yards for a score, as the Huskies offense sputtered and failed again and again.
Washington was coming off its first shutout loss in 23 years, as the Huskies ran their overall record to 1-7. Washington's lone victory at that point in the season had been at home against San Jose State.
2005 Eugene, OR 45-21
Demetrius Williams hauled in 5 catches for 92 yards and a pair of touchdowns, and quarterback Kellen Clemens completed an Autzen Stadium-record 36 passes, en route to throwing for 425 yards and 4 touchdowns with no interceptions to hand Washington its 11th consecutive loss against a Pac-10 conference opponent.
After the game, Washington stood at 1-5, while Oregon was  6-1, the Ducks' lone loss coming against top-ranked USC. USC would later have to vacate (then unvacate) the victory in the wake of the Reggie Bush scandal.
College quarterback project and current Dallas Cowboys receiver Isaiah Stanback completed just 13-of-26 passes for 111 yards and a pair of touchdowns and an interception for Washington.
2006 Eugene, OR 34-14  
No. 24  Oregon carved out 316 yards on the ground and beat Washington for the 3rd straight year in Eugene. Washington native Jonathan Stewart ran for 159 of those yards and two touchdowns.
The game would also be remembered for Patrick Chung scoring his 1st touchdown on a 59-yard punt return, following that up with an interception as well. Oregon Quarterback Dennis Dixon was still trying to find his stride, completing 14 of 25 passes for 109 yards, while the Huskies capitalized on his two interceptions for their only scores.
2007 Seattle, WA 55-34  
The week before this game, Running back Jeremiah Johnson had been lost for the season due to a knee injury, but Jonathan Stewart and Andre Crenshaw would more than make up for his absence.
Stewart, who had waited 2 1/2 seasons to play in his native state, responded by turning in the second-best rushing performance in Oregon history. Stewart ran for a career-high 251 yards and two touchdowns, and Andre Crenshaw added 113 yards and two more scores. Quarterback Dennis Dixon also ran wild on the Huskies, not just racking up yards but confounding the defense, crowd, announcers, and cameras with his repeated ball fakes that truly were a thing of beauty. In the final tally Dixon fell just short of 100 yards rushing, which would have left the Ducks with three rushers topping the century-mark.
The Ducks finished with a school-record 465 rushing yards and 661 total yards.
2008 Eugene, OR 44-10
The Ducks were reeling over the loss of expected starting quarterback Nate Costa at the start of the 2008 season during fall camp. To add to the suspense, Oregon was starting the year off by playing the hated Huskies.
Instead of Costa, sophomore Justin Roper started for the Ducks, and started off great completing 7-of-11 passes for 114 yards and a touchdown. But after a concussion, he was replaced in the second quarter by JC transfer Jeremiah Masoli, who threw for 126 additional yards and two touchdowns.
Washington's dual-threat quarterback, Jake Locker, completed 12 of 28 passes for 103 yards, and also ran for 57 yards.
The win was Oregon's 5th straight victory over the Huskies, which at the time was the longest streak for the Ducks in the northwest rivalry. Washington went 4-9 overall the season before, and pressure had begun to take its toll on coach Tyrone Willingham. After Oregon had delivered the first knockout punch of the season to Washington, the Huskies never recovered as they haplessly stumbled through their schedule, losing every game in 2008. 0-12, The first winless season in the history of the Pac-10. A team that was among the elite on the west coast had sunk to the most shameful of embarrassments.
2009 Seattle, WA 43-19
When my buddies and I entered our all-husky section at the mistake by the lake that day, we were met by all sorts of purple-clad trolls barking loudly at us as we made our way up the stairs to our seats. While the game had the looks of a tight contest early, Oregon would soon separate themselves, and eventually the fans in our section grew more quiet and began filtering out as Oregon's play that day had muzzled even the most annoying of husky fans.
Oregon blocked a punt for a touchdown and used a fake field goal to set up another TD, as the Ducks overwhelmed border-rival Washington for the 6th straight time, and like the previous five this one wasn't close. Oregon bullied Jake Locker and didn't let the Huskies into the end zone until the fourth quarter.
Jeremiah Masoli had returned from injury and completed 14 of 22 throws for 157 yards and a touchdown. He also added TD runs of 1 and 3 yards as part of his 54 yards rushing on the day. LaMichael James rushed for 154 yards and a pair of touchdowns, including a 56-yard TD sprint in the fourth quarter to cap the victory. Perhaps no throw was bigger than a perfect 32-yard touch pass to David Paulson to convert a 3rd and 25, setting up a score.
After the win, the Ducks could look toward next week's night game, a Halloween showdown against USC in Autzen. That matchup would prove to be the tipping point in the Pac-10, the moment at which Oregon assumed control of the conference as the dominant team from USC, issuing the Trojans the worst loss in school history.
2010 Eugene, OR 53-16
The 2010 contest brought about a noisy Autzen Stadium crowd, which on that Saturday was announced at 60,017 – the largest in the stadium's history. Current Washington quarterback Keith Price was making his 1st start, and although everyone expected a blowout early, the huskies held their own through the 1st half.
But in the 2nd half, the Ducks started blowing the game open, outscoring Washington 35-10 after halftime. LaMichael James gashed the huskies defense for 121 yards and three touchdowns, and QB Darron Thomas threw for a score and had two spectacular runs for touchdowns.
Redshirt freshman Keith Price started in place of Jake Locker, who watched from the sidelines with a broken rib. Price held his own, completing 14 of 28 passes for 127 yards and a touchdown.
The game was marred by Nate Costa again tearing a knee ligament, this time it would hold him out for the remainder of his final season in an Oregon uniform. A tragic ending for a player that had so much potential, left unrealized due to repeat knee problems.
2011 Seattle, WA 34-17
Last year's game may have been the closest, but it still wasn't that close. The Dawgs were celebrating the final game in Husky Stadium, the 20-year anniversary of their controversial shared AP championship, and former coach Don James and a host of ex-Husky players were on hand.
Aside from a strange fumble by Darron Thomas, and a late drop of a sure touchdown by Darrelle Hawkins, the Ducks showed that they came to play.
On the defensive side, Eddie Pleasant picked off Keith Price twice in the first half and Terrance Mitchell stripped tight end Michael Hartvigson late in the game. They held the Huskies to just 278 yards, and sacked the Husky QB six times.
A week after he was benched at halftime, Darron Thomas stepped up and threw for 169 yards and a 4-yard touchdown to Paulson. After Washington had scored to pull within 24-17, the Huskies provided Darron Thomas just enough time to find a wide open David Paulson over the middle for a 34-yard gain to reduced the previously ferocious barking by Washington's largest home crowd of the season to a whimper.
Oregon gained 194 yards and ran 28 plays in the third quarter alone, and finished with over 400 yards of offense. While this was the closest game in terms of score in the past eight contests, the Ducks earned a decided victory and turned the lights out on the hideous disaster that was old Husky Stadium.

Good riddance to bad rubbish…kinda surprised that trash heap of a stadium didn't collapse on its own.
_____
So there you have it, Duck fans.
Eight straight games, 8 straight Duck wins.
Although nobody wants to think much about it, the current win streak will one day come to an end. However, nothing can ever erase the near decade of dominance that the Ducks have displayed.
Next season, Washington will travel to Eugene, and will likely get rolled for a 9th consecutive time. Bet that the dawgs will come ready to play, and bring along a platoon of loyal fans ready to bark and do the silly hat tipping during kickoff thing, even if their team doesn't give them much to be proud of.
Josh White has been a dedicated Duck fan since the Bill Musgrave days. He has attended (and lost his voice at) virtually every home game and many away games since the late 1980's, including 96 of the current 97 game sellout streak at Autzen Stadium. A Eugene native, Josh works full time in Eugene area real estate, helping people buy and sell residential and commercial properties, and also volunteers with Habitat For Humanity, Kidsports and Food For Lane County. He welcomes your feedback.
Twitter: @WhiteHouseJosh
Facebook: EugenesBestRealtor
FishDuck Has New Off-Season Schedule and see the OUR BELOVED DUCKS Forum!
FishDuck articles will now be on Monday-Tuesday-Wednesday only during the off-season, and then we will go back to seven days a week during the football season beginning in August.
We will have some occasional guest articles later in the week, but the hottest Oregon football information will be posted in the OBD forum!
The Our Beloved Ducks Forum (OBD) is where we we discuss the article above and many more topics, as it is so much easier in a message board format over there.  At the free OBD forum we will be posting Oregon Sports article links, the daily Press Releases from the Athletic Department and the news coming out every day.
Be a part of the forum and stay caught up!  When you wish to post there, do know that you are protected just as you were on FishDuck. Join us on the free forum right here!
Our 33 rules at the free OBD Forum can be summarized to this: 1) be polite and respectful, 2) keep it clean, and 3) no reference of any kind to politics. Easy-peasy!
OBD Forum members….we got your back.  No Trolls Allowed!