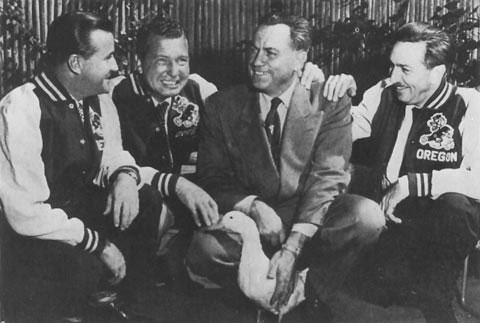 When the University of Oregon began searching for an athletic nickname in the late 1800s, the name "Webfoots" was the obvious choice. After all, until 1909 the State of Oregon was known as the Webfoot State. It didn't become the official moniker of the student body until 1926, when then Oregonian Editor L.H. Gregory submitted the winning choice in the official naming contest. Other popular finalists considered included the "Timberwolves" and the "Lumberjacks."

The "Webfoots" name can be traced back to 1776, when it referred to the "Webfoot regiment", a rough and tumble crew of Massachusetts fisherman that helped General George Washington and 10,000 of his troops spring a surprise attack on a stronghold of British forces during the Revolutionary War. With the experienced Webfoots fearlessly at the helm of the ships, the Continental Army successfully crossed the Delaware River at night. The battle that ensued in early hours the following morning in modern-day New Jersey helped turn the tide of the war, and ultimately led to the defeat of the Redcoats. Years later, descendants of those American heroes migrated west of the Rockies and settled in the Willamette Valley.
In 1932, another naming contest was held, but the Webfoots name again prevailed against other candidates such as the "Trappers", the "Pioneers", and the "Yellow Jackets." The transitioning of the "Webfoots" name to "Ducks" can be traced to the 1920s, when a live duck named "Puddles" would be selected out of the Eugene Millrace as the mascot each week. This tradition continued for over a quarter of a century, until 1947, when Athletic Director Leo Harris and Walt Disney came to an informal, handshake agreement that allowed the University to adopt the likeness of Donald Duck for its mascot.
When Walt Disney passed away in 1966, the extension of informal handshake agreement was threatened.
While almost no evidence of any agreement existed beyond a photo of Walt Disney in an Oregon jacket and the word of Leo Harris, Disney representatives and the University of Oregon eventually finalized an agreement for the continued use of the current Ducks mascot.
But not everyone was convinced of the agreement nor on board with the use of the Donald Duck image. Both the football and basketball coaches during the early years did not care for the "soft" cartoon imagery. Jerry Frei campaigned for a duck with teeth, and Dick Harter would only allow media to call his basketball team the Kamikaze Kids. The split consensus prompted yet another discussion about the nickname. However, in 1978, the Duck and the name would win another vote, this time in a landslide over a Daffy Duck look-alike named "Mallard Drake".  The name "Ducks" hasn't been threatened since.

Special thanks to Kurt Liedtke, who contributed to this post.