The Fiesta Bowl wasn't the original destination on Oregon's itinerary, nor was it its backup plan, and now a trip to Phoenix for a BCS game has become somewhat of a consolation prize for the nation's newest elite football program. Unlike nearly every other BCS matchup, the Fiesta Bowl immediately brought a load of intrigue to the college football world simply because the game will feature the "intended" national championship matchup between Oregon and the Kansas State Wildcats.
Despite the 11-1 record, Heisman candidate, and conference title, Kansas State is a flawed team. Their talent level is subordinate to Oregon's in multiple facets, and there is no way to disguise the fact that Kansas State would fail an eye test to Oregon on paper. But then again, Southern Cal made the same argument when Oregon smashed the Trojans in Los Angeles, in that Oregon really had no definitive advantages talent wise over SC in their matchup. However, Lane Kiffin coaches in South Central, and Bill Snyder coaches in the Little Apple (Manhattan, Kansas).
I can think of no better words to describe Bill Snyder, other than "miracle worker." Snyder is a coach with no agenda, other than winning; he will schedule to win, he will play-call to win, and he will coach to win. Despite his less-than-glamorous location, Snyder should be held in the same ring as Chip Kelly, Nick Saban, and the rest of the country's elite coaches. Snyder cooked up an extremely adaptable system for Kansas State, and made his offense work for his personnel, as opposed to the more stubborn approach of forcing personnel to work for the coach's style. The best example of his craft has to be Collin Klein – an athletic, but truly mediocre quarterback that was molded to play at the level of a Heisman contender.
Klein's best quality is his ability to run the football with tactical patience and efficiency, and as expected, Kansas State is a run-first team. Their concepts aren't extremely complicated, nor are they unconventional, but they are very effective with fundamentally sound blocking and running. While he does not get all of the team's carries, Klein can still be called KSU's primary ballcarrier in numerous situations, and contrary to Oregon's scheme, Klein does not need a defender to bite on the running back to run the ball.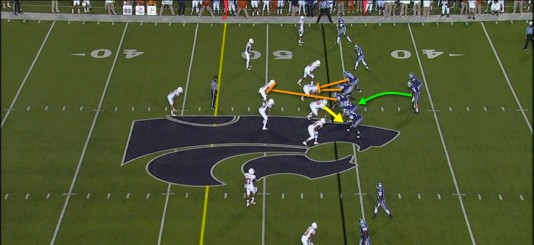 Here is Klein's dive play (image above), which features the running back as the lead blocker behind a simple blocking scheme aimed at the left side of the offensive line (orange line indicate blocks, green line indicates Klein's path). However, this play is aided significantly by Texas' defensive tackle stunting to the outside (yellow arrow).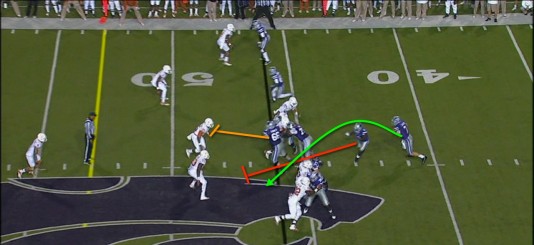 As the defensive tackle opens the hole, the running back (red arrow above) starts his path as a lead blocker as Collin Klein (green arrow) patiently glides through the backfield before heading upfield.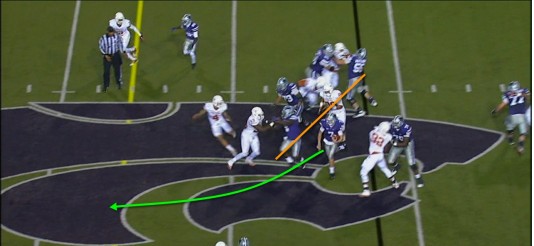 When the play fully develops (as shown by the blocks along the orange line above), Klein bursts through the hole. Klein is a physical runner with deceptive speed, and is a master at finding blockers to extend his run. Whether its by design, or through broken pass protection, Oregon can not let Klein run wild while covering KSU's exterior threats.
Kansas State will run loads of speed option plays, power plays with Klein as the ball carrier, the Inverted Veer, and zone read plays to fully feature Klein's athletic abilities. Luckily, Oregon's defensive coordinator Nick Allioti had plenty of success stuffing Ryan Aplin earlier in the year, and the superior Cam Newton, who ran similar concepts in the 2010 national title game.
Other than Newton, the most obvious person to compare Klein to would be Tim Tebow, who's athletic ability carried him in Gainesville, and caught the NFL off-balance (at least partially) last season. Tebow's biggest criticism is his throwing ability, and Klein shares the same critique. With a similarly whacky throwing motion, and a duck-like trajectory to his throws, Klein won't be making the technical throws that Marcus Mariota will be making on January 3rd, but Klein will likely be just as efficient as Oregon's freshman gunslinger.
Part of his efficiency stems from defenses overcompensating for his running ability, and any sort of play action draws a lot of attention from the secondary and linebackers. Whenever Klein runs downhill, defenses collapse down to stop the lumbering quarterback from gashing the interior, leaving plenty of space for Klein to lob a pass downfield.
The infamous jump pass is an extremely deadly form of play action Klein has at his disposal. The defense will read QB dive, as shown by the two orange lines above (yes, this play is illegal, more on that in a second). Klein, indicated by the yellow arrow, will approach the line of scrimmage as his tight end (red arrow) streaks downfield.
[Edited: Clarified rule on downfield linemen on pass plays]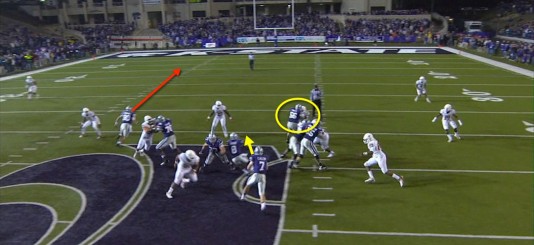 As Klein heads to the line of scrimmage, the center engages a linebacker (yellow circle above), making a pass play illegal at this point, as there is a blocker downfield. However, there was no call, and the play action becomes almost unfair to the defense. Klein continues his path downfield before stopping just short of the line of scrimmage.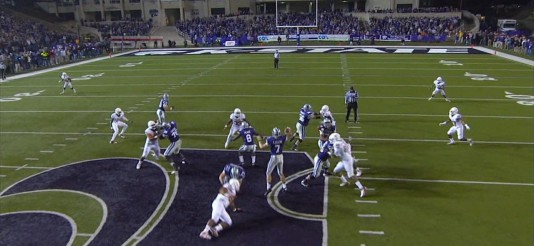 In the picture above, Klein hops up, and throws the ball to his tight end who is wide open between the hash marks. Texas has no linebackers in the vicinity, and gives up big yardage on a simple play action call. While this particular play should have been called back, KSU runs plenty of play action passes with the quarterback acting as a run threat, and has legal variations at their disposal as well.
Collin Klein is essentially the definition of a great college quarterback. He fits the system perfectly, avoids mistakes, and utilizes his athleticism to create big plays on the ground and in the air. Bill Snyder's unparalleled ability to put his players in the best position possible makes a previously venom-less offensive skill group very dangerous, and presents a very big challenge for the Oregon defense.

Want to Watch Oregon Games on your computer?
If you do not get all the channels that have the Oregon Football games, or simply want to be able to watch the game over again as you don't have the space in the DVR to hold all the games?
Contact me by email: charles@fishduck.com and I can help.  We have fans across the nation and internationally watching the games 24/7/365 and I wish that for everyone.  Charles Fischer