'Twas the season of freshman quarterbacks, when all through the nation… not a defense could stop them, not even Nick Saban's."
Ok, so a couple of defenses slowed them down, but you get the point. The impact that freshmen quarterbacks had on the 2012 college football season is undeniable. Johnny Manziel was the first freshman to ever win the Heisman Trophy after racking up 4,600 total yards and 43 total touchdowns, Everett Golson led Notre Dame to an undefeated season, and Brett Hundley played a huge part in turning a mediocre UCLA program into one of the best teams in the West.
Arguably the most complete of 2012's impressive batch of freshman quarterbacks, however, is Oregon's Marcus Mariota. The Hawaii native filled the hole left by Darron Thomas with a level of poise and stability rarely seen in young players.
The only sample of Mariota that Duck fans had seen heading into the season was his spectacular performance in the Spring Game, complete with an 82-yard touchdown run right through the team's defense.
Nonetheless, Chip Kelly gave Mariota the nod to take the first snap of the season, and he hit the ground running, eventually leading the Ducks to an 11-1 regular season and a Fiesta Bowl berth.
Because the success of freshman quarterbacks has played such a big part in dictating the landscape of the college football world in 2012, especially for Oregon, it seems only fair to look back and remember the school's past freshman quarterbacks and their accomplishments.
The history of freshman starters is short for the Ducks. Mariota is only the third quarterback in Oregon football history to start the first game of his freshman season. In fact, until 1972, freshmen were not even eligible to play varsity football; the exception being during of World War II when the NCAA was short on players.
It wasn't until the 1987 season that the Ducks saw their first starting freshman quarterback. The 1980s had been a frustrating decade for the Ducks, struggling as a team under head coach Rich Brooks. However, the problem had not been at quarterback. In fact, Chris Miller, Oregon's starting signal caller from 1984 through 1986, was drafted in the first round of the 1987 NLF Draft by the Atlanta Falcons.
Losing Miller, a three-year starter and school record holder, was a big concern heading into the 1987 season. Brooks had to decide between the young, physically unimpressive freshman Bill Musgrave and an older, more experienced and athletic Pete Nelson. On paper it seemed like Nelson was the obvious choice, but Musgrave just seemed to have the intangibles necessary to win football games.
Sure enough, Brooks started Musgrave in the team's season opener against Colorado. The freshman drove the Ducks into the end zone on the first drive of the game, and with a little help from the defense Oregon won 10-7.
It quickly became evident that the young freshman was beginning to turn the Oregon football program into a serious contender in the Pac-10. The kid seemed to have a knack for winning games. Musgrave squared off against two Heisman-caliber quarterbacks during his freshman season in Washington's Chris Chandler and USC's Rodney Peete, defeating both teams by a touchdown.
His freshman season ended in a 44-0 rout of Oregon State in the Civil War, one of the biggest blowouts in the rivalry's history. The team finished 6-5, signaling the start of a turnaround for the recently mediocre squad. At the center of the success was Musgrave, who set a freshman record with 1,818 total yards and 13 touchdowns in 1987.
Musgrave went on to become one of the most prestigious passers in school history. Though he missed much of his sophomore season due to injury, he remains Oregon's all-time leading passer. To many Duck fans, Musgrave marks the dawn of a new era in Oregon football as well, leading the team to its first bowl appearance (and victory) in 26 years in 1989.
Interestingly enough, the second freshman quarterback in Oregon history to start his first career game was Danny O'Neil, Musgrave's immediate successor. Much like he had with Musgrave, Brooks handed the reins of the offense to the freshman with full confidence in 1991.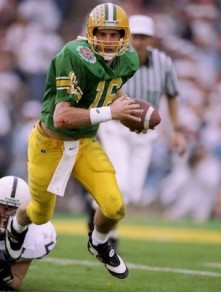 O'Neil greatly impressed in his first start, crushing Washington State 40-14 in front of his home crowd. He continued that success the next week, tossing for four touchdowns in a 28-13 win over Texas Tech on the road.
"His performance was pretty impressive," Brooks recalled. "It was on the road, at a tough place to play … he had some maturity about him. He didn't really play like a rookie."
After leading the team to a solid 3-2 start, however, O'Neil suffered an unfortunate thumb injury that kept him off of the field for the rest of the season. Oregon lost each of its six remaining games without O'Neil, showing his value to the team.
Before his injury, the freshman had thrown for 478 yards and seven touchdowns.
Unfortunately, O'Neil struggled with injuries throughout his career. Nonetheless, he made the most of his opportunities when he was healthy, and finished his tenure at Oregon second only to Musgrave on the school's all-time passing leader board. He also led the Ducks to their first Rose Bowl appearance since 1958 in 1994; a successful season that many say propelled the program into an era of greatness that continues to this day.
Clearly, both Musgrave and O'Neil had a certain something about them, much like Mariota, which allowed them to carry a team on their shoulders as freshmen. They may not have been the biggest, most athletic, or most experienced players, but when it came time to make a decision about who to send out onto the field for the first play of the season, Brooks knew that these poised and confident freshmen had what it took to lead the team to victory.
"I was just looking for the best guy," Brooks said of his decision to start Musgrave and O'Neil in an opener. "They were the best guys so they had to be the guy."
Mariota's experience in 2012 has been similar in many ways to those of his rookie quarterback predecessors. He was chosen over the older and more experienced Bryan Bennett, he led the team to victory in his first start, and he possessed the intangible ability to lead the offense with poise.
The so-called 'Flyin' Hawaiian' eclipsed Musgrave's total yardage record earlier this season against Colorado, and finished the regular season with an astounding 2,511 passing yards and 35 total scores. His 30 passing touchdowns are a conference freshman record. At this pace, Mariota would beat out Musgrave's totals and become the school's all-time passing leader over the span of a healthy four-year career.
Looking at the numbers and team success, one may say that Mariota had the most impressive freshman season out of these three. However, each of these young rookies made a huge impact on the Oregon football program, especially considering the fact that Musgrave and O'Neil helped so much to usher in the program's current era of unprecedented success, and Duck fans can look back and remember each of them fondly.

Joey Holland graduated from the University of Oregon in 2013, majoring in History. He played several sports in high school, though football remains his passion. He has yet to miss a single Oregon Ducks home football game during his time in Eugene. Joey has written previously for Bleacher Report and Football Nation.
Joey welcomes your feedback.
Mr. FishDuck … You Simply Can't Handle MY Opinions!

Baloney. I want all opinions here as it enables us see the full spectrum of ideas and helps us to learn from others and modify our own views as a result. In fact, this is the only Duck website where you can safely share your full-spectrum views on Oregon Sports.
If there is a problem … it is with your behaviors, and not your opinion, even if unpopular. Be polite and courteous to others and you will be reciprocated, and consequently you'll have a tremendous experience on FishDuck.
The majority of our rules can be summarized to this: 1) be polite and respectful, 2) keep it clean for grandchildren reading, and 3) no reference to politics.
Easy-Peasy!