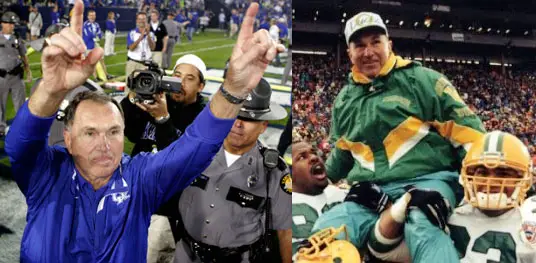 I have often thought about what Coach Brooks achieved at Oregon, but the real accomplishment is where he brought us from when he began.  But what about later?  What was left after he moved up to the NFL, and later to the SEC at Kentucky?
Coach Brooks turned Kentucky into a winner in the ruthless SEC and set a school record for bowl appearances, and when he left it appeared to be in good hands of a protégé he mentored.  Yet that coach was fired recently as the Wildcats could not tolerate any more losing under this coach.  What Coach Brooks achieved again from where he began was simply amazing at Kentucky.
At Oregon?  He left us with Mike Bellotti who was able to build upon the foundation Rich built, and we have flourished since.  We have to count our blessings at Oregon to have been left with a superb coach compared to what happened to Kentucky.  It goes to show how hard it is in succession, and maintaining success.  It also says so much about the fire and intensity of Coach Brooks to twice build winners from almost nothing.  Have a great retirement Coach…you deserve it!

Fantastic FishDuck.com Discussion!
The comments below the articles have drawn raves from so many, and I do appreciate your emails about it.
Be a part of it!  If you check the rules, you will see that I protect everyone from the trolls.  So, there is no downside!  We want to hear from all readers on all the articles, so jump in Ducks, (as the water is fine) and be a part of this tremendous community!