FishDuck.com is widening its coverage of Duck sports with some UO mens' basketball analysis.  The goal is to break down parts of UO Coach Dana Altman's philosophy as it pertains to the success of the basketball team. As a retired teacher and basketball coach, I'm interested in learning more about what makes Altman's teams consistently so good.  I don't pretend to know everything about basketball, but I love the game and I hope to utilize 34 years of successful prep coaching experience to explore some of the reasons Altman has the Ducks ranked in the Top-10 for the first time since 2007, leading the Pac-12 Conference at 7-0, and in line for an NCAA tournament berth in March.
-Coach Luke Roth
Inbound Sets Result in Quick Oregon Scores and Complement Other Parts of Altman's Offense

As this amazing Duck basketball season continues to roll along and gain momentum from each ensuing win, things stay pretty much the same with coach Altman. On the offensive side of the ball, the Ducks are grounded in a winning formula under his tutelage that includes playing both a high-octane transition game, and a controlled offensive style in the half-court. Altman believes the best percentage shots for his team come at close range in the paint on post-ups and slashing drives to the basket, or on wide-open looks on the perimeter which are created by good ball movement and by players screening and cutting off screens to get open.
The Ducks search for good shooting opportunities in a variety of ways: creating offense from defense — scoring in transition after defensive stops or steals; put-backs after grabbing offensive rebounds; and running offensive sets with prescribed movement that results in open shots. 
But Oregon also takes full advantage of set plays when inbounding the basketball, either from the sideline, or under the basket. This Altman team has had a very high success rate scoring on inbound plays, especially in recent games. These quick Oregon scores are a result of either a direct pass from the inbounder resulting in an good shot, or on a set play from the sideline designed to create an open shot attacking the hoop, or with good ball movement, creating shots on the perimeter.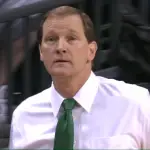 The first thing Altman mentioned in considering Oregon's recent scoring success on inbound situations was that the team is setting better screens. He said, "Some of it is just simply picking somebody. Our team is getting better as pickers (setting screens). We have not done a really good job of that in previous years." He went on to say, "Our guys have been ready to shoot it. In the last few games, we've gotten a couple of baskets [from inbound plays] that have been real important for us."

In their recent win against Washington, Oregon scored on four different sets either directly or indirectly after inbounding. The following photographs explore two of the four plays that resulted in quick Oregon baskets in the game. The first play is initiated on the sideline on Oregon's end. It is an example of a set play called by Altman during a timeout to take advantage of a mismatch in quickness that Arsalan Kazemi had on his Washington defender.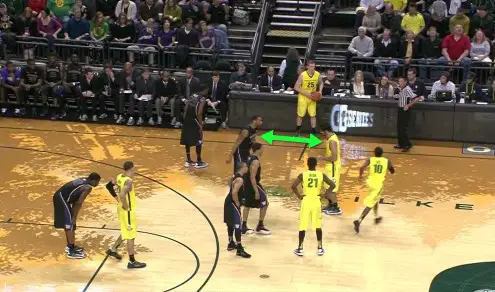 Above: From the sideline, E.J. Singler (25) prepares to inbound the ball to Jonathan Loyd (10) against Washington's man-to-man defense to start the sequence. As the play unfolds, note the matchup between Oregon's Arsalan Kazemi and Desmond Simmons, his opponent (green arrows). The primary goal of the play is to clear out space for the Kazemi, who will attack Simmons with a dribble-drive and try to get to the rim.

Passing the ball to a three-point shooter in the corner is a secondary option if Kazemi is challenged on the drive. As the ball is inbounded, Damyean Dotson (21), clears out (backward) to the top left area near half-court. He will receive a pass from Singler after Singler and Loyd exchange positions on the play.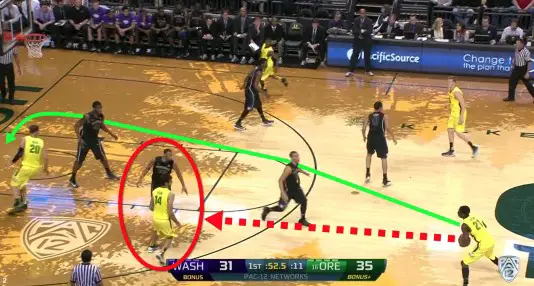 Above: As soon as Dotson receives the pass from Singler, he swings the ball to Kazemi (red dotted arrow). Kazemi has positioned himself on the left wing.  As Dotson releases the ball, he cuts hard through the key to clear the area and to bring his man with him (green arrow).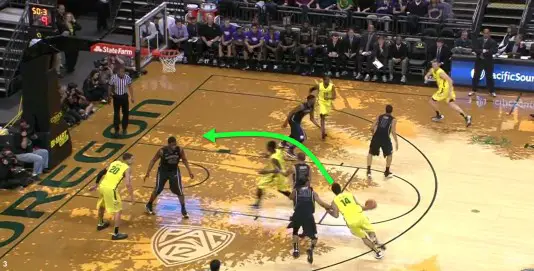 Above: When he receives the ball, Kazemi beats Simmons with his aggressive first step and attacks the basket with a right-handed drive (green arrow), following Dotson toward the hoop as he cuts to the basket. Loyd looks to screen Abdul Gaddy (0), as Singler begins to slide to the corner for a potential three-point shot.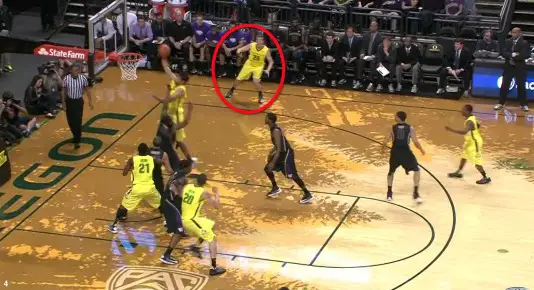 Above: Kazemi finishes a strong drive for two points as an open Singler (red circle) waits for a pass from Kazemi, had he been challenged. The successful execution of this play relied on good timing, spacing between players, and aggressiveness attacking the basket.  It was an example of Oregon identifying a mismatch and exploiting it.

The next series of photos describe a more traditional inbound play that Oregon has scored on numerous times in the last few games when inbounding under their own basket. Again, this play is one used to take advantage of playing against man-man defense. It relies on setting good screens or picks, rubbing off the screens hard and close, and finishing the shot.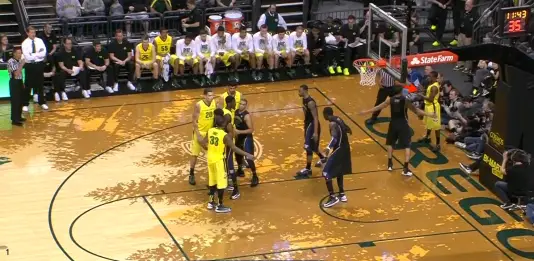 Above: The referee on the baseline starts to hand Johnathan Loyd the ball (red arrow).  Altman likes the point guard to inbound the ball under the basket. Just before the play begins, the Ducks are standing bunched up in the key area. Waverly Austin (20), and Kazemi (facing camera), prepare to set a double screen just outside the free throw lane.  The first screen will be for Carlos Emory, (33). The second screen will be for Damyean Dotson,  (sandwiched in the middle).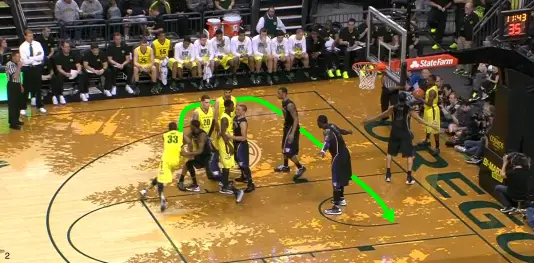 Above: As soon as Loyd gets the ball from the referee, the play springs into action. The initial option on the play is for Emory, the first cutter. He cuts hard off Austin's screen to the basket (green arrow). If he's open, Loyd will get him the ball. If he doesn't get the ball, he becomes an offensive rebounder.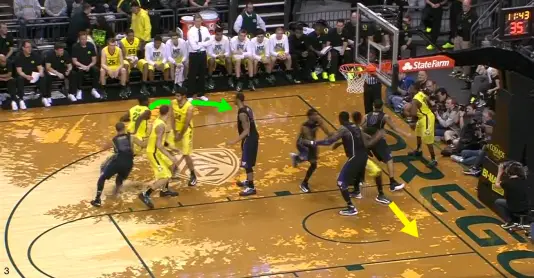 Above: Dotson is the second option, and he follows Emory hard around the double screen (green arrow), and prepares to peel his man off Kazemi's screen. Note Emory, who had cut first, and now is nearly hidden on the baseline in this photo. He didn't receive the inbound pass, so he stays on the baseline to get into rebounding position (yellow arrow).

Above: The pick by Kazemi gave Dotson just enough space (green arrow), to receive the ball from Loyd (red dotted line), and take an open jumper.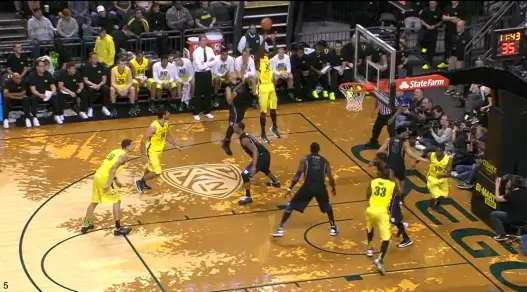 Above: Dotson drains the open jump shot to give the Ducks a six-point advantage over the Huskies, as the other Ducks on the floor relocate into rebounding position. E.J. Singler hit nearly an identical shot on the same play just three minutes earlier in the game.

Oregon is finishing inbound plays successfully, in part, because of Altman's attention to detail. In addition to setting better picks and hitting shots, the Ducks are doing other little things well, like ball-faking the inbound pass, setting up defenders for successful screens, and physically coming to meet the ball on the pass. Loyd, Oregon's backup point guard and inspirational sparkplug, started and played in place of injured Dominic Artis against Washington. Loyd had five assists in the game, and three of them came on inbound sets.
While finishing inbound sets is just one small facet of Oregon's overall game, it's helping the Ducks on the scoreboard.  Loyd said, "The [inbound] play-calling is great and we're executing."

That's a winning combination.


Luke Roth (Basketball Analyst) is a retired teacher and coach who has lived in Eugene since 1977. He coached high school basketball for 34 years, including 26 years as Sheldon HS girls varsity basketball coach (1984-2010). Luke taught at Sheldon for 30 years, and in the International HS at South and Sheldon, for 20 years. He taught journalism and advised the school newspaper at Sheldon during his stint there. He is a long-time Duck fan and UO alum (MA 1985). Luke has been married to his wife Catherine for 36 years with two grown children and one eight-year-old grandson. In retirement, Luke spends his time hiking, biking, gardening, writing, and playing the stand-up bass in the Sorrel Way Jam. Follow Luke on Twitter: @luke_lukeroth
Changes at FishDuck!
Do sign up for our Newsletter to let you know when Mr. FishDuck has written an article and for his spicy not-for-public commentary. Newsletters begin in mid-October!
Do Register to Post Comments! 
It takes a minute is all, and will allow us to continue our amazing discussions of Oregon Sports. Register here… 
Our 29 rules about posting a comment at FishDuck can be summarized to this: 1) be polite and respectful, 2) keep it clean for the grandchildren reading, and 3) no reference to politics!
Easy-Peasy!