A new Friday series are the OREGON UNKNOWNS, where we look at interesting aspects about our beloved Ducks that few fans know about. Some are amusing facts or stories from the inside, while others are the humorous incidents that we fans rarely hear about.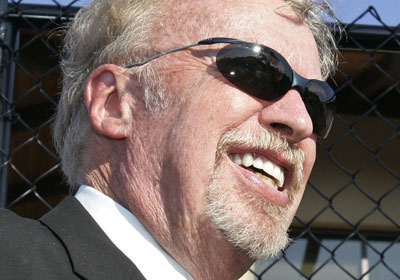 Oregon Football did, in fact, exist prior to repeated generous donations by Phil and Penny Knight.  And while Knight has been a significant benefactor, Oregon Football succeeded prior to their current level of philanthropy.
Before any nine-figure donations were ever made, the Ducks first had to prove themselves on the field. The football team began its current rise to success when former head coach Rich Brooks was hired in 1977. While initial progress, as measured by wins and losses, was slow (Brooks was just 46-71 in his first 10 seasons), the product on the field was a vast improvement from previous years. The Ducks did not win every game, but they were steadily gaining traction.
Not even the "spoils" of four straight winning seasons from 1987-1990, including back-to-back 8-4 records in '89 and '90, were enough in terms of success to garner much support from a former Duck who had built the world's largest athletic apparel company just a few miles north, one with an enormous star like Michael Jordan serving as a primary face of his company.
In Coach Brooks' final seven seasons, the win-loss record showed the trajectory of the program, with Oregon going 51-45 during that span. The Ducks posted two losing seasons, but also played in four bowl games in that span, culminating in a Rose Bowl appearance against Penn State following Brooks' final season in 1994. Prior to his run, Oregon did not have a winning record since 1969, had not been to a Rose Bowl since 1958, and had not been invited to a bowl since 1963. While these historic accomplishments generated a new level of excitement for loyal but long-suffering fans, the success did not immediately translate into massive donations.
It wasn't until after the 1995 Cotton Bowl season, the first under head coach Mike Bellotti, that Mr. Knight (aka Uncle Phil) began to take a heightened interest in the program. It is said that Knight's curiosity was in how to level the competitive playing field, and when asked what was the biggest issue Oregon faced in maintaining consistency, a Coach Bellotti replied, "most people seem to agree that the weather is really lousy here in Eugene during the football season. I think it maybe wouldn't be so scary for kids to imagine enrolling here if they could practice indoors"…or something to that effect.
Now armed with a clear goal for improvement, it was then that Mr. Knight began his financial involvement in the first of many extremely charitable donations to the University and its facilities in the duration since. Combined with the resources and donations of many loyal boosters, the first project addressed Bellotti's greatest concern, by building an indoor practice facility for the Ducks. The 117,000 square-foot, $15 million Moshofsky Center was named after another chief donor – 1943 graduate and former two-way starting lineman, Edward Moshofsky.
There's no denying the positive impact it has had on the field. Since the doors of "The Mo" opened, the Ducks have gone 131-59. But before the modern day facilities advantage could be realized, the program had to first prove that they would be constructed on a solid foundation.
Are you a former player or know someone that has an Oregon Unknown to share? This is great fun for the fans, and for players to remember again the special times during their Oregon career. Simply email Charles@fishduck.com and share in the fun!

Visit our Sister Site, the new Our Beloved Ducks Forum!
This new forum that is unlike anything you have ever seen between our civilized discussion, (NO TROLLS ALLOWED) complete directions available for easy usage and the delivery of all Oregon Sports News.  (That last part is a gradual transition up to Spring Football)
Go to the forum where we delve into today's article and so many more topics and the nuances within them over there.
We have a topic post begun over at the forum for today's article; it is a free site and offers more opportunity for the exchange of opinions on all the Oregon Sports subjects of the day. (And there are some very cool features!)
An introduction article about the new forum is right here.