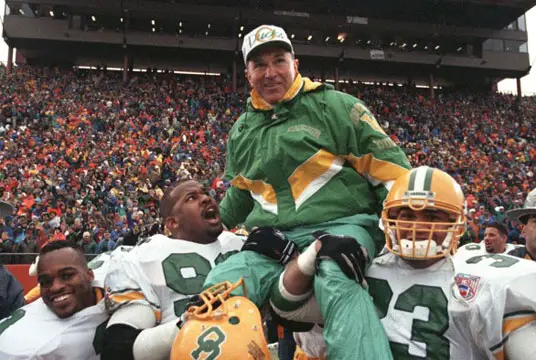 This new Friday series are the OREGON UNKNOWNS, where we look at interesting aspects about our beloved Ducks that few fans know about.
1980 was a bizarre year.  1979 had seen the Ducks rebound from some less-than-stellar years, and they were expected to contend for the Pac-10 title.  Instead, scandal rocked the conference before the season began.  Oregon was found to have given out false credit for classes, and allowed players to misuse credit cards.  Oregon's football program, along with USC, UCLA, Arizona State and Oregon State's programs, were all banned for a single season from playing in any bowl games.
Because of the scandal, Rick Brooks tendered his resignation.
President William Boyd refused to accept it.
The Ducks put the scandal behind them, and played one of their better seasons under Brooks; ending up with their first back-to-back winning seasons since the early 60's.  In fact, that season would go down as the fourth-best they would play in Brooks' seventeen-year tenure at Oregon.  Several wins during the season would turn out to be some of the most satisfying of his entire career.
The first of those wins was against Michigan State.  During the Friday warm-ups, the Spartans decided to do a little trash-talking and paraded past the Ducks as they came out to practice, singing a little song entitled "Duck Soup". Apparently, this didn't go over too well with the Ducks.
"We went out and showed Michigan State that they were the main ingredient in that duck soup," Brooks recalled.  Oregon won 35-9.
Against the Huskies, in Seattle, with Washington ranked in the Top-10, Oregon won 34-10, a victory that was capped by a Steve Brown second half interception return, setting a precedent Kenny Wheaton would later echo with "The Pick"'.
Against USC, also ranked in the Top-10, Oregon played a stellar defensive game, tying the Trojans 7-7.  The tie came despite an incomplete pass for Southern California that was ruled a touchdown, and a lost fumble at the goal line that cost the Ducks six points. A terrific fourth-down stand late in the game, when Oregon stopped Marcus Allen, preserved the tie.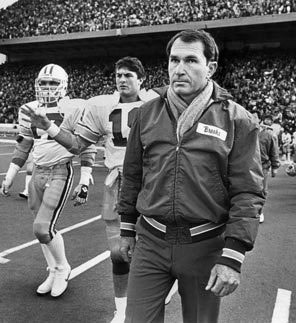 Against UCLA –, the third and final Oregon opponent to be ranked in the Top-10 – Oregon prevailed once more, 20-14, preserving the win with another terrific goal-line stand fueled by several swatted passes. Brian Hinkle was voted Pac-10 Defensive Player of the Week — something he accomplished an outstanding four times that season!
To cap off a successful, albeit bowl-less season, Oregon pounded the Beavers 40-21, and for the first time in history they swept the three Pacific Northwest schools, putting an exclamation point on the year.
Just think what might have happened if President Boyd had accepted that resignation.
Are you a former player or know someone that has an Oregon Unknown to share? This is great fun for the fans, and for players to remember again the special times during their Oregon career. Simply email Charles@fishduck.com and share in the fun!
Visit our Sister Site, the new Our Beloved Ducks Forum!
This new forum that is unlike anything you have ever seen between our civilized discussion, (NO TROLLS ALLOWED) complete directions available for easy usage and the delivery of all Oregon Sports News.  (That last part is a gradual transition up to Spring Football)
Go to the forum where we delve into today's article and so many more topics and the nuances within them over there.
We have a topic post begun over at the forum for today's article; it is a free site and offers more opportunity for the exchange of opinions on all the Oregon Sports subjects of the day. (And there are some very cool features!)
An introduction article about the new forum is right here.