Chris Miller was gone, off to the Atlanta Falcons as a first round draft-pick.  The team was young, and would be led that year by a redshirt freshman named Bill Musgrave.  The experts didn't see much out of this team, and picked them to win only two or three games.
Hogwash, according to Rich Brooks.  He expected his young guys to play like veterans, and declared that this would not be a rebuilding year.
The first game of that season was against the University of Colorado, in Boulder, and the Ducks were seventeen and a half point underdogs.  Led by Musgrave and wide-receiver Terry Obee, the Ducks would stun the home crowd and beat the Buffaloes 10-7.
Afterwards, a jubilant Brooks said, "seventeen and a half point underdogs and we got the respect."
After losing at Ohio State and beating San Diego State, next came the Huskies, who had high hopes of making it to the Rose Bowl that year.  Instead, a record crowd and a fired-up Oregon team took the fight to Washington, building a fifteen-point lead in the fourth quarter.  They would need most of those points to withstand a late Washington rally to win 29-22.  It was the first time the Ducks had beaten the Dawgs in Autzen since 1973.
The following week USC (the eventual conference champions) came to Autzen, and the Ducks would storm to a 21-0 lead. Late in that game, it was Musgrave to Obee with a clutch touchdown catch that would allow them to complete the victory, 34-27, and after the win, Oregon would rise to number 16 in the national rankings.
Then came the UCLA game, and Oregon started turning the ball over. They lost that game 41-10, and would lose their next four games, in great part due to those turnovers. They would lose an astounding 25 turnovers in four weeks, derailing their national rankings and their hopes for a bowl game.
With two games left, and with Musgrave now injured, the Ducks turned their hopes to Pete Nelson, who helped lead the offense to a resurgence that allowed them to crush Washington State 31-17 and demolish the Beavers 44-0, giving Oregon a sweep of the Northwest schools for only the second time in the eighties.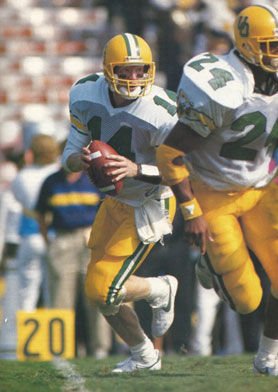 Despite those last two wins, giving them six for the year, Oregon would not play in a bowl game that season.
So why should a seemingly inconsequential season like 1987 matter at all?  Why write about a bowl-less season when there are so many more glorious seasons to write about? Because it was during this season that several important steps were taken, and certain traditions established that led to the impressive seasons down the road.
In 1987, Bill Musgrave became a starter, a status he would not relinquish when healthy for the rest of his career.
In 1987, Autzen stadium set an all-time attendance record, establishing the tradition of loud, enthusiastic crowds that are so commonplace today.
After that season, Autzen got its first serious upgrade, a $2.3 million facelift that added new press boxes and luxury suites, transforming the stadium into a much more impressive place to play.
And in 1989 and 1990, the Ducks, led by the poised and experienced Musgrave, would go on to back-to-back bowl games for the first time in their long history.
It all started in 1987.
Don Gilman is a second-year communications major at Umpqua Community College in Roseburg, Oregon. In addition to writing for FishDuck.com, he has been published in the Roseburg News-Review Newspaper, the UCC Mainstream Newspaper, Bucketlist Publications and is the featured author in the June, 2013 edition of eHorror magazine (under a pseudonym.) In 2013 Don received two awards from the Oregon Newspaper Association's annual statewide college competition: Third place for Best Feature Story and second place for Best Spot Photography.
Daily Articles NO MORE on FishDuck
Please see this explanation right here… and to learn about the impact of FishDuck on so many–check the summary right here.  I will be writing intermittently on FishDuck (as the mood strikes) this summer, and a couple of times a week during the football season, and those articles and analyses will be posted here on FishDuck, and the links to my articles will also be available on the new site PuddleHuddle, when it is up soon.
New at FishDuck? Learn about the site right here!
Our 32 rules can be summarized to this: 1) be polite and respectful, 2) keep it clean, and 3) no reference of any kind to politics. Easy-peasy!
Take note though, there are NO STRIKES, NO WARNINGS, and NO SLACK given. Violate the rules and you are gone, as this is what the 99% who post superb comments want. (The Ban could be for weeks, months or permanent) For the less than 1% out there who do not have impulse-control … as you write your comment that violates our rules, ask yourself, "is this worth getting banned over?"
FishDuck members….we got your back.  No Trolls Allowed!