This continues a new Friday series: the OREGON UNKNOWNS, where we look at interesting aspects about our beloved Ducks that few fans know about. 
In the 1980 season, Oregon notched victories against each of the other three Northwest schools: Oregon State, Washington, and Washington State.  The Northwest sweep stood out in particular that season, marking the first time the Ducks had accomplished the feat since 1954.  Now, 59 years after it was first achieved, that accomplishment still deserves recognition.
Teams don't get a trophy or banner to hang up for winning it, nor do T-shirts get printed up, either.
This de facto "Championship" may not be as coveted or widely recognized a conference championship, but it is still meaningful for fans of the four major football schools in our corner of the country.  Largely unrecognized, it remains a noteworthy achievement, mostly because completing the Northwest sweep simply doesn't happen very often, historically speaking.
Since Oregon captured that title in 1980, the "Northwest Championship" has yielded some interesting results:
In the past 32 seasons, our paddle-tailed friends to the north have accomplished this feat only twice ('04, '07), the fewest of any of the teams – sort of.  The Cougars of Washington State have technically won it three times in that same span ('82, '83, '97*), although they did not play Oregon State in 1997.
Much of the eighties and early nineties were dominated by the dreaded Huskies, and so it should be no surprise that Washington lays claim to the most Northwest Championships in that time span with 11.  However, they have just two in the past decade ('81, '84, '86, '89, '90, '91, '93, '96, '99, '02, '03), and both of those were nearly a decade ago.
You might also note that Oregon has made some serious headway in this series of late, with the Ducks sitting just one behind Washington, pulling in ten Northwest Championships since 1980. That includes the past five, which is the longest streak by any team during that span, and six of the past eight seasons overall Oregon's achieved the sweep, ('80, '87, '95, '01*, '05, '08, '09, '10, '11, '12) noting that they did not play Washington in 2001.
Not long ago, before Oregon was competing for a conference title each season, a win in the Northwest Championship and a bowl game invitation, ANY bowl game invitation, was about as good as us 'old time' fans could realistically hope for each season.  Now, with the Ducks having just played their fourth straight BCS game, the remarkable nature of this season can often be overlooked.  Any Duck fans who remember the other end, those who watched Washington's run of four of five from '89-'93 or even their last wins in '02, '03 will tell you, beating the other Northwest schools is still a big deal, a rare sweep!
Congratulations to the Oregon Ducks, the five-time defending and 2012 Northwest Champions!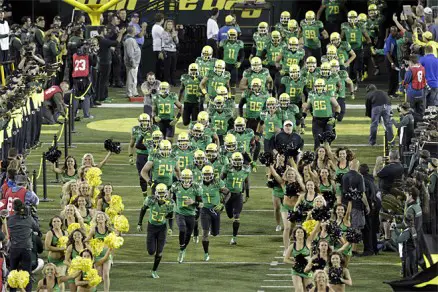 Are you a former player or know someone that has an Oregon Unknown to share? This is great fun for the fans, and for players to remember again the special times during their Oregon career. Simply email Charles@fishduck.com and share in the fun!

Visit our Sister Site, the new Our Beloved Ducks Forum!
This new forum that is unlike anything you have ever seen between our civilized discussion, (NO TROLLS ALLOWED) complete directions available for easy usage and the delivery of all Oregon Sports News.  (That last part is a gradual transition up to Spring Football)
Go to the forum where we delve into today's article and so many more topics and the nuances within them over there.
We have a topic post begun over at the forum for today's article; it is a free site and offers more opportunity for the exchange of opinions on all the Oregon Sports subjects of the day. (And there are some very cool features!)
An introduction article about the new forum is right here.