If you've ever wondered what kickers really do in practice, you're not alone.  In the off-season, kickers find themselves with plenty of time on their hands, maybe too much time, and when that happens the mind begins to wander.
A lot goes into special teams play; it requires endless repetition to master the precise timing and technique necessary to be proficient.  With games often hanging in the balance, it was deemed so important at Oregon that head coach Mike Bellotti himself took on the role of kicking coach.
First, however, a little background: in 1999 as a Lou Groza Award Finalist, Nathan Villegas was taken out unexpectedly when young quarterback Joey Harrington jumped on Villegas' back, causing Villegas to tear his ACL.  He was carried off the field by his linemen while both teams prepared for overtime versus USC.
In the first overtime barefoot placekicker Dan Katz came on the field to potentially win the game with a field goal.  Dan Katz was a backup kicker to an all-star, but in one of the most important games of the year, versus USC, the barefoot Dan Katz was called in to put up a game winning field goal –  and I guess that moment got to him, as he missed.
The teams exchanged touchdowns in the second overtime, pushing it to a third OT, and Josh Frankel was called to step in rather than Katz.
While he may not have kicked-off in the game, Frankel (in triple overtime) entered the history books by nailing the game winning field goal and being carried off the field by teammates.
With Villegas sidelined, Frankel assumed the role of kicker for the Ducks while Dan Katz, possessing the stronger leg of the two, took over kickoff duties.
————————————————————————————–
A look back with Josh Frankel
Sometimes, the surroundings and equipment on the practice field can be more entertaining than running gassers.  Former kicker Josh Frankel recalls a lighter moment from fall camp of that season:
"In practice, you can only kick for so long, then you're standing around and just conditioning.  We had a time in fall camp where we were just throwing around the ball."
In an effort to liven things up, the players began playing pranks and joking with each other.
"On the grass field practice facility (Pape' Field) there was an outhouse.  At times, when players went in there, we would throw a football at the outhouse to rock the bathroom a bit!"
Can you imagine being the unfortunate soul who had to use the port-a-potty while your teammates pelted it with footballs?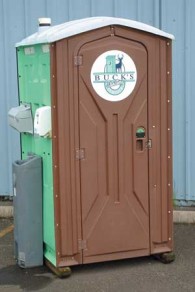 One time, we saw Coach Bellotti go in.  We told Dan Katz that a player had entered the outhouse and he must get revenge!  Dan starts walking over with a ball ready to launch it at the outhouse.  He has his arm cocked and ready to fire … when Coach Bellotti walks out of the bathroom!"
Dan dropped the ball and turned around, and we were all laughing hysterically!
————————————————————————————————————–
My question to FishDuck is …. "Would Dan have gotten the crap kicked out of him?"
Josh White has been a dedicated Duck fan since the Bill Musgrave days. He has attended (and lost his voice at) virtually every home game and many away games since the late 1980's, including 96 of the current 97 game sellout streak at Autzen Stadium. A Eugene native, Josh works full time in Eugene area real estate, helping people buy and sell residential and commercial properties, and also volunteers with Habitat For Humanity, Kidsports and Food For Lane County. He welcomes your feedback.
Twitter: @WhiteHouseJosh
Facebook: EugenesBestRealtor
Daily Articles NO MORE on FishDuck
Please see this explanation right here… and to learn about the impact of FishDuck on so many–check the summary right here.  I will be writing intermittently on FishDuck (as the mood strikes) this summer, and a couple of times a week during the football season, and those articles and analyses will be posted here on FishDuck, and the links to my articles will also be available on the new site PuddleHuddle, when it is up soon.
New at FishDuck? Learn about the site right here!
Our 32 rules can be summarized to this: 1) be polite and respectful, 2) keep it clean, and 3) no reference of any kind to politics. Easy-peasy!
Take note though, there are NO STRIKES, NO WARNINGS, and NO SLACK given. Violate the rules and you are gone, as this is what the 99% who post superb comments want. (The Ban could be for weeks, months or permanent) For the less than 1% out there who do not have impulse-control … as you write your comment that violates our rules, ask yourself, "is this worth getting banned over?"
FishDuck members….we got your back.  No Trolls Allowed!