Prior to when the current 89 game sellout streak began at Autzen during the 1999 season, tickets to most Duck football games came easily for those that wanted them.
Didn't have season tickets? No problem; you could often walk up to the ticket booth and purchase seats up until kickoff.  That is, if you made it past the "informal secondary ticket market" – a pack that still forms before each game where pros and average Joes cluster together selling their "extra" tickets.
But in the late 90's, something began to click with fans.  Oregon was good.  Not just flash in the pan good, not just sort of good; but for perhaps the first time, the Ducks truly looked like they were building towards long term sustainable success.
Fans had recently seen the likes of solid offenses featuring quarterbacks like Bill Musgrave, Danny O'Neil, and Tony Graziani; and skill players like Derek Loville, Saladin McCullough, Dino Philyaw, and Cristin McLemore.  The next group, Akili Smith, Rueben Droughns, Pat Johnson, Damon Griffin, and Tony Hartley took the Oregon offense to yet higher levels than their predecessors.
With success came a spike in fan attendance.  Autzen was selling out standing room tickets, always packed and loud, and some show called College Gameday was set for its first trip to Eugene.  Despite being ravaged by injuries in 1999, the Ducks won nine games, including their bowl game.
The next year Oregon's first 10-win season in history happened, and the Ducks beat heavyweight Texas in the Holiday Bowl.  Then came the first 11-win season and BCS victory high water mark in 2001.  Oregon had sold out every ticket available for three full seasons.  The home field advantage at Autzen was peaking, and it was time to expand, update and keep up with the Ducks success on the field.
When the University of Oregon commenced work on the $89.5 million remodel of Autzen Stadium in December of 2001, the new 97 foot high roof line on the remodeled south side was a feat of architectural and engineering beauty.  Reminiscent of the original design, the design of the new roof included 430,000 board feet of Douglas fir creating eight 12-1/4-inch-wide, 171 feet long cantilevered Glulam beams supporting the roof structure.  While neither roof actually provided much shelter from the elements, the new design is far more aesthetically pleasing and raising the roof allowed for a number of other upgrades.  On the down side, the new grander design took away the previous symmentry of the bowl shape, and does not provide the same intimacy and acoustics–some of the "loud" left the stadium along with those old beams.
An undercurrent among fans since the remodel of Autzen Stadium is that Autzen was actually louder before the expansion.  The theories behind this notion are many, but perhaps the most common is that the original lower-roof design was physically superior in bouncing crowd noise back onto the field, giving an already juiced up 44,000 or so screaming fans that much more pop.
Opposing teams who visit not only have to overcome the Ducks on the field, but also the reliably relentless roar and energy from the crowd in Eugene.  It is what makes trips to Autzen daunting for opponents and their fans.
The old roof that had bounced all of that crowd noise over the years serv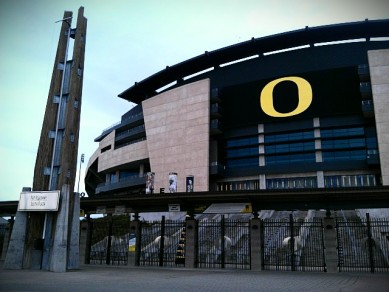 ed as a symbol of sorts for that era of U of O football.  That is part of why, when the old roof was taken down, it was not demolished but dissected and recycled.
So what happened to the debris when they blew the roof off?  As you approach any of the main entrances at Autzen stadium, you may notice a series of decorative towering vertical wood beams positioned along the outside of the stadium gates.
These are actually the original roof supports re-purposed to memorialize the essence of the original stadium!
Josh White has been a dedicated Duck fan since the Bill Musgrave days. He has attended (and lost his voice at) virtually every home game and many away games since the late 1980's, including 96 of the current 97 game sellout streak at Autzen Stadium. A Eugene native, Josh works full time in Eugene area real estate, helping people buy and sell residential and commercial properties, and also volunteers with Habitat For Humanity, Kidsports and Food For Lane County. He welcomes your feedback.
Twitter: @WhiteHouseJosh
Facebook: EugenesBestRealtor
Comments Below the Articles are BACK!
You can comment below articles again here at FishDuck, and if you were signed up before–it will work.  Everything is still on file, so join the fun!
Do remember to follow our rules, as that has not changed.  All our rules can be summarized to this: 1) be polite and respectful, 2) keep it clean enough for a 10 year old grandchild to read it, and 3) no reference of any kind to politics. Easy-peasy!
Articles will be published on: Sunday-Monday-Wednesday-Friday.  Look for them!