10 days ago, somebody on YouTube by the name of K Marko released a — how should I phrase it? — entertaining video called "Dawg Bite (VIVA LA STOOL)" about the Georgia Bulldogs football team. Here it is:
Just incredible.
I first heard about this video while listening to The Solid Verbal's podcast from last week. TSV co-host Ty Hildebrandt brings it up at 3:12 of the podcast, and he basically wonders who thought this was a good idea.
The other host, Dan Rubenstein (an Oregon alum), defended "Dawg Bite" and videos like it, saying, "I'm not as down on these as you are, mostly because Oregon is one of the couple schools to pull off a really good one." (3:46 in the podcast).
Rubenstein is referring to Supwitchugirl's "I Love My Ducks", of course.
Both the "I Love My Ducks" video and song are obviously pretty dated at this point, but I'm still totally impressed by the quality (same goes for the sequel), considering it was made by just a few college students. It's lighthearted and funny, but it doesn't embarrass itself.  I mean, can you imagine if "I Love My Ducks" featured Chip Kelly doing something like this: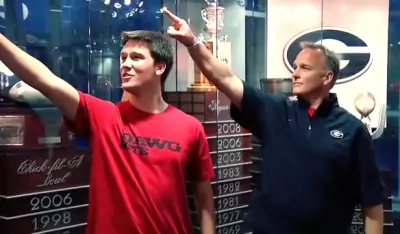 Chip Kelly would never even consider being in a video like this, of course.  But still, can you imagine??
Oregon has been a better football program than Georgia in several ways the past few years, and, now, quality of pump-up videos can be added to the list.  In fact, the two "I Love My Ducks" videos are probably the best any school has ever done.  I challenge someone to show me a better one.
"Dawg Bite" is a treasure, though, in its own special way.  I might have to watch it again.  Or not.

Fantastic FishDuck.com Discussion!
The comments below the articles have drawn raves from so many, and I do appreciate your emails about it.
Be a part of it!  If you check the rules, you will see that I protect everyone from the trolls.  So, there is no downside!  We want to hear from all readers on all the articles, so jump in Ducks, (as the water is fine) and be a part of this tremendous community!