There is a reason Eugene is known as Tracktown, USA.  One of those reasons is that reading a list of Oregon's Track and Field head coaches is like reading a list of who's who in the sport.
Since the track and field program was established at Oregon in 1895, there have been only seven permanent head coaches. Of those seven, five have been inducted into the USTFCCCA Hall of Fame: Bill Hayward, Bill Bowerman, Bill Dellinger, Tom Heinonen and Vin Lananna.
These five USTFCCCA Hall of Fame coaches accomplished so much in their tenures at Oregon.
Bill Hayward – He coached at Oregon for 44 years, 1904-1947. In his career he coached four world record holders, six American record holders, nine Olympians and was selected to coach the Olympic team six times. The historic Hayward Field is named after him.
Bill Bowerman – He played football at Oregon before Coach Hayward convinced him to join the track team, and was a co-founder of Nike. He coached at Oregon for 23 years, 1949-1972. In his career, he coached 33 Olympians, 24 individual NCAA champions, won four NCAA team championships and helped bring the Olympic Trials to Eugene for the first time. He also brought jogging to the USA and helped spread the "new fad" by jogging himself.
Bill Dellinger – He was the head coach of the track and field program from 1973-1998, and before that was a distance runner for Bill Bowerman, winning a bronze medal in the 1964 Summer Olympics. During his tenure at Oregon, the cross country team won four NCAA national championships while the track and field team brought home one NCAA national championship.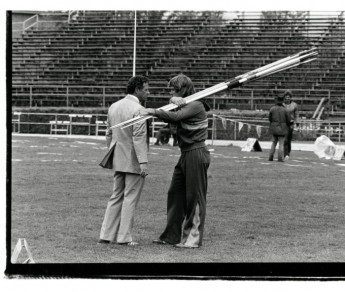 Tom Heinonen – One of the pioneers in the development of women's athletics at Oregon.  Since 1977 he has served as the first, and only, head coach for women's track and field and cross country teams. During this time here he helped lead 134 All-American, ten Olympians and 14 National Title Winners.
Vin Lananna – He was the head coach at Oregon for seven seasons, 2005-2012, and led the team to the NCAA national championships seven times and won the first indoor NCAA championship in school history. Just before the start of the 2012 season he moved to an administrative position in the athletic department.
Current head coach Robert Johnson took over in 2012, and in his first year led the women's team to a national championship in both cross country and track and field. We can only wait and see what's next.

Fantastic FishDuck.com Discussion!
The comments below the articles have drawn raves from so many, and I do appreciate your emails about it.
Be a part of it!  If you check the rules, you will see that I protect everyone from the trolls.  So, there is no downside!  We want to hear from all readers on all the articles, so jump in Ducks, (as the water is fine) and be a part of this tremendous community!