from Video  
As of Wednesday, November 6th, 2013, the beginning of a partnership between FishDuck.com and the online newspaper, EugeneDailyNews.com will commence.
My friends — I cannot continue to operate as I have in the last year.  FD.com has become a full time job in itself that does not pay anything, as the ads do not cover the costs of the site.  I want to spend more time on my Investment Advisory business, as I have clients who have been with me as long as 30 years, and I have a loyalty to put them first over my hobby interests.  I am quite tired from trying to do both full time jobs, and cannot maintain this pace without endangering my health over time.
Going forward, I will simply be responsible, along with the team of coaches, for publishing an analysis each week, and I will continue to work with the GIF team.  However, I will no longer be involved in the management of most aspects of FD.com: Content Journalism, Photojournalism, Social Media, The FishTank Video Archive, Human Resources . . . all of it will be managed by EugeneDailyNews.com as of Wednesday, the 6th, although I will help in the transition.
I wish to emphasize that I am not going anywhere, as I am just having daily management of the different departments of the site transferred to EDN, so that I can focus upon learning more about our beloved Ducks and passing those insights along through the analyses each Tuesday.  The Fish Report will continue, and you'll note we now have the plays analyzed each week shown in motion, and the coaches contributing will have that new feature in their Fish Reports, as well.  This is going to allow me to return to a balanced life, where football analysis is fun and an interesting hobby.
EugeneDailyNews.com is a good matchup for us as Kelly Asay and his team is already accustomed to managing Editors and Writers and can add a more professional approach to a very successful fan website.  We are going to have many gradual changes over time, and I would ask you to continue to come, read, and give us a chance to show you how we are growing and improving.  I expect there will be some bumpiness at times on the site over the next four months or so, and you might even experience a weekday of no new articles, as EDN gets things nailed down with our writers/editors and organization.
In one sense, I am passing the baton, yet I am running in the lane right beside you, as I continue to provide analysis of football and other sports from time to time by noted experts in their field.  You can continue to come to FishDuck.com as an independent site, as you always have, for the foreseeable future.
My profound thanks to all you for sharing in this unique experience, as the journey of FishDuck.com moves into its next stage of development.
Charles Fischer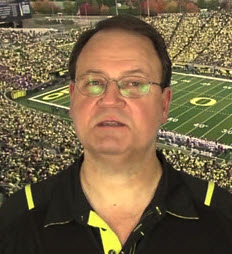 Charles Fischer has been an intense fan of the Ducks, a season ticket holder at Autzen Stadium for 35 years and has written reports on football boards for over 23 years. Known as "FishDuck" on those boards, he is acknowledged for providing intense detail in his scrimmage reports and in his Xs and Os play analyses. He and his wife Lois, have a daughter Christine, reside in Eugene Oregon, where he was a Financial Advisor for 36 years and now focuses full-time on Charitable Planned Giving Workshops for churches and non-profit organizations.
He does not profess to be a coach or analyst, but simply a "hack" that enjoys sharing what he has learned and invites others to correct or add to this body of Oregon Football! See More…
FishDuck Has New Off-Season Schedule and see the OUR BELOVED DUCKS Forum!
FishDuck articles will now be on Monday-Tuesday-Wednesday only during the off-season, and then we will go back to seven days a week during the football season beginning in August.
We will have some occasional guest articles later in the week, but the hottest Oregon football information will be posted in the OBD forum!
The Our Beloved Ducks Forum (OBD) is where we we discuss the article above and many more topics, as it is so much easier in a message board format over there.  At the free OBD forum we will be posting Oregon Sports article links, the daily Press Releases from the Athletic Department and the news coming out every day.
Be a part of the forum and stay caught up!  When you wish to post there, do know that you are protected just as you were on FishDuck. Join us on the free forum right here!
Our 33 rules at the free OBD Forum can be summarized to this: 1) be polite and respectful, 2) keep it clean, and 3) no reference of any kind to politics. Easy-peasy!
OBD Forum members….we got your back.  No Trolls Allowed!