Kevin Cline
The 14th-ranked Oregon basketball team defeated the overmatched Cal-Poly squad, 82-61 on Sunday evening before an announced home crowd of 5,580.  The Ducks were able to jump out to an early double-digit lead against the Mustangs behind a lights-out performance in the opening minutes from eventual game MVP Johnathan Loyd, and a sharp shooting effort by sophomore Damyean Dotson.
Loyd, the senior point guard, had five rebounds, five assists and 13 points, coming on 3-5 shooting from three.  Loyd was able to set up team mates for easy shots with his ability to drive, and he also had a couple of nice finishes at the rim.  With the win, Loyd became just the 6th player to win 80 games in an Oregon uniform.  After the game, Loyd spoke on the team's performance,
"We had couple lapses here and there, but overall we played one of the best games of the season, especially on defense.  We just tried to make simple plays."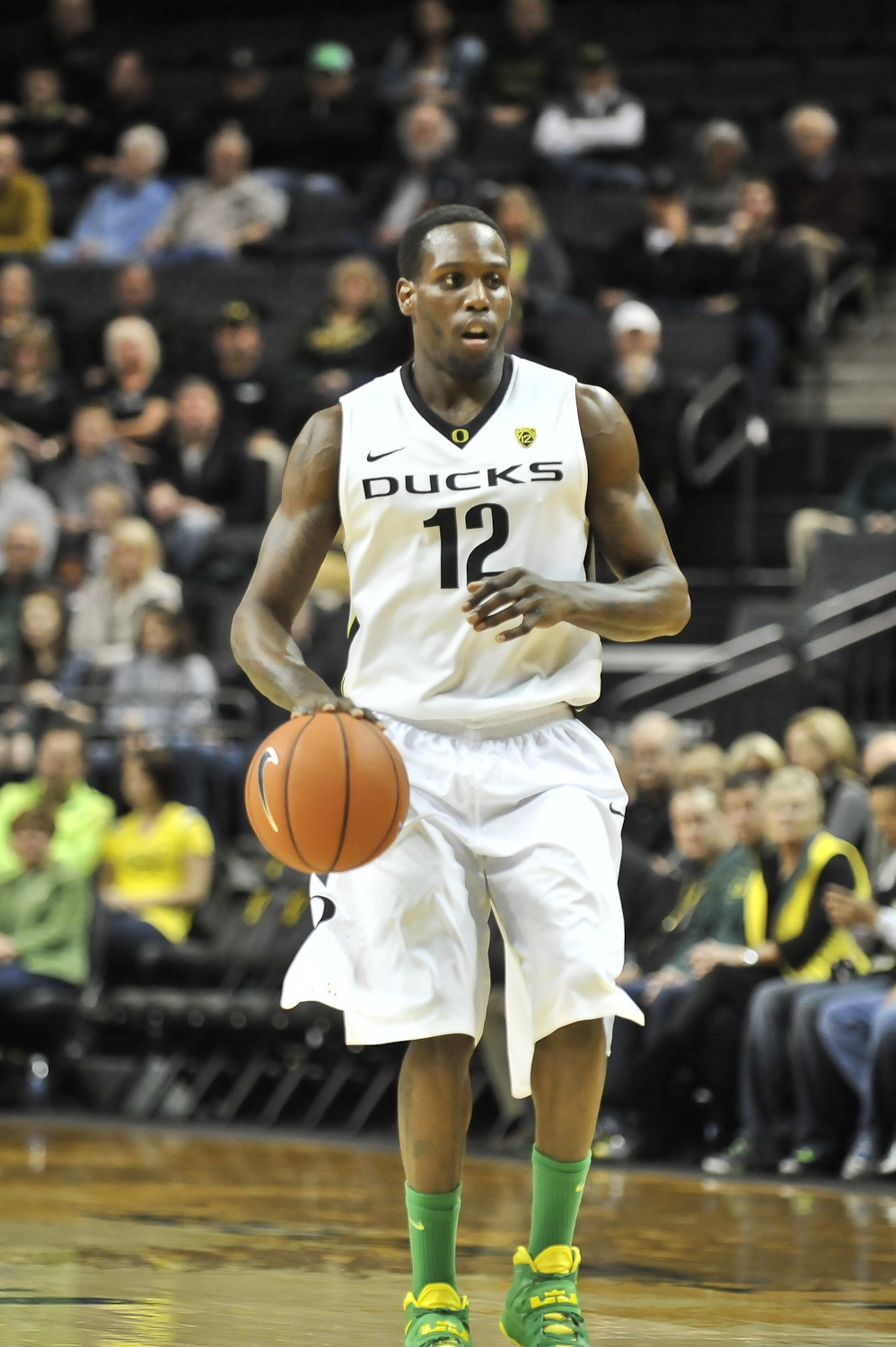 Guard Jason Calliste's four point play was a highlight of the second half.
The win kept Oregon undefeated on the season at 7-0, and was the conclusion of a grueling stretch of three games in three days for the Ducks at the Global Hardwood Classic in Matthew Knight Arena.  Unlike the first game against Pacific, the Ducks wasted no time in this one, building a 10 point lead by the 14:18 mark on a free throw by Joseph Young.  Young turned in another strong all-around performance with 13 points, four assists and three rebounds, but had some struggles from the free throw line, making just half of his 8 attempts.
The Ducks began the game defensively in a 2-3 zone, then switched to man-to-man.  They also showed a 3-2 zone with their smaller line up, and looked unified in their full court press.  They rarely showed the same defensive look on consecutive possessions throughout the game, making it tough for Cal-Poly to find much rhythm on offense.
As has been the case for the third straight game, Dana Altman continued to spread the minutes around.  He made his first rotation after just five and a half minutes, bringing in Richard Amardi and Jason Calliste for Loyd and Waverly Austin.  In all, eight Oregon players managed at least 19 minutes in the game.
Oregon would go up 20-9 after Damyean Dotson's second three pointer of the opening minutes, forcing a Cal-Poly timeout with just under 13 mintues left in the half.  A three by Young later stretched the lead to 30-17.  Young scored eight points, and Dotson had nine, as the Ducks shot the ball at a 58.3% clip in the opening period.
L
Cal-Poly fought back in the closing minutes with an alley-oop from Ridge Shipley to swing man Dave Nwaba, followed a nice hanging floater by Nwaba, which cut the Mustangs deficit to 8 points with just over a minute remaining in the half.  The Ducks countered with the second basket inside by Elgin Cook to give Oregon a 12 point lead at the break.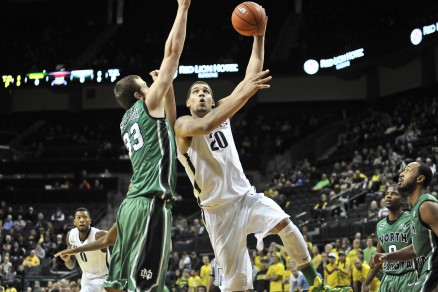 Oregon began to pull away early in the second half, and took a 47-32 lead after a four point play by Jason Calliste, which was quickly followed by another three pointer by Young. Richard Amardi led the Oregon front court and showed off his athleticism at both ends of the floor, finishing with 14 points and six rebounds before getting into some late foul trouble. Forward Mike Moser had perhaps his least productive game in an Oregon uniform, with just two points and one rebound in 24 minutes.
6-foot-9, 253 pound Brian Bennett led the way for Cal-Poly in scoring (11) and rebounds (7), but he was the only Mustang in double digit scoring, as Oregon's defense held the team to 40% shooting on the day.  Although three Mustang players scored nine points each, no other player had more than four rebounds.  Cal-Poly also got some good production from 6-foot-7 forward Chris Eversley, who had 7 points and 4 rebounds, but four fouls ultimately limited his impact.  Oregon out rebounded Cal-Poly 35-27.
Waverly Austin had six points and three rebounds in 19 minutes, including key stretches in the second half to go with a thunderous dunk in the first.  To the delight of the Pit crew and fans, and probably a few of the legs of the starters, walk-ons Brian Crow, Theo Freidman, and Nick Lucenti each played during the final 3:15.
Josh White has been a dedicated Duck fan since the Bill Musgrave days. He has attended (and lost his voice at) virtually every home game and many away games since the late 1980's, including 96 of the current 97 game sellout streak at Autzen Stadium. A Eugene native, Josh works full time in Eugene area real estate, helping people buy and sell residential and commercial properties, and also volunteers with Habitat For Humanity, Kidsports and Food For Lane County. He welcomes your feedback.
Twitter: @WhiteHouseJosh
Facebook: EugenesBestRealtor
FishDuck Has New Off-Season Schedule and see the OUR BELOVED DUCKS Forum!
FishDuck articles will now be on Monday-Tuesday-Wednesday only during the off-season, and then we will go back to seven days a week during the football season beginning in August.
We will have some occasional guest articles later in the week, but the hottest Oregon football information will be posted in the OBD forum!
The Our Beloved Ducks Forum (OBD) is where we we discuss the article above and many more topics, as it is so much easier in a message board format over there.  At the free OBD forum we will be posting Oregon Sports article links, the daily Press Releases from the Athletic Department and the news coming out every day.
Be a part of the forum and stay caught up!  When you wish to post there, do know that you are protected just as you were on FishDuck. Join us on the free forum right here!
Our 33 rules at the free OBD Forum can be summarized to this: 1) be polite and respectful, 2) keep it clean, and 3) no reference of any kind to politics. Easy-peasy!
OBD Forum members….we got your back.  No Trolls Allowed!