In order to beat high quality basketball teams such as UCLA and Arizona, the Ducks must do more than just score in transition.  Although it's obvious that Oregon excels on the break, they actually work a mean half-court game, as well.  Unbeknownst to the common observer, a large portion of the Ducks' offensive set consists of the classic "drive-and-kick" offensive scheme.
The drive-and-kick is incredibly basic, yet it's terribly potent.  It is unique, though, in that it is used to take advantage of an opponent's correct defensive rotations.  As the point guard drives to the rim, his teammates' defenders are forced to help down.  As these defenders converge on the dribbler, shooters open up on the wings.  And if the defenders do not help, then the driver has an open lane to the bucket.
Oregon kills this scheme because JLoyd is consistently capable of blowing past his defender, driving deep into the paint and then swiftly kicking it out to Joseph Young or Jason Calliste for a sweet corner three.
The Drive
It begins with the drive.  Here we see that Loyd, being immune to a full-court press, has lost his defender.  At this point, he has a decision to make — he can pass to a teammate and let them make a move, pull up for a quick jumper or drive to the lane with determination.  Luckily for both the Ducks and spectators, Loyd chooses the latter.
As Johnathan crosses the three-point line, defenders begin to play help-side.  Young's man hasn't quite gotten back on defense yet, but he still manages to help out on Loyd.
However, fearing a finger roll from the unsung hero, Damyean Dotson, his and Waverly Austin's defenders help, as well.  So, with all three defensive players defending the drive, Loyd is ready to initiate phase two: the kick.
Notice, now, where each offensive player has chosen to camp.  Dotson and Young both chose to spot up in the corner, which is the shortest distance three-pointer available.  And they're at the three-point line because it distances them from their defender and is a shot they both can knock down effectively.
Waverly Austin has chosen a spot on the block where he has a multitude of options, including: posting up, looking for a dump pass from Loyd, boxing out for a rebound, popping out to the short corner or even setting a little pick for the driver.  Smartly, though, Austin chooses to set a sneaky screen for Dotson after the kick.  Lastly, there is a trailer who is stealthily approaching the three-point line from the off-ball side.
The Kick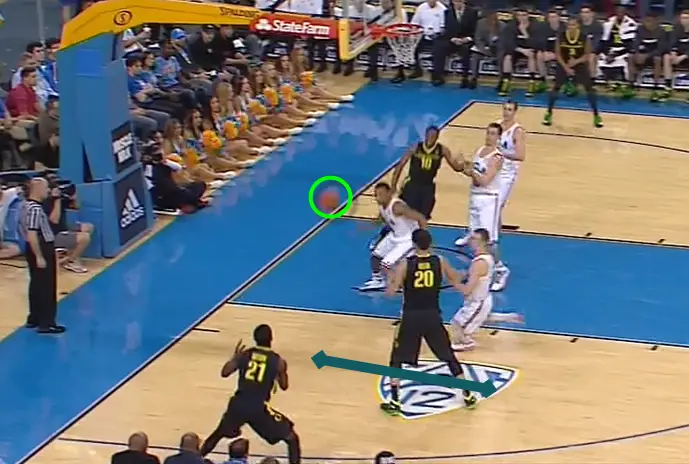 Then comes the kick.  At this point, JLoyd has driven deep enough to where he can no longer go forward and the defenders are completely alienated from their men.  So he kicks the rock out to Dotson.
Austin then sets the screen, attempting a close-out rebound op.  This should allow Dotson a completely open three.  However, Austin whiffs on the screen, and Dotson is forced to initiate the play's second drive.
The Drive
Another drive?  Because Dotson is unable to get his shot off, he is forced to drive to the basket.  Austin turns his failed pick into an on-ball screen, and Dotson is able to maneuver around him.  Loyd is still in the key but will quickly drift out as to allow Dotson more space.
Austin should roll or pop, as Young remains at the opposite corner, still looking for his shot.  So, Dotson can either take it to the hole or kick it to a teammate.  By this point, though, a fourth defender has managed to enter the paint.  Therefore, the driver is forced to make one last, devastating kick.
The Kick
This is the kick we've all been waiting for.  Dotson has finally run into a wall of defenders, but these defenders forgot about the trailing man.  'Stretch-4' Mike Moser has managed to approach the top of the arc unnoticed — from where he just so happens to hit a high percentage of his shots.  Dotson kicks it out to him and — voila! Go-o-o-o-o-al!!!!!
When the drive-and-kick works to perfection, it is a thing of beauty.  And the thing is, it's not very difficult to execute.  All you need is someone that can get into the paint, and a couple of guys that can knock down open shots on the perimeter.
Luckily for the Ducks, they have it all.
So, as Oregon begins their dirty dance in mid-March, look for them to drive-and-kick early and often.  Sometimes it's hard to understand all the nuances of basketball, but no worries, the Ducks make it look easy.
Basketball is, simply, a complicated sport.
Lawrence Hastings
EugeneDailyNews/FishDuck.com Oregon Basketball Analyst
Eugene, Oregon

Lawrence Hastings spent the first fifteen years of his life in Los Angeles, California before moving to Eugene, Oregon. Transitioning to Duck land was easy for him seeing as he was raised a Pacific Conference fan since birth. So Lawrence, loving his new green home, chose to pursue a Sports Business degree at the University of Oregon. In his spare time Lawrence plays and watches sports religiously, with a particular passion for basketball. His favorite Duck of all time is Aaron Brooks, whom he met at local basketball camp as a teenager.
Trust me: A FORUM is going to HAPPEN!
Our Beloved Ducks Forum:
The forum is a boatload of work, and we are still chipping away at it and will have it available sometime this season.  It will be a blast when we do with this community!
We will also have something up every day; either an article or a Ponder-Point being published on FishDuck.  Participate in the comments!
Do Register to Post Comments! 
It takes a minute is all, and will allow us to continue our amazing discussions of Oregon Sports. Register here… 
Our 29 rules about posting a comment at FishDuck can be summarized to this: 1) be polite and respectful, 2) keep it clean for the grandchildren reading, and 3) no reference to politics!
Easy-Peasy!
Want to add a link to your comment?
Go to this page for directions and you'll be able to do it 30 seconds and share other articles with this great community!