Michigan State played Stanford in last year's Rose Bowl, to the dismay of the Duck faithful. However, in doing so, they showed their defensive formula for slowing down the Cardinal's Heavy 2 runningback offense.
I will start by saying that Michigan State did give up 162 yards rushing to Stanford, coming on 36 carries. However, a lot of those plays came on a few long runs that didn't mean too much at the end of the game, which MSU won 24-20. In addition, the Spartan's starting middle linebacker was suspended from the game. That makes this even more impressive.
There are a few lessons for Oregon that I believe they, and a lot of teams, could learn from facing a "unique" offense, which in college football is basically anything but a shotgun, read option look now-a-days.
Lesson #1 – Playing a Base Defense Look
As I mentioned in my article on how I think Michigan State will attack Oregon's pass protection, the Spartans play a base look much of the time. You know what you're going to see, and they'd rather blitz and stunt after the snap, unless they're in a 3rd-and-long passing situation.
This strategy is hugely beneficial when playing a team such as Stanford. Their base play, Power-O, is a rule-based, gap-scheme play.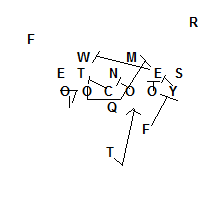 Stanford is a team that really runs the ball a lot with rule-based schemes such as the Power-O, so their offensive players and coaches are experts on the scheme. No matter what you show pre-snap, they're going to be able to get something out of the play. Against most looks, they're going to run the play and rarely miss an assignment because the rules for blocking are easy. Versus a few extreme looks that do take it away, they'll make the defense pay by checking to something they're giving up by trying to stop Power-O.
For Michigan State, it doesn't make sense to (1) put players in a position they're uncomfortable in, and (2) put in "heavier" backups who aren't going to beat the horses Stanford has up front anyway. It doesn't make sense.
For the first item above, Michigan State knows that moving guys around is only going to breakdown the fundamental techniques and rules of their defense. As soon as they get out of their base 4-3 Over Front alignment or even adjust to a certain coverage, key components of the defense, such as forcing the ball inside or "spilling" it to the outside, change from one person to another. Considering Stanford's motioning and shifting, along with unbalanced personnel, getting this right is very important.
For the second item, regarding playing heavier defensive linemen and subbing in extra players, the coaches have to ask themselves if they really think a "heavier" Oregon defensive tackle, who isn't a starter, will make a difference versus what is annually one of the best offensive lines in football. Even when matched up against a Stanford "backup" lineman who may be aligned at tight end, that player is probably still very good at his task given Stanford's resume with offensive linemen.
So instead of doing those two things, Michigan State chooses to defend the Cardinal's heaviest looks with base personnel. This ensures there is no mix up with responsibilities, and their best players are still on the field.
By playing the base look and essentially the base coverages the Spartans are used to, their players fly to the football. You'll see how fast Michigan State flies to the ball compared to Oregon's players in their flexible 3-4 that gives a lot of different looks, below. Michigan State, compared to Oregon, is the slower defense when it comes to the front seven. It goes to show that repetition at certain tasks, just like on an assembly line, can make for great efficiency. Michigan State's players align a certain way most of the time, react to the ball a certain way most of the time, and can simply fly to the football as a result.
Lesson #2 – Stunting After the Snap
Michigan State does have some tricks up their sleeves. They like to stunt and blitz after the snap and from that base defense look. Because Stanford is so used to them being in a certain place, when Michigan State stunts or blitzes, it's devastating.
Now this is a simple blitz. They're overloading the weakside. They probably are tipped off by the short split of the wide receiver, getting ready to crack on the safety. So Michigan State blitzes the linebacker away from the tight end, and spikes the defensive end inside. It's a simple blitz that, after the snap, is very effective.
Compare this to Oregon. They decide to overload pre-snap. They actually have two people in one gap, the safety and linebacker to the left. Even if they were in the correct position, the play is still probably the same result because the rules for this inside zone lead, or isolation, play are fairly simple. If Oregon stunts post-snap instead, you'll see Stanford having to redirect their feet and adjust on the fly, which is much more difficult.
I should finish this analysis by saying that Michigan State does do some exotic stuff, to an extent. They do it primarily on passing downs although they will show movement from their base on other downs.   However, from game to game these tactics seem consistent, as they run different stunts from those same looks so that they can continue to react quickly.
It seems like Michigan State tends to do this when they know with high certainty what's coming based off their statistical analysis of the opponent. Versus Stanford, they overloaded the weakside versus unbalanced looks. They knew their fast defenders could beat the tailback to the hole for a minimal gain, and that they were at a schematic advantage doing so due to the limited number of players on that side.
Takeaways for Oregon
Oregon fans should have some hope. You have a new defensive coordinator. They've seen what can be successful versus Michigan State.
They don't need to add new personnel. They don't need to adjust their schemes too much. They just need to get very good at playing their base defense and stunting from that look after the snap. Stanford's rules for most of their runs can handle most things shown to them pre-snap. You cause a lot more hesitation and pause by stunting and blitzing post-snap. You also can handle all those shifts and motions a lot better, too!
Also, playing base defense is easy, assuming you have one! I understand the concept behind showing multiple looks, adjusting and being flexible. There have been teams at the collegiate and NFL levels that have been successful doing it. However, it's so much easier to just let your playmakers play fast.
More Information
If you're a coach or just a football junkie, you can learn more about Michigan State's defense (among others) by checking out these video clips from the Spartan coaches on their Michigan State defense, courtesy of the football coaching video site, eFootballFlix.
With regard to Stanford's schemes, believe it or not you can learn about them just about anywhere. Just do a Google search for "football's power play" and you'll find their bread-and-butter scheme.
In the meantime, make sure you keep an eye on Strong Football for some other great X's and O's strategy.
Coach Curtis Peterson
Indianapolis, Indiana
StrongFootballCoach.com
Curtis Peterson started coaching football in 2005 and he is the founder of Strong Football. He is currently a football coaching consultant for a few teams in the midwest. Coach Peterson welcomes your feedback, please follow him on Twitter at @CoachCP.
FishDuck Going to Articles on Monday and Tuesday Only…
Our off-season schedule begins, and we move from publishing articles seven days a week to Mondays and Tuesdays only. Same great group of writers, and we will have an article on other days on occasion.
The Our Beloved Ducks Forum (OBD) is where we we discuss the article above and many more topics, as it is so much easier in a message board format over there.  At the free OBD forum we will be posting Oregon Sports article links, the daily Press Releases from the Athletic Department and the news coming out every day.
Our 33 rules at the free OBD Forum can be summarized to this: 1) be polite and respectful, 2) do not tell anyone what to think, feel or write, and 3) no reference of any kind to politics. Easy-peasy!
OBD Forum members….we got your back.  No Trolls Allowed!