For Duck fans today — there are a couple of tactics to watch for against our rival in the Huskies. First, note that their defensive tackle over Oregon's center (the Husky nose tackle) is between 340 pounds and 360 pounds, thus he will give Hroniss Grasu and an additional guard blocking him some trouble. This could foul up our Inside Zone running game and open up tackle-for-loss opportunities for the other talented players of the Washington defense.
Watch for Oregon to run the Mid-Line Zone Read play where the Ducks zone read the nose tackle of Washington, Danny Shelton and effectively run away from where he chooses to pursue. In the Zone Read–we don't block him and if he stands there and remains an obstacle in the hole? Marcus hands off to the RB going to another gap.  If Shelton appears to want to chase the running back? Mariota will pull the ball and run right up the vacated middle following Grasu's block on the middle linebacker. Does it appear we are NOT blocking the nose tackle during the game? If so–it means we are zone reading him! We have implemented this strategy before against superb nose tackles.
Another strategy to escape their superb outside linebackers AND nose tackle is simply running outside zone reads or sweep reads AWAY from how they are aligned, which could be an interesting chess game on the field. I would expect Washington to line up with strength on Jake Fisher's side, thus we would be running with newbie tackles in Crosby and Pierson. Can we make those blocks? Will Washington adjust? Interesting possibilities to ponder as we watch…..
The third tactic to look for is the H-back or tight end coming across the formation and bashing the defensive end on the other side of the LOS. Oregon is running some variations of the Pistol look to allow NO ZONE READING of the defensive end, thus no risk of Marcus Mariota running. It is a way of protecting our QB, yet zone reading enough plays to keep the defense honest while running primarily a basic run-blocking offense similar to what we have done before. Marcus can run within these parameters, but it is done on our terms while exposing him to less ongoing pounding.
I would not be surprised to see any one or ALL of these strategies used today…and if Washington has not practiced against them? It is too late now!
Is my Husky Hatred Irrational?  Maybe…but the Xs and Ox above are quite fun to watch for. Check for my analysis on Tuesday!
FishDuck
Top Photo by Kevin Cline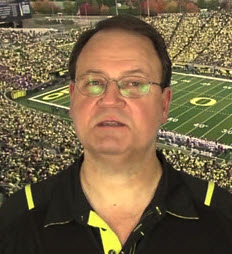 Charles Fischer has been an intense fan of the Ducks, a season ticket holder at Autzen Stadium for 35 years and has written reports on football boards for over 23 years. Known as "FishDuck" on those boards, he is acknowledged for providing intense detail in his scrimmage reports and in his Xs and Os play analyses. He and his wife Lois, have a daughter Christine, reside in Eugene Oregon, where he was a Financial Advisor for 36 years and now focuses full-time on Charitable Planned Giving Workshops for churches and non-profit organizations.
He does not profess to be a coach or analyst, but simply a "hack" that enjoys sharing what he has learned and invites others to correct or add to this body of Oregon Football! See More…
FishDuck Has New Off-Season Schedule and see the OUR BELOVED DUCKS Forum!
FishDuck articles will now be on Monday-Tuesday-Wednesday only during the off-season, and then we will go back to seven days a week during the football season beginning in August.
We will have some occasional guest articles later in the week, but the hottest Oregon football information will be posted in the OBD forum!
The Our Beloved Ducks Forum (OBD) is where we we discuss the article above and many more topics, as it is so much easier in a message board format over there.  At the free OBD forum we will be posting Oregon Sports article links, the daily Press Releases from the Athletic Department and the news coming out every day.
Be a part of the forum and stay caught up!  When you wish to post there, do know that you are protected just as you were on FishDuck. Join us on the free forum right here!
Our 33 rules at the free OBD Forum can be summarized to this: 1) be polite and respectful, 2) keep it clean, and 3) no reference of any kind to politics. Easy-peasy!
OBD Forum members….we got your back.  No Trolls Allowed!