You may have noticed that the number of articles published at FishDuck.com has dropped from an average of six per day to three and a half per day this last month, and that is big decline in production for any site. The reason? We have dropped Sports News at FishDuck.com and actually eliminated the former Sports News Team that had its own group of more than 20 writers and editors. Whoa! Why the change?
We are returning to our roots to serve the "Next Level" fan, is why.
For three years we published two articles per day on average and our focus was on higher-quality writing that informed and entertained. When we began, we were a bunch of middle-aged-to-old farts who loved to write, edit and ponder about our beloved Ducks. We did not care about hits or visits to the site; we followed our passion and knew there was a small niche' out there that would appreciate our approach. We had no idea it would catch fire, but it did.
At first readers came to the site for the football analysis, but then realized the other interesting articles — thus before long these thoughtful stories became the backbone of the site. As an example, no site does a tongue-in-cheek Op-Ed (Opinion-Editorial) like CPA Mike Merrell on Mondays. No other Oregon website has the variety of different style articles as you see at FishDuck.com.
You see we knew our audience was older, professional, and male; and then we received our demographic breakdowns to reveal that more women come to this site than other Oregon Sports Websites, and the majority of our readers are in the coveted 18-34 market segment! Ah, Charles … people of other ages and gender like to ponder too!
So I've defined this reader as the "Next Level" fan who wants to learn a little, not as much as a coach, but enough to enjoy the games that much more. If you look at the over 100 Volunteers (below) for six departments — you see a common thread of them being this Next Level fan regardless of age, ethnic background or gender. We have writers and editors that range from age 16 to age 84! I love this group, as they are all very nice people and they love the Ducks!
"So why do you have so many writers when other organizations are much leaner?" It is because we are all-volunteer, and everyone contributes in the way they want from three to five hours per week. Other news outlets can hire full-time people, but we cannot; so we work with people in the way they want, and we appreciate their contributions toward helping to make the site operate.
Last October, we decided to try getting into the Sports News segment by having FishDuck.com reporters at the practices for interviews and as items emerged during the day — we would report it. We had some great successes with it, and it brought a whole new audience that liked the shorter articles that were quick and to the point. Our visits by readers per day went way up, but we noticed that the penetration of readership had not changed.
In other words, those that liked the longer articles that made them ponder continued to read them … but would not read the Sports News articles. Those who enjoyed the shorter ones would not take the time on the other articles that the Next Level fan enjoyed. The audiences did not mix; they were separate and distinct!
If it was working so well — why did you can it, Charles?
The truth is we are not built to maintain ongoing sports reporting; you need expertise that, in our case, was spotty. Some of our Sports News articles were great, some were just mush. We had too many writers who would not do their homework the night before and would get up the next day and write a blah-blah article and post it. We had too many editors let it pass because we all felt the pressure to produce enough content. Too much poor quality was being published on the site, and I could only scream so long.
And we were being way too redundant.
The majority of the time we were not creating unique Sports News, we were just reporting what was on other sites and we became the same regurgitation you see everywhere else. I got sick of it, as this is not what we're about, and it did not feel right to me. As a publisher — it was not fun anymore.
So, May 4th we began a new schedule of articles that are in over 20 distinct article categories (I'll have an article about that sometime) so we have very little redundancy with other sites and we get to follow our heart to offer this Next Level fan the type of articles they come to expect and enjoy from FishDuck.com. 
I know — we'll lose a bunch of readers, but hey — we don't make any money anyway, so we can do what we do best and embrace who we are and who we serve. Now, this fall, we will still have current player/coach interviews as we have former player interviews now. We will also have game recaps for many of the Oregon sports at their home matches/games, but the daily stuff of finding news and reporting it rapidly is no longer at FishDuck.com.
"Next Level" fan?  We love you and do come back! You are one of us, and we dedicate this site to you. No, you won't see the boring 2,000 word tomes here, but you will also not see the 300 word reading candy that leaves you empty. We are committed to quality or we won't publish it and we have already had some days of fewer-than-planned articles because some writers mailed it in and we kicked it back out.
The good news? We have more great writers and editors than ever in the history of the site, and we have big plans this summer and then fall. Look for some announcements soon! And send your suggestions to me, charles@fishduck.com.
The Best is Yet to Be!
Charles Fischer
Publisher, CFF Network/FishDuck.com
Eugene, Oregon                                                                                                                                                                                            Top Photo from Video
The Volunteers of FishDuck.com!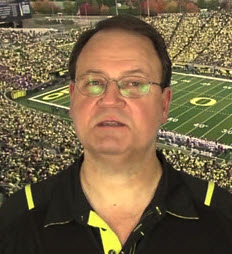 Charles Fischer has been an intense fan of the Ducks, a season ticket holder at Autzen Stadium for 34 years and has written reports on football boards for over 23 years. Known as "FishDuck" on those boards, he is acknowledged for providing intense detail in his scrimmage reports and in his Xs and Os play analyses. He and his wife Lois, have a daughter Christine, reside in Eugene Oregon, where he was a Financial Advisor for 36 years and now focuses full-time on Charitable Planned Giving Workshops for churches and non-profit organizations.
He does not profess to be a coach or analyst, but simply a "hack" that enjoys sharing what he has learned and invites others to correct or add to this body of Oregon Football! See More…
Discuss Our Beloved Ducks in the Comments on ANY DAY
We don't need an article published today to discuss the events of Oregon Sports. Jump in anytime to post your thoughts and we can keep the conversation going.
There will be quite a bit to discuss over the next year!
Our rules have not changed and can be summarized to this: 1) be polite and respectful, 2) keep it clean, and 3) no reference of any kind to politics. Easy-peasy!
Articles will be published on: Monday-Wednesday-Friday.