Yes … he really did! In his interview with sportscaster panelists on ESPN First Take Bill Walton was his usual self spouting interesting and at times, outrageous lines while being highly entertaining in the process.
They asked him, "Who is going to win it all?" Bill answerd, "OREGON … I love the way they play." A panelist exclaims, "Oregon? A lot of people think they shouldn't be a one-seed!"
Walton answered …
"That's because people here think Lewis & Clark just got there!"
Omigosh. Is that vintage Bill Walton or what?
It is a long interview spanning his career, and he expresses regret about some of his Portland days while speaking proudly of his son. However, the surprise is what he asserted about the Ducks and seeing how the panelists were completely caught off guard and were not sure if they wanted to challenge him much. I don't want to give you all the juicy quotes since the part about the Ducks is only about three to four minutes, but do click the video ribbon at 18 minutes and 13 seconds to lead into the type of fun we have heard on the Pac-12 Network all season.
Once Walton is on a roll — they can't stop him as he gushes about the Oregon head coach …
"This is a fantastic team and Dana Altman is a wonderful coach who is a lot like John Wooden and Jack Ramsey (UCLA & Portland Trailblazers). The sense of getting to what is next is what Dana Altman is all about."
He went through a description of the players and summarized what he believed would be the major component in the Ducks winning the NCAA Mens Basketball Championship:
"The staggering thing about Oregon and the top tier of the Pac-12 … the conference of champions, is the physical fitness levels."
You could tell that with nothing coming from Walton about Kansas, Oklahoma, or North Carolina — the sportscasters couldn't just sit and listen to it all. So one of them challenged Walton, "You talking about them beating a Coach K team to get there?" (Boy, what that says about their thoughts about Oregon!)
Bill retorts right back with …
"Everybody loves Coach K and is a Duke fan, but Oregon is going to take 'em!"
Yeah, baby!
I take back anything deprecating I have said about Walton, although I have enjoyed his Pac-12 telecasts quotes here and here. First, I cannot believe the Ducks won both the regular season championship and the Pac-12 tournament. Then I heard people say we have a shot at the Final Four and then actually get a No. 1 seed … with Bill Walton telling ESPN that we are going to win it all?
These are great times my feathered friends!
To watch the portion about Oregon — go to 18:13 on the ribbon below the video, click play, and enjoy the other comments he says to shock the panelists about our beloved Ducks. Our thanks go to ESPN for creating this video, allowing it to be shared and keeping us smiling with the antics of our friend from The Conference of Champions!
Top Photo from ESPN Video
Special thanks to Gary Breedlove for finding this video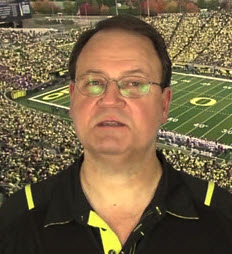 Charles Fischer has been an intense fan of the Ducks, a season ticket holder at Autzen Stadium for 35 years and has written reports on football boards for over 23 years. Known as "FishDuck" on those boards, he is acknowledged for providing intense detail in his scrimmage reports and in his Xs and Os play analyses. He and his wife Lois, have a daughter Christine, reside in Eugene Oregon, where he was a Financial Advisor for 36 years and now focuses full-time on Charitable Planned Giving Workshops for churches and non-profit organizations.
He does not profess to be a coach or analyst, but simply a "hack" that enjoys sharing what he has learned and invites others to correct or add to this body of Oregon Football! See More…
Articles EVERY DAY Again on FishDuck!
Our focus is now on this wonderful Oregon Sports Community, and we will have at least a short article every day to begin the Duck Discussion.
You are also welcome to post other current events or items about Our Beloved Ducks in the comments as well.
Our 32 rules can be summarized to this: 1) be polite and respectful, 2) keep it clean, and 3) no reference of any kind to politics. Easy-peasy!
Take note though, there are NO STRIKES, NO WARNINGS, and NO SLACK given. Violate the rules and you are gone, as this is what the 99% who post superb comments want. (The Ban could be for weeks, months or permanent)
For the 1% out there who do not have impulse-control … as you write your comment that violates our rules, ask yourself, "is this worth getting banned over?"
FishDuck members….we got your back.  No Trolls Allowed!
New at FishDuck? Learn about the site right here!