I get it – the Pac-12 has misrepresented – even Utah got killed by Gonzaga. So Oregon is the only team in the conference left to carry the standard forward. And, as if enough pundits have predicted no Pac-12 teams in the Sweet Sixteen – we have Campus Insiders pile on with their pick of St. Joseph's University over Oregon in the Round of 32?
It makes me ill and angry.
I think the nation just doesn't get it – this is not the usual Oregon team of the past.
This team plays tenacious defense that creates a running game from the deflected passes and blocked shots – unlike any Duck team of the past or of any in the tournament right now! This Oregon team is playing like none other, as they did not choke when given the opportunity in the 1st round. By contrast, they crushed their opening opponent unlike any Duck team I've witnessed, and this was primarily with balanced scoring.
Oregon has a ton of interesting stories right now, and everyone is on the Swatterman - Chris Boucher - bandwagon when they do give Oregon any credit. When you consider how impressive this team has been mentally as well as physically … it is hard to understand the national derision.
What don't they understand – on a national basis, say? This is the coming-out party of Oregon basketball, and just as they would not easily let Oregon football into the "elite" club – they are fighting this hardcourt newcomer trying to steal their thunder.
Everyone now knows of the No-Huddle offense, thanks to the Ducks, and everyone has their own "black" uniform option – thanks to Oregon football paving that way.
The Ducks had a drought in the track and field arena that spanned 30 years, but have re-emerged in a massive fashion by winning 13 National Championships in the last seven years between Cross Country and Indoor/Outdoor Track among both genders. Our beloved Ducks recently pasted Double National Championships on the SEC as both the Oregon men and women captured Indoor National Track titles. When Oregon decides to make their mark – look out!
What we have here is not a flash-in-the-pan observance, but the christening of a new sport at Oregon taking the national stage!
Now, listen to the disrespect given by a national sports site below …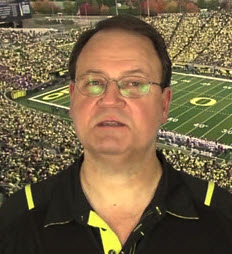 Charles Fischer has been an intense fan of the Ducks, a season ticket holder at Autzen Stadium for 35 years and has written reports on football boards for over 23 years. Known as "FishDuck" on those boards, he is acknowledged for providing intense detail in his scrimmage reports and in his Xs and Os play analyses. He and his wife Lois, have a daughter Christine, reside in Eugene Oregon, where he was a Financial Advisor for 36 years and now focuses full-time on Charitable Planned Giving Workshops for churches and non-profit organizations.
He does not profess to be a coach or analyst, but simply a "hack" that enjoys sharing what he has learned and invites others to correct or add to this body of Oregon Football! See More…
FishDuck EVERY DAY! Articles Appear Seven Days a Week Beginning August 1st!
FishDuck articles will now be on every day of the week beginning August 1st, and we have some dandies planned. Check in every day and don't miss out!
The Our Beloved Ducks Forum (OBD) is where we we discuss the article above and many more topics, as it is so much easier in a message board format over there.  At the free OBD forum we will be posting Oregon Sports article links, the daily Press Releases from the Athletic Department and the news coming out every day.
Be a part of the forum and stay caught up!  When you wish to post there, do know that you are protected just as you were on FishDuck. Join us on the free forum right here!
Our 33 rules at the free OBD Forum can be summarized to this: 1) be polite and respectful, 2) keep it clean, and 3) no reference of any kind to politics. Easy-peasy!
OBD Forum members….we got your back.  No Trolls Allowed!