My FishDuck.com friends,
We are converting the site gradually over the next six weeks to an "Analysis-Only" format, and there will be some adjustments going forward for everyone. First: I am sorry to announce that most of the interesting articles that the site has been known for … will no longer be published. Sports news reporting, recruiting, opinion-editorials – none of them will be available any longer. We will only publish analysis articles.
Why the change, given the site's success?
There are a couple of reasons. The first is the time expenditure on my part in making certain only quality content is posted. It is a far greater time commitment than you would think, as all the details with recruiting, on-boarding and training of writers and editors creates many hours of conversations and emails. The time required for fixing technical errors each week for publishing just five articles is more than I can allocate, and there were lots of other hours spent on photography, instruction documents, etc.
You have a TON of ads on the site, and no profits?
While many may not know this, due of the growth of the web, the ads available just saturate the market, and the pricing for ads has gone way down. The ads you see on the site are from Google, and they pay pennies per click – not enough to pay the costs of the site.
So, hits on popular articles just don't matter to me after doing this for five years. While we have done something special for a long time, it is time for me to quit losing my ass on this ($47,000 – $50,000 is enough to put into anything).
I love all the cool articles we have had on the site, as we offered so many that you could not find anywhere else. This is indeed why I began the site years ago. But the time required, in addition to my usual profession in financial advising, was more than I could give.
Why the Analysis-only format?
My friends … I want to get back to my original love, the reason I came online to begin with: my passion for learning about football, and my excitement in sharing it with others.
I have only so much free time in a day, and instead of being in Media Management – I wish to be a fellow schmuck studying the X's and O's of football and writing about it. This time around will be a little different than before, as I want learn COLLEGE FOOTBALL, not just Oregon football. Hence my scope of study will be more national, but still with the intent of learning simple concepts that can help us as fans understand and enjoy the game that much more.
Are you going back to VIDEO?
Eventually, yes … but not the way it was before. We will examine and analyze, but stay within conference mandates for footage use. More on that later, but for now know that Mr. FishDuck is going to be smiling at the camera again after more than four years since the last video was created (and those videos were still viewed more than 12,000 times last month, and have more than 1.4 million views over the last four years).
Right now we have more than 50 instructional videos and more than 200 text analysis articles that are not easily available on the site, but they will be in the near future. I will be slowly adding to this library over time, and some of the categories I intend to pursue will be quite interesting from a learning standpoint, as they are not something I have done before (a new adventure)!
C'mon … no writing by you at all?
OK … do check in every week, (Like this week, as I will have a dandy for you in a day or so) as I would like to write some kind of commentary about Oregon football that is unrelated to my analysis work. I can't promise an article every week, but I will be writing often again. The Grizzled Ol' Coach, Mike Morris, will still offer his coach's comments, and we will have a team of coaches from around the country offering analytical information for the benefit of our readers. There will not be a ton of these articles, but check in weekly, and I bet you'll find something interesting more often than not.
And please pardon the "sight" of the site; it's really going to change and could be a shock on occasion, as we will be experimenting with things.
Now, on to new adventures, a new format, and new insight into the game we all love so much!
"Oh how I love to learn about our beloved … sport of College Football!"
Charles 'FishDuck' Fischer
College Football Analyst for FishDuck.com
Eugene, Oregon
Top Photo from FishDuck.com Video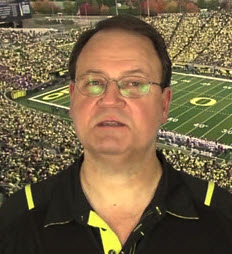 Charles Fischer has been an intense fan of the Ducks, a season ticket holder at Autzen Stadium for 35 years and has written reports on football boards for over 23 years. Known as "FishDuck" on those boards, he is acknowledged for providing intense detail in his scrimmage reports and in his Xs and Os play analyses. He and his wife Lois, have a daughter Christine, reside in Eugene Oregon, where he was a Financial Advisor for 36 years and now focuses full-time on Charitable Planned Giving Workshops for churches and non-profit organizations.
He does not profess to be a coach or analyst, but simply a "hack" that enjoys sharing what he has learned and invites others to correct or add to this body of Oregon Football! See More…
Articles EVERY DAY Again on FishDuck!
Our focus is now on this wonderful Oregon Sports Community, and we will have at least a short article every day to begin the Duck Discussion.
You are also welcome to post other current events or items about Our Beloved Ducks in the comments as well.
Our 32 rules can be summarized to this: 1) be polite and respectful, 2) keep it clean, and 3) no reference of any kind to politics. Easy-peasy!
Take note though, there are NO STRIKES, NO WARNINGS, and NO SLACK given. Violate the rules and you are gone, as this is what the 99% who post superb comments want. (The Ban could be for weeks, months or permanent)
For the 1% out there who do not have impulse-control … as you write your comment that violates our rules, ask yourself, "is this worth getting banned over?"
FishDuck members….we got your back.  No Trolls Allowed!
New at FishDuck? Learn about the site right here!