The number of preseason predictions touting Washington as a conference front-runner and Oregon as a fading asset have surprised me. Like so many of you – I thought we earned our stripes by ranking in the top ten nationally so often during the past decade. Yet it seems experts are quick to downgrade the Ducks for imperfections (while giving other teams and coaches a pass), standing at the ready for the inevitable decline so many of them know will take place.
Things really haven't changed that much in the eyes of the media over the last 20 years, have they?
Athlon Sports has Mark Helfrich listed as only the seventh best coach in the conference. It predicted Oregon would finish fourth this year … in the north division! Of course, these are the authorities that listed Helfrich as the 11th best conference coach before the 2014 season – where Oregon went to the National Championship game – and put Todd Graham of Arizona State as the best coach of the Pac-12 last year before his Arizona State Sun Devils went 6-7 last year. Stick a fork in that!
ESPN has Oregon ranked fifth in the conference for 2016, although there are some media sources that place the Ducks as high as second in their predictions. It has always amazed me how so many schools get respect for just being there, while Oregon has to be superb all the time to maintain confidence of the media. Many media pundits routinely predict the demise of the Ducks on an almost annual basis. This year they're more eager than ever.
Good gosh - Phil Steele has a pretty accurate record over time and he has been supportive of Oregon in the past, yet even he lists the Ducks as FIFTH in the Pac-12 in his predictions for the upcoming season.
Neither Los Angeles school got to nine wins last year, but both are predicted to win the conference in a number of early-season analysis articles. Oregon finally falls to nine wins after an incredible run of success, and it is seen as weakness leading to an obvious bottom-about-to-drop-out scenario under Helfrich's program. The Ducks scratch, kick and claw their way for years to be in the elite, and with their first nine-win season the media and many opposing fans say, "I knew it wouldn't last." How quick everyone desperately wants to write off Oregon!
These football pundits remind me of economists in the investment business … usually wrong, but never in doubt!
Let's take a closer look at the results of coach Helfrich, and the basis of the bias against Oregon.
The Offense
One thing has been consistent at Oregon: whether Mark Helfrich was offensive coordinator or head coach, this Duck offense has been in the top five in the nation in scoring for each of the last five years. That is a remarkably long time to stay elite. I have seen innovative game plans from Helfrich since the Chip Kelly days, and a more balanced, more skilled passing game than under his predecessor. While coach Kelly could be stubborn to a fault – coach Helfrich has shown me that he will be flexible and adjust to real-time game conditions. The proof is in the scoring.
Quarterback Recruiting
There has been a ton of criticism heaped on coach Helfrich for the lack of quality quarterbacks to follow Marcus Mariota, which resulted in an uptick in losses in 2015. It seems only the long-term Duck fans have any perspective on what truly occurred.
Helfrich did his job, but sometimes you just have bad luck at a particular position in recruiting. It has happened many times at Oregon in the past at other position groups where players were recruited, coached up, but due to a variety of factors did not work out. Thus the Ducks were left short at that position, even though the scholarships had been filled.
As you recall, St. Marcus was originally a three-star quarterback, and following him the Ducks recruited three-stars QBs Damion Hobbs and Jeff Lockie. Oregon did better in recruiting four-star quarterbacks Jake Rodriques and Morgan Mahalak. Yet none of the four worked out for the Ducks. And this is Helfrich's fault?
Sometimes you just have bad luck at a position group. Oregon's QB troubles were not from a lack of recruiting or coaching – it just happens and is, unfortunately, part of the deal in college football. Some would say that my interpretation of events is giving the coaching staff a pass, while I choose to consider it realistic; I'll remind you that many of those recruiting choices were made under Kelly.
The good news is that the problem appears to be resolved. I am very comfortable with the QBs on board and those joining us shortly.
Overall Recruiting
Oregon did not finish as well as many would have wanted last year, but our recruiting analysis on this site has shown that Oregon needs only to have a top 20 recruiting class in order to continue in the top five over time. Some years will be under that and others over, but with an average in that proximity due to vetting of players on the front end, and coaching up the talent on the back end – Oregon and Helfrich will be fine. Hands were wringing about the Ducks slow start in recruiting for 2017, yet this past month has put Oregon back in the hunt for their usual place in the recruiting pecking order.
Hiring
Counting Brady Hoke, coach Helfrich has hired six coaches – of which five have worked out well. (The one negative performed well his first year, and while Hoke is unproven – this writer believes it will prove to be a superb hire.) Even if we pare it to success for four out of five, how many of us are as talented in our endeavors to have an 80% success rate? Mark Helfrich leads the Pac-12  in wins during his tenure, (22-5) and with a three-year record of 33-8 has again reached the 80% success rate in overall and conference wins.
Not a Chip off the …
Coach Helfrich has demonstrated the ability to quickly adjust where needed, whether it be Xs and Os or recruiting. I have noted massive changes/improvements to the base plays of the Oregon offense since Chip left, as this evolution was needed with all the other conference teams duplicating the Ducks in the Spread Offense. Last year Mark began offering scholarships much sooner than ever at Oregon because that was the trend with prospective players, and now he is following prospects on Social Media unlike any time or any coach previously at Oregon.
He did not let the defensive problem fester; it happened – and he made immediate changes after one year. How much more can you ask considering how good the defense was in 2014?
An Institution?
He is learning on the job, but for what purpose? He is improving in every phase of the game, and it does not appear to be for creating a resume' to jump to the NFL or another college team. He will take these lessons to make him a better long-term coach at Oregon, and when you consider the short and long term, is the best result for us as fans of the Ducks.
I believe the majority of the media is quite wrong about the 2016 season for Oregon, and just how good coach Helfrich is becoming for the University of Oregon. It will be a rare role considering the recent success of Oregon, but I think the Ducks will wear the "underdog" tag just fine this year and surprise millions.
"Oh how we love to learn about our beloved Ducks!"
Charles Fischer  (FishDuck)
College Football Analyst for FishDuck.com
Eugene, Oregon
My friends - we are in a massive site conversion process to highlight and feature more than 240 analyses over the last five years, and we will ultimately return to video analysis, as well.  In the meantime – I WILL be writing an article about every ten days, so DO check in and see some of the dandies I've got brewing in me. If you haven't, DO sign up for the newsletter so that when we begin the new format we have you on board with the new articles and analysis. THANKS.  (FishDuck)
Top Photo by Craig Strobeck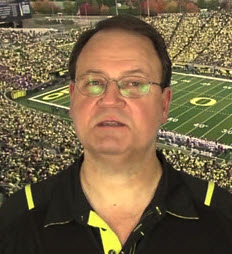 Charles Fischer has been an intense fan of the Ducks, a season ticket holder at Autzen Stadium for 35 years and has written reports on football boards for over 23 years. Known as "FishDuck" on those boards, he is acknowledged for providing intense detail in his scrimmage reports and in his Xs and Os play analyses. He and his wife Lois, have a daughter Christine, reside in Eugene Oregon, where he was a Financial Advisor for 36 years and now focuses full-time on Charitable Planned Giving Workshops for churches and non-profit organizations.
He does not profess to be a coach or analyst, but simply a "hack" that enjoys sharing what he has learned and invites others to correct or add to this body of Oregon Football! See More…
FishDuck Has New Off-Season Schedule and see the OUR BELOVED DUCKS Forum!
FishDuck articles will now be on Monday-Tuesday-Wednesday only during the off-season, and then we will go back to seven days a week during the football season beginning in August.
We will have some occasional guest articles later in the week, but the hottest Oregon football information will be posted in the OBD forum!
The Our Beloved Ducks Forum (OBD) is where we we discuss the article above and many more topics, as it is so much easier in a message board format over there.  At the free OBD forum we will be posting Oregon Sports article links, the daily Press Releases from the Athletic Department and the news coming out every day.
Be a part of the forum and stay caught up!  When you wish to post there, do know that you are protected just as you were on FishDuck. Join us on the free forum right here!
Our 33 rules at the free OBD Forum can be summarized to this: 1) be polite and respectful, 2) keep it clean, and 3) no reference of any kind to politics. Easy-peasy!
OBD Forum members….we got your back.  No Trolls Allowed!