It was great to hear that the Oregon Athletic Program finished the highest ever in the Learfield Directors Cup standings at tenth place, yet in the middle of the announcement by UO Media we saw something that really stood out; Oregon finished first among all schools having the same number of sports available for the ninth straight year!
How does that work? The Directors Cup takes the top ten sports for each gender and adds up those points, thus Oregon having only 19 total sports is leaving a lot on the table compared to Stanford who has 33 funded sports among both sexes. The award is based upon the complete athletic program, adding the Mens and Womens top ten sports each, and that is where you begin to question the entire process.
Points are awarded equally for all sports and the winner of Rifle or Skiing gets the same 100 points that a National Champion in Football or Mens Basketball gets; there is a feeling of equality that agrees with that purist notion … but is it realistic? Don't we as fans give much greater weight to winning in Baseball over Water Polo?
As a publisher of when this site was in the top 1% in the world for all hits in a year, I can tell you that readership/interest corresponds with attendance of the sport. For example, Football has 59,000 attending versus 12,000 max capacity in Basketball, versus 3,500 max coming to baseball at PK Park – and that is about the same level of interest we get from the fans. The purists would argue that equal point values need to be awarded for the Olympic sports, hence this whole discussion becomes very subjective.
But, wait – isn't there a competing award for total Athletic Department excellence? Yep, it's the Capital One Cup - and they have a different approach to scoring with different results. They break it into Mens and Womens categories, with the Ducks (as of June 3rd) in seventh place for the Men, and tied for 18th with Notre Dame and Oregon State in the Womens division. (Gawd, say it isn't so!)
The Capital One Cup awards different points for different sports with 60 points coming to the national champion for each sport in one group, and 20 points going to the NC of another group, with each group having points awarded down the scale of how a team finished. It begins to apply an emphasis upon fan interest that I like, but why separate awards? You don't split athletic programs into Mens and Womens … it is THE athletic program at a university. So to me, Capital One did it different – just to be different – without addressing the reality of what the award should be.
Oh, brother … so – who really has the best program?
You can safely say that the big schools (Ohio State) do well, and the schools that have permanent endowed funding (such as Stanford with their 33 sports) will always be up there.
I think both Cups are fatally flawed, as you must address the athletic program in it's entirety without breaking out separate gender awards. You should award higher point totals for fan interest, and that means that football should be given a lion's share of emphasis because of its importance to fans, and because it funds the majority of the entire athletic programs at most universities. Give 100 points to non-revenue sports winners, but 400 points to the Mens Basketball Champion, and 800 points to the Football Champion.
Yep … the SEC is going to love that, but to me it represents reality as to what is important to the fans being served the sports by the Athletic Departments. It also reflects the reality of funding at our major sports/education institutions. Oregon would still score highly in most years, but there would be different outcomes in the standings from year-to-year. I can imagine the outcry of giving football too much importance again versus the other sports, but again to me? It's reality.
Sometimes, like Trump, I need a good scolding for how I'm thinking, but this FishDuck is interested in listening to alternate viewpoints and won't lie in my responses like Hillary, and thus would truly like to read the opinions of others – about the Cups, not politics. (I had to have a little fun jabbing both sides)
How should the athletic programs be judged?
Charles Fischer  (FishDuck)
College Football Analyst for FishDuck.com
Eugene, Oregon
Top Photo by Gary Breedlove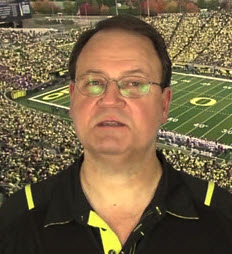 Charles Fischer has been an intense fan of the Ducks, a season ticket holder at Autzen Stadium for 35 years and has written reports on football boards for over 23 years. Known as "FishDuck" on those boards, he is acknowledged for providing intense detail in his scrimmage reports and in his Xs and Os play analyses. He and his wife Lois, have a daughter Christine, reside in Eugene Oregon, where he was a Financial Advisor for 36 years and now focuses full-time on Charitable Planned Giving Workshops for churches and non-profit organizations.
He does not profess to be a coach or analyst, but simply a "hack" that enjoys sharing what he has learned and invites others to correct or add to this body of Oregon Football! See More…
FishDuck Has New Off-Season Schedule and see the OUR BELOVED DUCKS Forum!
FishDuck articles will now be on Monday-Tuesday-Wednesday only during the off-season, and then we will go back to seven days a week during the football season beginning in August.
We will have some occasional guest articles later in the week, but the hottest Oregon football information will be posted in the OBD forum!
The Our Beloved Ducks Forum (OBD) is where we we discuss the article above and many more topics, as it is so much easier in a message board format over there.  At the free OBD forum we will be posting Oregon Sports article links, the daily Press Releases from the Athletic Department and the news coming out every day.
Be a part of the forum and stay caught up!  When you wish to post there, do know that you are protected just as you were on FishDuck. Join us on the free forum right here!
Our 33 rules at the free OBD Forum can be summarized to this: 1) be polite and respectful, 2) keep it clean, and 3) no reference of any kind to politics. Easy-peasy!
OBD Forum members….we got your back.  No Trolls Allowed!