You would think we are in Seattle with all the Dog-Piling of Oregon fans on the stack of the #Fire Mark Helfrich movement around here. As you all know, I am not in that group, although this site will allow editorials on both sides of this discussion and we have certainly had some juicy articles on that topic lately.
Yet, I notice how these disgruntled fans will be quick to point out issues or perceived shortcomings of coach Helfrich, but you will wait a long time to see any acknowledgement of when something was decided that was brilliant in retrospect, obvious to us fans now but chock full of facts known to only the coaches at decision-time.
Let's go back three weeks when rumors were circulating out of Oregon's practices that Justin Herbert was running with the first team. The usual sidesteps by coaches ensued when asked, and all the fans were incredulous. When the announcement was made to start him, do you remember your thoughts? What I heard from fans was,
"What a desperation move by Helfrich." Or… "Helfrich is exposing him to injury to save his own neck," and "What a way to destroy a young quarterback's confidence."
Yet look what this young man has done already!
He has set the new total yardage record in one game against ASU, and tied the most passing yardage in a game in only his third start? He threw for 73% completion rate on Saturday while throwing a couple passes away to preserve field position and has a 12 touchdowns to 2 interceptions ratio already? My friends, that is just insane.
Remember that this was accomplished behind four redshirt freshmen offensive linemen and Justin has shown some wheels in the running game, if not a bit too much courage for my taste.
Then the morning Register-Guard reports that Herbert's 10 touchdowns in two games has only been done by one other quarterback in the history of Oregon football; any guesses who? (If you chose St. Marcus, you are correct.) Keep in mind that Mariota did it as a redshirt freshman in his ninth and tenth games as a starter while Justin is a true freshman in his second and third start. Unfricken-believable.
Is anybody going to give coach Helfrich credit where it is due? He was right about starting Herbert, as he knew the young man could handle it, learn from the experience and give Oregon a real chance at winning this season – not just "build for the future."
Now, Justin has some things to nail down, such as the long ball, as he puts the fastball mustard into his throw when he gets pumped up with a receiver getting open deep. The long gain for more than 40 yards to Jalen Brown was a positive first step in that direction and the long touchdown pass to Charles Nelson was just sick. Remember – the Grizzled Ol' Coach was telling us that Herbert could throw the deep NFL-outs at Sheldon. He'll get the accuracy down …
Remember when the GOC wrote the article "I know who will be next NFL 1st Round QB from Oregon" and everybody howled at the title? Retired coach Mike Morris knows his stuff, and he saw it in Justin at the open practice just two weeks into fall camp. I guess Lubick and Helfrich knew what they had going into the game with the Huskies … and we fans did not.
Do you still think you know more about offensive football than Mark Helfrich?
Charles Fischer   (FishDuck)
College Football Analyst for FishDuck.com
Eugene, Oregon
Top Photo from John Sperry
Disclaimer: Readers: Every writer on FishDuck.com is allowed to express their opinion in their articles. However, articles do not represent the views of the other writers, editors, coaching consultants, management, or the principals of FishDuck.com.    Charles Fischer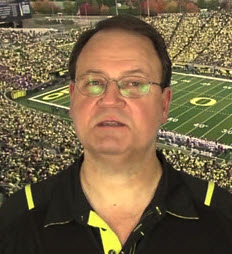 Charles Fischer has been an intense fan of the Ducks, a season ticket holder at Autzen Stadium for 35 years and has written reports on football boards for over 23 years. Known as "FishDuck" on those boards, he is acknowledged for providing intense detail in his scrimmage reports and in his Xs and Os play analyses. He and his wife Lois, have a daughter Christine, reside in Eugene Oregon, where he was a Financial Advisor for 36 years and now focuses full-time on Charitable Planned Giving Workshops for churches and non-profit organizations.
He does not profess to be a coach or analyst, but simply a "hack" that enjoys sharing what he has learned and invites others to correct or add to this body of Oregon Football! See More…
Articles EVERY DAY Again on FishDuck!
Our focus is now on this wonderful Oregon Sports Community, and we will have at least a short article every day to begin the Duck Discussion.
You are also welcome to post other current events or items about Our Beloved Ducks in the comments as well.
Our 32 rules can be summarized to this: 1) be polite and respectful, 2) keep it clean, and 3) no reference of any kind to politics. Easy-peasy!
Take note though, there are NO STRIKES, NO WARNINGS, and NO SLACK given. Violate the rules and you are gone, as this is what the 99% who post superb comments want. (The Ban could be for weeks, months or permanent)
For the 1% out there who do not have impulse-control … as you write your comment that violates our rules, ask yourself, "is this worth getting banned over?"
FishDuck members….we got your back.  No Trolls Allowed!
New at FishDuck? Learn about the site right here!