There is a massive misunderstanding by many Oregon fans concerning the demise of the Ducks' defense, and the origins of that decline. While Oregon has well-documented misses in defensive recruiting, there are many who believe that the Ducks are largely deficient in talent on that side of the ball, thus the poor performance with little hope for reversal anytime soon.
Like last week … that is a crock.
A large part of that misunderstanding revolves around the difference between the skill/talent that players have versus technique. Some fans have asserted that technique issues don't matter since the talent is not there. There could not be a bigger mistake in analyzing this situation than making and believing that assertion.
The best defensive talent in college – former 5-stars – could come together to form an all-star defense and yet they would have have terrible results if they do not use proper technique. Lessor athletes with good technique will beat a more-talented team every time, and we have done that, often, to the bigger power schools in the past. You want an example? (Don't freak out at learning something – it's a quick read.)
Troy Dye makes a ton of tackles because of his skill, not his technique. Above you see the OLB (green arrow above) taking on the outside shoulder of the blocker, as if he is the contain defender guarding the perimeter. Yet the Ducks already had two linebackers (yellow arrows above) headed over to fill gaps and the one farthest above was the contain defender on this play.
If the OLB in the above video takes the inside shoulder of the blocker – he would have blown up the play and jammed the pulling offensive linemen of the Cardinal. The running back would have bounced outside into the waiting arms of the linebacker scraping outside to contain. Instead of a tackle-for-loss we see the running back cut inside and score easily. That was not talent, size, recruiting or attitude. It was lack of technique and knowing his assignment on the play … and that is defensive coaching.
If you want more examples of why Oregon is doing poorly on defense? Check out today's weekly Tuesday Analysis article posted, as I have more mind-numbing proof of the poor coaching taking place on the defensive side of the ball. (Ten minutes reading – max.)
How are Colorado and Utah doing so well on defense? Did they ever have recruiting classes better than ours? It is the teaching of techniques and how the players embrace that instruction that is the difference. One FishDuck.com Coaching Consultant remarked to me that,
"It seems like the players know the proper technique at times, but have not bought into the importance of it on the field."
Yet players at other schools have bought into the importance of using good technique, and we've had our butt kicked by a few of them.
Never done this before …
I was pretty torqued at what I saw of the first half and left a phone message for the GOC concerning what to prepare for in our joint analysis work Sunday morning. I was hot about a couple of plays I saw live and on the replay board at Autzen Stadium. The GOC told me later that his wife (Kim) commented how,
"Charles never calls at halftime – he must be pretty mad!"
Damn right.
I'm MADDER THAN HELL at the waste of talent, the team potential being untapped and losing in such a humiliating way. After the Washington game, I went with long-time FishDuck.com Writer and Editor extraordinaire, Mike Merrell, to our favorite Craft Beer and Sports Bar. (Really good Ambers and IPAs, BTW.) We had to endure watching eight Husky fans nearby toast over-and-over … "to 70 points!"
What is Oregon's potential?
There are plenty of young talented players on the Duck defense that could be better if the technique was insisted upon by the coaches. Oregon would not be a great defense, but my beloved Ducks could be a decent one if the players used good technique consistently and Oregon would be in the games.
If the Huskies can do it, along with the Cougars, Buffaloes and Utes – (and Vanderbilt, for crying out loud!!) … so can the Ducks!
Where is TALENT on defense needed the most?
In the areas of tackling, pass rushing and pass coverage, the elite athleticsm stands out with players like Dye and Brenden Schooler. They can't even use these skills to their maximum, however, without the proper technique. You can have great tackling form, but if you don't have the athleticsm – the skill – to make an open field tackle? It is all for naught … You need both to be great, but it starts with fundamentals.
While Oregon is light on players with elite skills, those skills are wasted without good technique, and the application of proper technique enhances the abilities and amplifies the talents of the elite players. So you improve the performance of the less gifted and expand the impact of the talented with an understanding of techniques?
There is no downside.
Are you at RESIGNATION, yet?
I am fortunate to have some wonderful people who sit in front of me at the Oregon football games and have put up with my running commentary over the years. Rod, Linda and Phil have been very patient listening and laughing at my jokes. In particular, Linda is such a sweetheart with a great upbeat outlook on life. (And she cooks an incredible tailgate.) She was feeling my pain on Saturday and in the spirit of compassion and humor – she asked if I knew about the Five Stages of Grief?
She consoled me with, "Eventually, Charles … you'll get to the final one - resignation – and you will feel better." She meant well, but after pondering the score for a moment I told her,
"That may be true, but for now it is going to take a lot more liquor!"
Charles Fischer   (FishDuck)
College Football Analyst for FishDuck.com
Eugene, Oregon
Top Photo from Video
Disclaimer: Readers: Every writer on FishDuck.com is allowed to express their opinion in their articles. However, articles do not represent the views of the other writers, editors, coaching consultants, management, or the principals of FishDuck.com.  Charles Fischer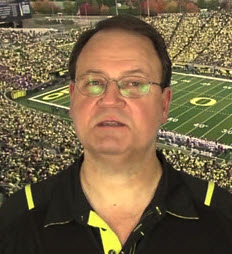 Charles Fischer has been an intense fan of the Ducks, a season ticket holder at Autzen Stadium for 35 years and has written reports on football boards for over 23 years. Known as "FishDuck" on those boards, he is acknowledged for providing intense detail in his scrimmage reports and in his Xs and Os play analyses. He and his wife Lois, have a daughter Christine, reside in Eugene Oregon, where he was a Financial Advisor for 36 years and now focuses full-time on Charitable Planned Giving Workshops for churches and non-profit organizations.
He does not profess to be a coach or analyst, but simply a "hack" that enjoys sharing what he has learned and invites others to correct or add to this body of Oregon Football! See More…
FishDuck Has New Off-Season Schedule and see the OUR BELOVED DUCKS Forum!
FishDuck articles will now be on Monday-Tuesday-Wednesday only during the off-season, and then we will go back to seven days a week during the football season beginning in August.
We will have some occasional guest articles later in the week, but the hottest Oregon football information will be posted in the OBD forum!
The Our Beloved Ducks Forum (OBD) is where we we discuss the article above and many more topics, as it is so much easier in a message board format over there.  At the free OBD forum we will be posting Oregon Sports article links, the daily Press Releases from the Athletic Department and the news coming out every day.
Be a part of the forum and stay caught up!  When you wish to post there, do know that you are protected just as you were on FishDuck. Join us on the free forum right here!
Our 33 rules at the free OBD Forum can be summarized to this: 1) be polite and respectful, 2) keep it clean, and 3) no reference of any kind to politics. Easy-peasy!
OBD Forum members….we got your back.  No Trolls Allowed!