There are things coaches place the most importance on each year for a program to be successful, but watching film is a must when it comes to growth. There is no other sport that relies on film study like the game of football. There is no preparation more important than understanding how to study film or as coaches call it breaking down film.
I can remember preparing for the Kentucky High School 2006 AA State Championship game, where film study played a large role. I began the week having all of the 12 previous games of our opponent determine how we were going to attack. Our opponent typically played a defensive front that had four defensive linemen and four linebackers (considered a 4-4 scheme). The team was extremely athletic, in great condition and most importantly well coached.
Sunday — The football staff spent the entire day breaking down each film based on offense, defense and special teams. This also helped me make a quality scouting report on our opponent.  I was able to identify numbers and position of players of interest that we felt, as a staff, was important.
Monday – We spent most of this film session with players. We reviewed the scouting report and had the players take mental notes on the game film cut-ups created by our staff on Sunday. We then completed a player walkthrough on the practice field of the film we had just analyzed. Each day after practice, coaches would pull their positions and review the game film in a smaller group setting.
Tuesday — A full day of practice for our offensive team and we completed practice with a small defensive walkthrough (again all from film study).
Wednesday — A full day of practice for our defensive team and we completed practice with a small review of offense (again all from film study).
Thursday – We split the day with offense, defense and had a primary focus on special teams.  We had sprinkled in special teams all through the week as well.
Friday — Game day. Player spend time on their own to review film study cut-ups, cramming as if for a social studies class final to ensure they were completely prepared.
Coaches can thank technology for allowing players and coaches to have instant access to study film of their opponents. It becomes a cat-and-mouse game where coaches break down film of a whole season of an opponent just to prepare for a single game. That sounds cumbersome, but the success of the Ducks in the past and the present has relied on a coaches ability to expose the weaknesses of their opponent's players to be prepared for anything.
A phrase that I used on a regular basis as a coach when watching the film with players is "How can they hurt you?" This is merely having players think for themselves during a game situation and how the opponent will maybe align on offense or defense on the attack. Also, this creates a mindset of thinking and playing fast.
Welcome to the digital world
The image to the right is a great example of the technology that Oregon coaches have access to, and their ability to be prepared for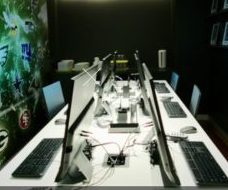 just about anything if the right amount of time is put into watching film. In this room, the time spent can help make or break a scouting report. Preparation is the key to a successful game plan. All coaches and players being on the same page will minimize mistakes. Coaches often discuss the big picture with players, like winning a conference championship or a national championship, but the focus on the little things can create the biggest momentum shift during a game situation.
Wide-angle Video
Here is an example of the Ducks on offense. You can see the widest Oregon State players on the field along with the rest of their defense. This is a view that players and coaches are studying. Each player typically looks at how his defender is playing against him (based on the formation and the play called) and what the assignment for that position will be.
Let's look at a different wide-angle shot. This view on the right is a great one for the coaches to develop a greater understanding of player tendencies. In this case the Ducks are in a spread set and you can set the back judge official standing on the Oregon O, in the far left of the picture. Countless hours of studying this defensive formation helps the overall preparation for staff and players.
End zone angle
The end zone angle is another method to break down film for players and coaches. You can see from tackle to tackle from what many coaches call the "The box." The transparent box from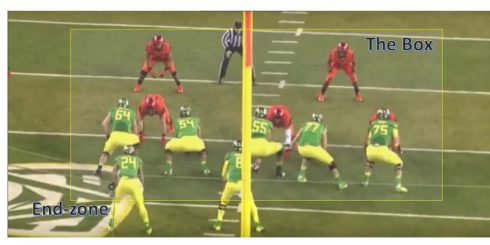 the picture is typically what offensive line coach Mario Cristobal will spend a great deal of his time, studying opponent tendencies, with the Ducks offensive linemen. This also can benefit for running back and the quarterback as there is always a concern for pass protection. The End zone angle can allow coaches to assess pass protection, blocking schemes and rate player quality.
Look at the picture to the left for the ultimate viewing experience for the Oregon Ducks football players. The theater enables the Ducks to break down film together, as well as view the weekly scouting report created by the coaches. The scouting report involves essential opponent information such as: the opposing team's best players, specific offensive and defensive tendencies, overall personnel, important match-ups, potential trick plays and many other components.
The image to the right shows the room where individual position coaches discuss strategy and give  specific directions for the players. This is is great way for players in a smaller setting to focus on their job. While planning practices during the pre-season and regular season, coaches will also break down practice film. As one of my former college football coaches used to say, perfect practice makes perfect performance.
As a second-generation coach, I can remember being a manager on my brother's high school football team. Growing up in Eastern Kentucky, high school football was king and on Friday night the town of Paintsville would shut down to watch the Tigers defend their territory. However, there was much more that went into the game than X's and O's. As a young manager, I learned that on Mondays–the great coach Walter Brugh would put up the projector screen and begin to study film with the football players and coaches using a eight-millimeter reel video. We have come a long way since then, transitioning to VHS tapes, to DVD's and now with video being entirely digital.
Film study is the most underrated component of football preparation and one that Coach Taggart and his staff will spend extensive time on to create an exciting 2017 season for the fans. Keep the hours spent in mind when walking into Autzen, as you will see them pay off in touchdowns!
Jeremy McGuire
Oregon Football Analyst for CFF Network/FishDuck.com
Lebanon, Kentucky
Top photo credit: from Video
In his tenure as football coach he has had the opportunity to coach in 5 State Championships, winning 3. As the high school game continued to change, Jeremy began to study the Ducks style of play beginning in 2007. Jeremy took some time away from High School football to begin a career in School Administration. Football was never far from his thought as he continued to help local High School Coaches with game planning. After spending 5 years in School Administration Jeremy had the opportunity to start a Graphic Design program and get back into High School full time. Relocating to Lexington, Ky. Jeremy began coaching at Frederick Douglass High School. Jeremy was able to fulfill another goal by coaching his own son who is also a member of the Douglass Broncos. Over the past two years, this 6A powerhouse has a record of 20-4 winning back to back District Championships. His career has come full circle as he is now calling the defense for the Freshman team that is made up of over 30 players each of he 2 years he has coached. He also stays with his roots and works with skills players on offense for JV and Varsity. There are over 95 players on the Frederick Douglass team where Core values are at the center of their success.
As a former Campbellsville University quarterback, and over 20 years of coaching experience he is excited to provide football analysis with the FishDuck team.
For Football Season: FishDuck Back to Seven Days a Week!
I had to shut down the daily articles on July 20th because I could no longer work the extra 3 to 12 hours per week of certain managerial/editorial duties. (beyond the usual ones with FishDuck)
I've had a blast writing without those duties, and now, due to a new agreement with the writers, I can announce that we will have articles seven days a week again. I wish to thank the writers publicly for their graciousness in coming to a solution, as now I still do not have do those extra duties with our agreement, and meanwhile the writers are back having fun creating articles as I am.
Everybody is happy! So below is the new schedule through football season:
Monday: Mr. FishDuck
Tuesday: Darren Perkins
Wednesday: Joshua Whitted & Mr. FishDuck
Thursday: Coach Eric Boles & Alex Heining
Friday: David Marsh
Saturday: Mr. FishDuck (GameDay Baby!)
Sunday: Jordan Ingram
A couple of writers could not join us as they have new projects in their lives, and cannot write for anyone at the moment–but perhaps we will see them back later.
Things rarely work out so well for all parties in agreements, but this time it has and truly….everyone wins!
Our 33 rules at FishDuck can be summarized to this: 1) be polite and respectful, 2) keep it clean, and 3) no reference of any kind to politics. Easy-peasy!
FishDuck members….we got your back.  No Trolls Allowed!