My friends, we have a new feature on Fridays before each game this season where former Oregon player and retired college head coach Ken Woody, will take an example out of his book "After Further Review" to help fans learn a little more football and know what to look for, and where, in the upcoming game. I have his new book, and have learned quite a bit from it and would recommend it to Oregon fans at all levels. Charles Fischer
One of the fundamental aspects of winning and losing football games often goes without notice by most fans since it takes place in the trenches, away from the football. The leverage an offensive line has will determine blocking success, and the techniques new offensive line Mario Cristobal is coaching are slightly different than former coach Steve Greatwood stressed with Oregon's version of the spread offense. In years past, the Ducks' offensive line was primarily a zone blocking team moving laterally on the line of scrimmage. Cristobal's offensive line will set itself with a lower pad level and will incorporate power blocking techniques fans will recognize from Stanford's running game the past ten years.
It will be fascinating to watch for in the opener against Southern Utah. The philosophy is different from last year; incorporating power to go with the flash and dash that have made the Ducks the leading rushing team in the Pac-12 nine of the past ten years. Here's what to look for in Oregon's offensive and defensive linemen's use of leverage.
In short….
"Leverage means that when you're blocking, tackling, or fighting off a blocker–the 'low man' wins."
It is simple physics; the "low man," or player, gets to use his legs, while the higher player can only use his arms. Legs are stronger than arms and win that battle every time. Coaches refer to it as "pad level," and it is a point of emphasis with the new coaching staff at Oregon.
Last year the Cardinal put 52 points on the Ducks in Autzen, and a big reason was their superior leverage on both sides of the line of scrimmage. This has been a deciding factor in all of Oregon's losses to Stanford in the past ten years. Above is the beginning of a play and you can see the Stanford players' pad level compared to the Ducks.'

The Cardinal linemen have superb footwork, and it shows in the play above. Usually being too high or lacking force originates with the player's stance (not enough knee bend) and his first two steps out of that stance.
This leverage can only be achieved if the player has contacted the opponent with the correct force and angle. If he engages an opponent while standing up, he will be flat footed, and have little force–nor can he get low enough in time before contact.
Above is an example of how Stanford had lower (better) pad level in their defensive line than Oregon's offensive line.
Lower pad level (above) means that the Cardinal can use their legs to drive through blocks and make a play.
Coaches who have spoken with the Oregon coaches, and attended their clinic last spring remarked on the priority Coach Mario Cristobal has placed on the leverage, strength and power  of his offensive linemen. There may be some time for Oregon's O-Line to adjust after being drilled in different blocking methods and offensive culture, although the players have enthusiastically taken to the opportunity of "coming off the ball," having the opportunity of driving defenders backwards and perhaps making a "pancake block." This will also help the Ducks' front line defenders lower their own pad level as they compete with Cristobal's offensive line on a daily basis in practice.
As a fan–take your eye off the ball and watch the Ducks in the trenches for a few plays and see if there is a difference in the pad levels, the leverage of both the offensive and defensive line. It will be a decisive impact on the results of Coach Willie Taggart's first season.
Retired Coach Ken Woody
Eugene, Oregon                                                                                                                                                                                                                                                                               Top Photo by Craig Strobeck

Ken Woody is a former Fox Sports football commentator who played defensive back, receiver and kicker for Oregon from 1966 to 1970. He coached college football for 18 years, including stints as an assistant coach at Oregon, Washington, Washington State and Utah State, and was head coach at Whitman College and Washington University-St. Louis.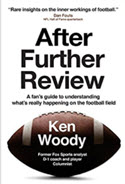 Buy the book to learn from Coach Woody, or give a gift of football.

Fantastic FishDuck.com Discussion!
The comments below the articles have drawn raves from so many, and I do appreciate your emails about it.
Be a part of it!  If you check the rules, you will see that I protect everyone from the trolls.  So, there is no downside!  We want to hear from all readers on all the articles, so jump in Ducks, (as the water is fine) and be a part of this tremendous community!