After disposing of Utah 41-20, the Ducks travel to Seattle and take on highly-ranked Washington, boasting a defense that is coming of age. Defensive coordinator Jim Leavitt and a staff of energetic, talented coaches have transformed a corpse into a fighting defense worthy of respect in the Pac-12. Despite inexperience, and in some instances limited athleticism, coaches have molded the various personalities and talents into an effective defense that can win. Says Leavitt, "If we can force turnovers. You can't win if you don't get turnovers."
In the example above, demonstrating great recognition and disciplined defense, the Duck defensive line penetrates Utah's front, staying square to the line of scrimmage with all players spotting the ball; they are not just playing off the offensive line attempting to zone block them. Linebacker Troy Dye (No. 35 above) steps with the Ute's flow, but immediately sees the reverse coming back the other way. Dye takes a great angle, anticipating where the runner is heading, and sets himself with outside leverage, forcing the runner back inside. In an athletic move, Dye takes the runner down himself with a textbook tackle.
Here, you can see the athleticism of defensive end Jalen Jelks (No. 97 above) as he swim moves the offensive tackle trying to block him and chases the ball. Justin Hollins (No. 11) maintains his position as does Dye, who forces the runner back towards nose tackle Jordon Scott (No. 34), who fought off blocks and stayed alive in his gap responsibilities.
In the example above, the Duck defense shows more of the athleticism and teamwork that coach Leavitt has put together with a defense that is getting better by the game. In a passing situation, Oregon shows a three-man rush with a twist that shocks Utah's quarterback. Right defensive end Justin Hollins (No. 11) rushes and ties up three blockers: the tackle, guard and running back, all who struggle with Hollins' strong effort. Henry Mondeaux (No. 92 above), moved to nose tackle to get a taller body rushing, ties up the center and right guard, leaving the right tackle alone to block Jalen Jelks (No. 97), which is a mismatch. The tackle loses Jelks and literally tackles him.
The surprise is linebacker Jonah Moi (No. 3 above), lined up in the middle, who waits for the front defenders to attract pass blockers to the three pass rushers and then shoots around the right end to sack the quarterback. This is the kind of sophisticated defense a coordinator who has been around the NFL is bringing to Oregon. It also speaks to the teamwork involved in good defense: the big guys up front have to tie up offensive linemen to keep the linebackers free from blockers to get the glory.
Oregon coaches felt the Ute's were light on the defensive flanks, and with some speedy running backs to choose from, attacked Utah from the start of the game. In this example, offensive line coach Mario Cristobal adds some misdirection to the equation. The Ducks center and left guard (above) pull to the left, and the Utah right tackle and inside linebackers are influenced away from the ball.
The defensive end to the run side sits, playing the quarterback, and Braxton Burmeister hands the ball off to the running back Taj Griffin (No. 5 above), who outruns the linebackers. Oregon's wide receivers did a great job of downfield blocking in this game and gave the running backs cutback options nearly every time.
It should be noted that this play might have been a called handoff, without a read from the quarterback. Chip Kelly used to say that often plays that looked like zone reads were not actually read by the quarterback; sometimes the coaches just want to hand the ball off based on what defense they expected to see. Coaches also need to give the quarterback a break from making crucial decisions play after play.
There are some things about good defense that often go unnoticed by the average fan. In the example above, leading 7-0, the Ducks defense brings an all-out, seven-man blitz on third and goal, after Burmeister and Royce Freeman fumbled at Oregon's 21-yard line. Henry Mondeaux (No. 92 above) rushes and ties up the guard and center while a safety comes from the second level through the center-guard gap.
The Utes are able to adjust and block the safety, but Mondeaux drops back, helping on underneath pass coverage. He jumps with his hands in the air and, combined with the heavy pressure on the quarterback, forces a bad pass that falls incomplete—a play that saved a touchdown.
Good pass defense begins at the line of scrimmage and Mondeaux's play at the goal line was an excellent example of the teamwork and hustle the defense demonstrated throughout the game. In Utah's next drive (after the Ducks added a field goal), defensive back Ugochukwu Amadi stripped ex-Duck (current Ute), Darren Carrington, of a completed pass and ran it in for a score that put Oregon ahead 17-3.
The stats don't reflect it, but when the defense stops the offense on downs, those too are turnovers, giving the Duck D four in the game. An upset in Husky Stadium this Saturday will depend on a similar performance. For this shoot out, the Ducks are bringing some bullets of their own.
Retired College Coach Ken Woody
Eugene, Oregon
Top Photo: Eugene Johnson
Ken Woody is a former Fox Sports football commentator who played defensive back, receiver and kicker for Oregon from 1966 to 1970. He coached college football for 18 years, including stints as an assistant coach at Oregon, Washington, Washington State and Utah State, and was head coach at Whitman College and Washington University-St. Louis.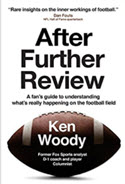 Buy the book to learn from Coach Woody, or give a gift of football.
"Every Oregon fan should have a copy to learn from as I do." Charles Fischer

"I learned football working under many great coaches, among them Len Casanova, Jerry Frei, John Robinson, Bruce Snyder, George Seifert,and Ron Stratten at the University of Oregon, Jim Owens at the University of Washington and Jim Walden at Washington State University. Most of my coaching experience was on the offensive side of the ball with quarterbacks, receivers and kickers although as a head coach I coached defensive backs, linebackers and offensive line.
I achieved my first goal of being the youngest head coach in college football at the age of 26 and throughout my career in coaching and outside of it, as a journalist and broadcaster, have experienced how exciting and gratifying it is teaching the game to others."
BIG, BIG Changes at FishDuck!

Mr. FishDuck, where are all the daily articles?
Answer: Go read this article right here for learning about the transitory period we are in.
Do sign up for our Newsletter to let you know when Mr. FishDuck has written an article and for his spicy not-for-public commentary. Newsletters begin in mid-October!
Do Register to Post Comments! 
It takes a minute is all, and will allow us to continue our amazing discussions of Oregon Sports. Register here… 
Our 29 rules about posting a comment at FishDuck can be summarized to this: 1) be polite and respectful, 2) keep it clean for the grandchildren reading, and 3) no reference to politics!
Easy-Peasy!