Boy have I got egg on my face. I sincerely believed the facts I presented last night, as reasons for Willie Taggart to stay at Oregon but alas, it was not to be. Was it simply moving back to Florida, was it family as Brent Pennington brought up, or was it money? Unlike the ending of his article–I have a very hard time accepting Taggart's decision and wishing him well. This was actually worse than what Lane Kiffin did to Tennessee years ago…
One big problem I have is assuming honorable conduct from those who appear to be honorable. Silly boy–I can feel Biff rapping me on the head and telling me, "don't be so gullible McFly!" I'm a sucker for the "honor gambit" every time, but unfortunately I was not the only one fooled and only slightly affected compared to the students, parents and so many others by the narcissism of Willie Taggart.
When Lane Kiffin was hired by the 'Vols … they had a good idea of the type of man they had, but if he could win games–all is overlooked. Once he dumped them a year later they were outraged but really not surprised, as this is what these type of people do.
The biggest issue for me is how Coach Taggart presented himself as a man of integrity, of "keepin' it real." This honesty was a big part of his image, his persona to the media and to the players. He convinced players and parents that moving across the nation was the best thing for them–but not himself when given an opportunity to return to Florida. When I think of all the people affected by this … how can he honestly sit in the plane to Tallahassee and know that he did the right thing for everyone?
Can he and his family really feel good about this?
In my view, what Willie Taggart did was worse; he did not come across as slimy, but as one who was trustworthy. Yet in the end–he did a "Kiffin" and consequently hurt Oregon immeasurably on so many levels. I have not yet considered all the impact that could occur as the shock is hitting me the way it hit most of you yesterday.
But I was not the only one. In today's Oregon press conference AD Rob Mullens stated that,
"When we sat down a year ago, there was a pledge for a commitment and a vision for the long term, and it was one that we believed. We've (Oregon) done everything to support our commitment, and I'm disappointed."
The disgust that everyone feels is a buzz-kill on all the recruiting news, and keeping up with the Ducks. It will hurt ticket sales, merchandise revenue, the Oregon websites and so many more will have their lives and livelihoods affected by this. Leaving after three years–sure, but dumping Oregon after one year?
Another gut-punch is learning that Jim Leavitt is going to the Seminoles as well. His disclosure was a tie to Kansas State if the HC job became available, but not Florida State. Does Mr. Mullens have to get a new disclosure for ties to other schools that would make you leave early as a coach? How insane is this?
Opposing Coaches are Gleeful…
I am not referring to the Pac-12 coaches seeing Oregon get hosed; I am referring to the Florida schools (Florida, Miami, Central Florida, South Florida) who have juicy dirt to spread on Taggart and his honesty.
"Did you hear what he did to Oregon? Hey … this guy is good. He fooled Phil Knight! He is very convincing, but you cannot believe a word he says. Ask the Florida parents and players he sucked into freezing their butts off in Oregon!"
And it is all true. You don't leave a job like this after one year unless you are Lane Kiffin–or Willie Taggart.
I am sure you have heard about players de-committing from their verbal pledges to sign with Oregon and the true fallout will not be known for a while. Offensive lineman Christopher Randazzo shared in his Tweet his dismay that had to have been much worse than anything we feel. In his case he has remained a verbal pledge for now, but the entry of other schools into his and other players' recruitment might change things.
This staff recruited hard, and made big promises and bold statements; how ridiculous that must all appear now, and how silly the many players and parents feel for believing Willie Taggart. That is how Oregon is now being seen by high school community currently.
Boy did we all get fooled.
Charles Fischer    (FishDuck)
Eugene, Oregon
Top Photo: FishDuck.com Video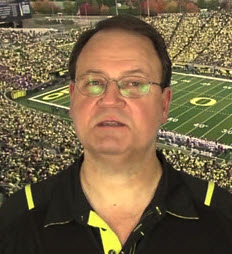 Charles Fischer has been an intense fan of the Ducks, a season ticket holder at Autzen Stadium for 35 years and has written reports on football boards for over 23 years. Known as "FishDuck" on those boards, he is acknowledged for providing intense detail in his scrimmage reports and in his Xs and Os play analyses. He and his wife Lois, have a daughter Christine, reside in Eugene Oregon, where he was a Financial Advisor for 36 years and now focuses full-time on Charitable Planned Giving Workshops for churches and non-profit organizations.
He does not profess to be a coach or analyst, but simply a "hack" that enjoys sharing what he has learned and invites others to correct or add to this body of Oregon Football! See More…
FishDuck Has New Off-Season Schedule and see the OUR BELOVED DUCKS Forum!
FishDuck articles will now be on Monday-Tuesday-Wednesday only during the off-season, and then we will go back to seven days a week during the football season beginning in August.
We will have some occasional guest articles later in the week, but the hottest Oregon football information will be posted in the OBD forum!
The Our Beloved Ducks Forum (OBD) is where we we discuss the article above and many more topics, as it is so much easier in a message board format over there.  At the free OBD forum we will be posting Oregon Sports article links, the daily Press Releases from the Athletic Department and the news coming out every day.
Be a part of the forum and stay caught up!  When you wish to post there, do know that you are protected just as you were on FishDuck. Join us on the free forum right here!
Our 33 rules at the free OBD Forum can be summarized to this: 1) be polite and respectful, 2) keep it clean, and 3) no reference of any kind to politics. Easy-peasy!
OBD Forum members….we got your back.  No Trolls Allowed!