Why an article about "Husky Hate?" Isn't the intensity between Husky and Duck fans almost genetic now, like cats and dogs? I cannot alter my near irrational hatred of the Huskies and have written about it many times, yet trying to examine it is difficult since I am clearly clouded by the emotion. Yet what is the major "thing" (as kids would say these days) about the Huskies from the past that raises the ire of Duck fans? I would label it as the Husky fans' misplaced arrogance unsupported by actual performance.
The hubris of the Huskies is astonishing, and is only transcended by their own inability to recognize how silly it appears to other fans, even beyond the Ducks. Let's take a quick look at factual data from the past to help us and these deluded souls of purple understand how ludicrous their 'tude is and why it has become an enjoyable point of ridicule toward the fans of Washington.
Cheating to win becomes common theme in the history of Washington's success, and it even began back in 1916 when a Husky head coach actively lobbied to have Oregon players declared ineligible in order to pave the way for the Washington to play in Pasadena instead of Oregon. It was disgusting and, fortunately, did not work, as Benzduck has chronicled it better than anyone else.
Washington now turned their dirty dealing to the football field in the 1926 game, as a Husky player came off the bench to tackle Oregon's Bobby Robinson at midfield while he was returning an interception for a would-be touchdown, doing his best Kenny Wheaton impression almost 68 years earlier to the day. (Thanks to Brian Libby for the reporting).
Fast forward to the vote for the 1948 Pacific Coast Conference's bid to the Rose Bowl. That year, Oregon and California tied for the crown, and the conference needed to vote to determine who would receive the Rose Bowl invitation. It was unanimously assumed all the California schools would vote together for the Bears, while all the Pacific NW schools would vote together for Oregon. But Washington stunned everyone by voting for California and convinced Montana to do the same, which sent the Bears to the 1948 Rose Bowl instead of the Ducks, thus ratcheting up the hatred within this growing rivalry.
To prevent an Oregon win in the 1962 game in Seattle … Washington fans rushed the field and tackled Oregon wideout Larry Hill as he was attempting to catch what would have been the game-winning play, causing the game to end in a tie. After the game, Oregon Head Coach Len Casanova's remark was …
"I don't know if it made any difference, but you can't run a very good pass pattern with 1,800 kids on the field."
The Huskies like to howl about their supposed National Championship in 1991, but fail to mention how all the conference and NCAA sanctions came cascading down upon them in 1992. This means that the success of that 1991 season was truly achieved by widespread and rampant cheating, and, had it been an actual NCAA title, it would have been stripped just as USC's was from the Reggie Bush scandal. But back then, it was a USAToday/CNN poll (the AP voted Miami No.1), which are not reversed, and, consequently, the Huskies still claim their half of a championship.
Only the Huskies will engage in such cheating to win and actually be proud of it later …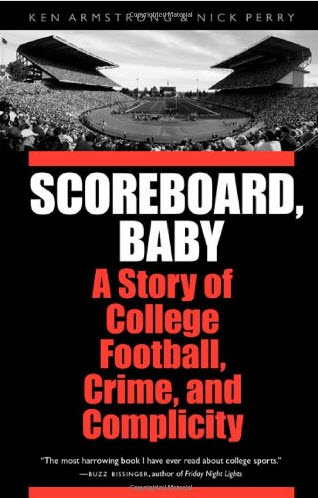 Husky head coach Jim Lambright's campaigning for the 1995 Cotton Bowl — when we had beaten the Huskies head-to-head in a game I personally witnessed at Montlake — was beyond revolting, and like 1916 … unsuccessful. Could you possibly imagine Oregon head coach Mike Bellotti doing that after the Ducks, Huskies and Beavers tied for the conference title in 2000, with the tiebreaker and Rose Bowl going to the Huskies? Would our coach ever be so loathsome?
Yet that trip to Pasadena was tainted beyond what anyone knew at the time. Washington head coach Rick Neuheisel cheated with players in a manner beyond anyone's worst fears, and it was detailed in the book, "Scoreboard, Baby: A Story of College Football, Crime and Complicity" and covered again by one of our historical friends, Benzduck.
The despicable behavior of Neuheisel didn't end there, as he told his team to walk back out onto the Autzen turf to dance and stomp on the "O" in 2002 after the game. I could not believe my eyes. They did so for nearly a half-hour, and the next year Neuheisel had the team assembled to "woof" at the Ducks as they left the field following a loss to the Bastard Huskies.
Wouldn't you think that a dozen years of bitter losses to Oregon would have mellowed the fans from the north and caused them to be a bit more reflective and philosophical about the rivalry and the cycles of change with the programs? No, their hubris is so deeply ingrained that you would think that a two-year "streak" of wins were twenty. Yet, in the last 20 years, the success of Oregon is undeniable, and they are still the only Pac-12 team with a National Playoff win and the only conference team to be in 'Natty twice in the recent decade.
If any fans had the right to be arrogant, it would be Stanford or UCLA with an incredible 116 NCAA titles across all sports. They lead the nation by a wide margin and, admittedly, swamp the 33 titles that our beloved Ducks have. Yet unbelievably, the Huskies only have eight national titles and none in men's sports!
"I guess that you have to cheat in a massive fashion if your men cannot compete at championship levels."
I still marvel at how Oregon Coach Robert Johnson amassed more National Championships (11) between Track & Field and Cross Country in three years (2014-2017) than the Huskies achieved in their 129 years! Perhaps the Huskies should wait to pop-off until they've won their first men's national championship in any sport? (And please, let's not make it another 129 years).
Husky Hubris … based on unfounded results and performance enhanced by dishonest tactics. It is why we fight.
Charles Fischer   (FishDuck)
Eugene, Oregon                                                                                                               Top Photo from Video

Remember our Rules of Commenting…
"No insults, no belittling, no name-calling and even a back-handed compliment will be deleted. Do it a second time and the comment will be deleted and you will be banned/blacklisted from commenting on this site."
We are the only Oregon site that insists upon civilized discussion; state your case as we welcome all opinions and discussions, and enjoy learning from each other, but we must be polite to each other.
Charles Fischer has been an intense fan of the Ducks, a season ticket holder at Autzen Stadium for 35 years and has written reports on football boards for over 23 years. Known as "FishDuck" on those boards, he is acknowledged for providing intense detail in his scrimmage reports and in his Xs and Os play analyses. He and his wife Lois, have a daughter Christine, reside in Eugene Oregon, where he was a Financial Advisor for 36 years and now focuses full-time on Charitable Planned Giving Workshops for churches and non-profit organizations.
He does not profess to be a coach or analyst, but simply a "hack" that enjoys sharing what he has learned and invites others to correct or add to this body of Oregon Football! See More…
FishDuck Going to Articles on Monday and Tuesday Only…
Our off-season schedule begins, and we move from publishing articles seven days a week to Mondays and Tuesdays only. Same great group of writers, and we will have an article on other days on occasion.
The Our Beloved Ducks Forum (OBD) is where we we discuss the article above and many more topics, as it is so much easier in a message board format over there.  At the free OBD forum we will be posting Oregon Sports article links, the daily Press Releases from the Athletic Department and the news coming out every day.
Our 33 rules at the free OBD Forum can be summarized to this: 1) be polite and respectful, 2) do not tell anyone what to think, feel or write, and 3) no reference of any kind to politics. Easy-peasy!
OBD Forum members….we got your back.  No Trolls Allowed!