The Oregon Ducks are playing in their 12th bowl game in the last 13 years. Their opponent is the Michigan State Spartans of the Big Ten. The Redbox Bowl is on New Year's Eve at noon PST. The two teams have split the last six meetings. This game will break the tie.
So, who's the winner gonna be?
First, let's discuss the likely scenario for the Spartans to prevail: ball control, clock management, taking care of the pigskin and special teams play.
The Spartan defense is a top-ten unit nationally. They will absolutely control the line of scrimmage against the Ducks. When they bring LBs or a free safety, havoc and busted plays will ensue. They want to play Oregon in the proverbial phone booth, mauling, grinding and wearing the O-line down. The constant pounding of running backs and receivers will be noticeable as the game grinds on into the fourth quarter. They will put us in third and long repeatedly to their advantage.
To put it mildly, MSU is offensively challenged. From October on, they were impotent, never getting close to 30 points. A 20-10 score  will be right in their wheelhouse. Busted coverage by our defense will allow tight ends and backs out of the backfield for numerous chances for big chunk gains. Third and short with ball control will wear our D out and burn the clock, as they bludgeon Oregon into submission.
If the past is prologue, Oregon's blown coverage assignments will allow at least one touchdown for Sparty, and turnovers will contribute another score. They won't need many points to win this game; 24 will be plenty if the above scenario plays out. They are well coached and rarely beat themselves.
Finally, it is a pipe dream to think even for an instant that we can "out Big Ten a Big Ten team." Stanford, our conference "Big Ten team," could not do it in the last Rose Bowl they played against Michigan State. We cannot play that style and win either, so …
Here is how the Ducks can beat Sparty.
Start fast — no more deer in the headlight starts, please. Use an unbalanced line to confuse them. Be where they are not, on offense. Misdirection runs, toss sweeps. And, how about this concept: run a draw play! Hasn't been tried once this season. Incredible, huh? That play call keeps linebackers from cheating.
Put an O-lineman in the backfield on short yardage situations, then pass out of it with an opposing nine-man front. Try a halfback pass or even a flanker reverse. Speed in space will hurt Sparty. Pass on first down. No more runs on first and second down and then have to pass on third down. Mix it up, fellas!
Waggle Herbert out of the pocket to negate their pass rush. Vary max protect at times for completions to move the chains. Have a designated hot receiver when they blitz. Don't drop any more passes either, receivers. It will cost dearly.
When throwing it deep with single coverage, make it catchable, not three yards over the receiver or tossing it out of bounds where it cannot be caught. This is the 13th game, and these miscues are inexcusable. Try the shovel pass to the running back sliding inside on a quick hitter. Flood them with 5-receiver set and an empty backfield. Think outside the box!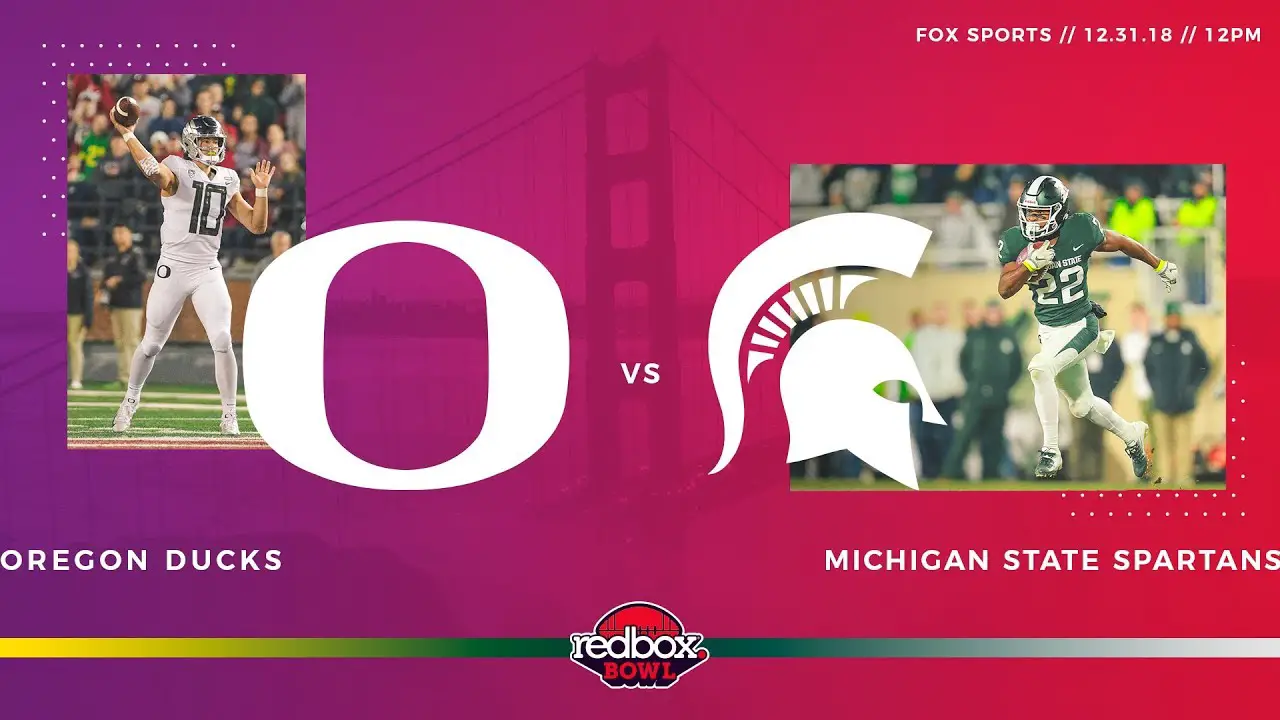 On defense, jam the running lanes and force them to beat us in the air. They simply are not capable (unless our back end goes brain dead again) of beating us through the air. Make them one-dimensional. Use a 4-3 or 4-4 scheme, with a single safety over the top, to stuff the run. Put five D-linemen in on occasion, to disrupt blocking for Sparty's O-line. Confuse them repeatedly with scheme.
Use scripted plays for the first several series, then make needed adjustments. We are sick and tired of wasting 15 to 20 seconds every play to get the call in. Plus, it's boring, inefficient and time consuming, and also just poor coaching. No turnovers or stupid penalties in critical situations, and Sparty goes down. Preparation, practice and perfect execution wins this rented movie! It is why we pay to see the right stuff from Redbox.
Thirty points should be enough to beat the boys from East Lansing. If some of us can see these variations in schemes and plays needed, surely our coaches (who are among the highest paid in the conference) can create some confusing options. Hope is not a game plan, however some of these options are certainly worth implementing.
Come on, Ducks! Make it happen by beating the Spartans. A statement win is a fabulous way to end the year and the season!
Steven E Smith
Powell Butte, Oregon
Featured Photo: Tom Corno

Bob Rodes, the FishDuck.com Volunteer editor for this article, is an IT analyst, software developer and amateur classical pianist in Manchester Tennessee.
Steve Smith was born and raised in Eugene, and has been attending games since 1957, and is a long time season ticket holder. He is an avid student of Duck football and basketball and is a retired Dentist currently living in Central Oregon. He loves his family, Ducks, golf, Toastmasters, his church community and this site.
Daily Articles NO MORE on FishDuck
Please see this explanation right here… and to learn about the impact of FishDuck on so many–check the summary right here.  I will be writing intermittently on FishDuck (as the mood strikes) this summer, and a couple of times a week during the football season, and those articles and analyses will be posted here on FishDuck, and the links to my articles will also be available on the new site PuddleHuddle, when it is up soon.
New at FishDuck? Learn about the site right here!
Our 32 rules can be summarized to this: 1) be polite and respectful, 2) keep it clean, and 3) no reference of any kind to politics. Easy-peasy!
Take note though, there are NO STRIKES, NO WARNINGS, and NO SLACK given. Violate the rules and you are gone, as this is what the 99% who post superb comments want. (The Ban could be for weeks, months or permanent) For the less than 1% out there who do not have impulse-control … as you write your comment that violates our rules, ask yourself, "is this worth getting banned over?"
FishDuck members….we got your back.  No Trolls Allowed!