Oh baby, the day is here! How will the Ducks do in the final LOI signing date for the 2019 class? Let's keep track and I will be writing in the comments when Oregon has received the official letters of intent so we can take a big sigh of relief when the three we know of come in. Let's take a quick look again…
Verbals the Ducks are Expecting to Sign…
DJ James of Spanish Fort, Florida: this is a must for this recruiting class due to his extraordinary skills and considering the thin line-up at cornerback. Cross your fingers that his LOI comes in!
Jamal Hill of Morrow, Georgia: a hard-hitting safety that SEC teams wanted and finishes out the needs in the defensive backfield for the 2019 class.
Logan Sagapolu of Lehi, Utah: a massive center who will become the future anchor on the offensive line that coach Mario Cristobal highly covets.
All three of these recruits are available because they did not sign with the team they verbally committed to originally. The lesson is — any recruit who verbals to you but does not sign during the December period is now everyone's target out there for the February signing. Nearly all the players Oregon is signing or pursuing were someone else's verbal at one time.
A High Percentage Signing that could Help the Ducks…
Kristian Williams of Memphis, Tennessee: a defensive tackle who can help secure the depth needed at defensive line for years to come as he grows into a run-plugging role.
Long-shots on the "Wish-List"
Kyle Ford of Orange, California: an uber-talented wide receiver who could help Oregon.
Puka Nacua of Orem, Utah: the offensive MVP of the Polynesian Bowl is one the Ducks would love.
Ismael and Rodney Sopsher of Amite, Louisiana: a massive all-star Nose Tackle and his JUCO DE brother.
When you consider the sparse number of recruits left after the December signing and the intense competition for them, it illustrates the importance of signing all your verbals in December as Coach Cristobal and staff achieved in the early signing period.
A clutch performance by the coaches then, now puts the Ducks in a position of "adding the icing" to a superb class already assembled.
As the big day progresses–let's discuss this class in the comments!
Charles Fischer   (FishDuck)
Eugene, Oregon
Top Photo by Craig Strobeck

Natalie Liebhaber, the FishDuck.com Volunteer Editor for this article, works in the financial technology industry in Bozeman, Montana.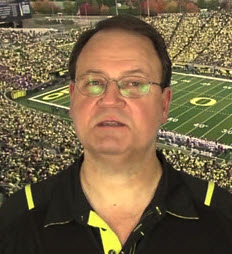 Charles Fischer has been an intense fan of the Ducks, a season ticket holder at Autzen Stadium for 34 years and has written reports on football boards for over 23 years. Known as "FishDuck" on those boards, he is acknowledged for providing intense detail in his scrimmage reports and in his Xs and Os play analyses. He and his wife Lois, have a daughter Christine, reside in Eugene Oregon, where he was a Financial Advisor for 36 years and now focuses full-time on Charitable Planned Giving Workshops for churches and non-profit organizations.
He does not profess to be a coach or analyst, but simply a "hack" that enjoys sharing what he has learned and invites others to correct or add to this body of Oregon Football! See More…
The Our Beloved Ducks Forum is GONE and NOT Returning
The forum took more of my time during the day than I ever could have imagined. And dealing with the Rule-Breakers is a hassle I no longer wish to engage in.
Comments below the articles at FishDuck.com will be available as long as people behave.
Our rules have not changed and can be summarized to this: 1) be polite and respectful, 2) keep it clean, and 3) no reference of any kind to politics. Easy-peasy!
Articles will be published on: Sunday-Monday-Wednesday-Friday.