Oregon's now-former offensive coordinator Marcus Arroyo took us on a bit of roller coaster ride this year.  While his offensive play-calling was at times boring and predictable, at others it looped and zoomed with the excitement of a Disneyland thrill ride.
Extending his tenure to coach the Rose Bowl game, Arroyo came California Screamin' out of the chute, engineering a first-drive touchdown. The train then came grinding to a slow crawl, as Wisconsin's stout defense disrupted Arroyo's intent to go aggressive, before taking us all for a final, unexpected loop.
Up The First Slope Before The First High
In the play above, Justin Herbert completes a simple pass to Hunter Kampenmoyer in the opening series of the game. Nothing fancy here. But pay attention to the wide receivers: they get no separation at all, a glaring weakness Arroyo has been forced to compensate for throughout the year.
The play above is one of the ways Arroyo commands respect for Oregon's downfield passing game. A play action, fifteen-yard inside pass to wideout Juwan Johnson in open space, where he can run wild. So, how did Wisconsin prepare for this type of play?
In the play above, Arroyo dials up a "go to" play to generate some momentum. Wisconsin blitzes, and CJ Verdell can't reach safety Eric Burrell quickly enough, resulting in a sack. Wisconsin's defensive coordinator Jim Leonhard crafted three such timely blitzes and stunts, each one of which ended an Oregon drive. At this point in the game, Arroyo's offense felt like a Jungle Cruise through stagnant waters.
Turning Weaknesses into Strengths
But what about our vaunted, Thunder Mountain running game?
It's third and two in the play above. Arroyo trusts his highly-touted linemen to execute. Shane Lemieux gets beat, however. Arroyo follows with that oft-criticized fourth and one play (not shown here). I'll let Hythloday1 explain the running game in his film analysis of the game, but once again it failed to get us the first down.
So Why Did We Win The Game?
I'm going to show you why I always say Arroyo knows what he is doing. Arroyo sticks to his plan, because he trusts his lineman to eventually win the battle in the trenches, as Lemieux does on this critical closing drive of the game.
The first play above is certainly less than thrilling, with Verdell running up the middle and Lemieux losing another battle. Arroyo then uses a variation of the first video of this article on the second play above. This time, Mycah Pittman gets open to move the chains. On the third play above, Arroyo lets his lineman do the talking, and Lemiuex wins this time.
Marcus Arroyo In a Nutshell
Those three plays set Wisconsin up beautifully for Oregon's final thrill ride. On third and three and just over a minute remaining, over 16 million viewers expected Arroyo to take the air out of the ball and run clock.  The prior pass to Pittman had Wisconsin looking inside for passes, and Wisconsin's secondary was set up to protect against the RPO slant route. When Arroyo sent Kampmoyer inside to occupy the strong safety, the linebackers hesitated to determine if Herbert was going to hand off or pass. The linebackers then attacked inside when they realized what Herbert was doing, giving Johnson ample room. Arroyo gave us all one final thrill, calling the quick hitch to Johnson, who accelerated like a Matterhorn Bobsled twenty-five yards past the first-down marker.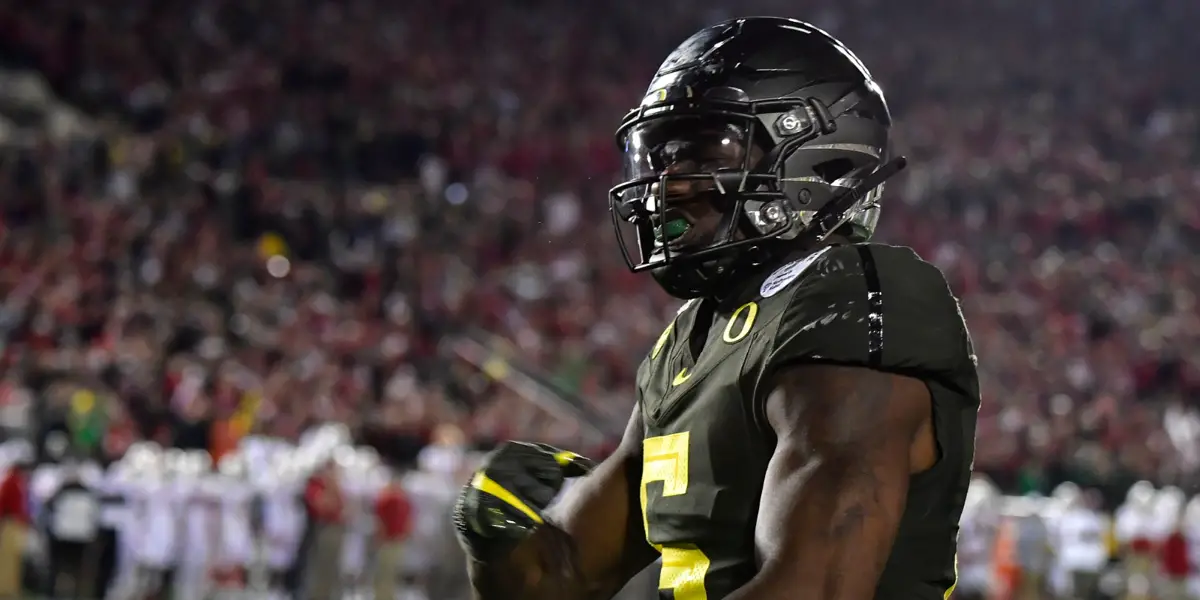 Teams prey on Oregon's running game because, with Oregon's receivers unable to consistently separate, Arroyo can't rely on explosive fade patterns or deep post patterns to back defenses off the line of scrimmage. Arroyo designs effective, short-to-medium passes that maximize the relative strengths of each individual. Arroyo's Thunder Mountain running plays and Jungle Cruise inside routes, while not heart-palpitating, create the "space" need for the more thrilling, Space Mountain-type rides.
You might call this season "Mr. Arroyo's Wild Ride," but Marcus Arroyo's adaptive play design helped Oregon win many critical games this year, including the Rose Bowl.
Mike West                                                                                                                                   Top Photo by Tom Corno
Las Vegas, NV


Phil Anderson, the FishDuck.com Volunteer editor for this article, is a trial lawyer in Bend Oregon.

Mike West was born in Southern California and moved to Eugene in 1976. He attended his first Oregon Football game and watched USC maul the Ducks 63-0. Despite the disappointment he became an avid fan after watching the Rich Brooks show every Sunday in the Fall. After graduating from the University of Oregon, he returned to Los Angeles and enjoyed a career in Customer Service for two decades. Thrilled at the ascent of Oregon Football, he attended both Rose Bowls, living just five miles from the stadium. He now lives in Las Vegas.
Daily Articles NO MORE on FishDuck
Please see this explanation right here… and to learn about the impact of FishDuck on so many–check the summary right here.  I will be writing intermittently on FishDuck (as the mood strikes) this summer, and a couple of times a week during the football season, and those articles and analyses will be posted here on FishDuck, and the links to my articles will also be available on the new site PuddleHuddle, when it is up soon.
New at FishDuck? Learn about the site right here!
Our 32 rules can be summarized to this: 1) be polite and respectful, 2) keep it clean, and 3) no reference of any kind to politics. Easy-peasy!
Take note though, there are NO STRIKES, NO WARNINGS, and NO SLACK given. Violate the rules and you are gone, as this is what the 99% who post superb comments want. (The Ban could be for weeks, months or permanent) For the less than 1% out there who do not have impulse-control … as you write your comment that violates our rules, ask yourself, "is this worth getting banned over?"
FishDuck members….we got your back.  No Trolls Allowed!