I don't care what sport is it … it is the damn Huskies, and I want our Ducks to beat them. Over this weekend–the Baseball team is hosting Washington at PK Park and Oregon started last night with an 8-0 victory behind another stunning pitching performance from North Eugene's Robert Ahlstrom.  Above is a photo of a play at home plate years ago where the Duck is safe because the ball was knocked out and the Husky landed on his keister. Gotta love it!
To watch the games over live stream, go to this page and scroll down to the Washington game on either Friday, Saturday or Sunday and click on "Watch" and enjoy! You can also download the app on your cell phone and watch the game from anywhere as well.
Over all the sports over all the years … which victory over the Huskies was sweetest to you, and why?
Charles Fischer   (Mr. FishDuck)
Eugene, Oregon
Top Photo by Gary Breedlove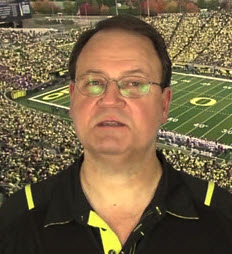 Charles Fischer has been an intense fan of the Ducks, a season ticket holder at Autzen Stadium for 35 years and has written reports on football boards for over 23 years. Known as "FishDuck" on those boards, he is acknowledged for providing intense detail in his scrimmage reports and in his Xs and Os play analyses. He and his wife Lois, have a daughter Christine, reside in Eugene Oregon, where he was a Financial Advisor for 36 years and now focuses full-time on Charitable Planned Giving Workshops for churches and non-profit organizations.
He does not profess to be a coach or analyst, but simply a "hack" that enjoys sharing what he has learned and invites others to correct or add to this body of Oregon Football! See More…
FishDuck Has New Off-Season Schedule and see the OUR BELOVED DUCKS Forum!
FishDuck articles will now be on Monday-Tuesday-Wednesday only during the off-season, and then we will go back to seven days a week during the football season beginning in August.
We will have some occasional guest articles later in the week, but the hottest Oregon football information will be posted in the OBD forum!
The Our Beloved Ducks Forum (OBD) is where we we discuss the article above and many more topics, as it is so much easier in a message board format over there.  At the free OBD forum we will be posting Oregon Sports article links, the daily Press Releases from the Athletic Department and the news coming out every day.
Be a part of the forum and stay caught up!  When you wish to post there, do know that you are protected just as you were on FishDuck. Join us on the free forum right here!
Our 33 rules at the free OBD Forum can be summarized to this: 1) be polite and respectful, 2) keep it clean, and 3) no reference of any kind to politics. Easy-peasy!
OBD Forum members….we got your back.  No Trolls Allowed!