One benefit of being an ol' Greybeard, is being able to compare current events concerning Our Beloved Ducks with so many episodes of Oregon Football in the memory banks. Watching the Spring Game brought to mind something from over a quarter-century ago, and while it was quite entertaining–it also created even more questions for me. Is the 561 net passing yards to be believed? Is this a shift in the offense, or simply a Spring Game emphasis to shore up one aspect of the offensive attack?
Or this just a head-fake?
Back in the 1990s, Oregon State had Jerry Pettibone as their head coach and he installed the Wishbone Offense with the Beavers. In one of their Spring Games, OSU passed the ball for a crazy amount–like over 600 yards! I recall watching it and wondering if this was a new balance to the Oregon State offense, or even a major shift? (No Charles, that came with Dave Kragthorpe later)
Oregon Defensive Coordinator Nick Aliotti was asked about it at that time in a television interview and he laughed it off. "We know who they are and what they do," was the gist of his remarks among the guffaws he was fighting back. He implied it was an attempt at a head-fake to the rest of the conference and Nick wasn't buying it. And it turns out Nick was completely correct…
We learned in a recent article from yours-truly that the top three teams in college football averaged 45 points over the last three years, with 2020 National Champion (LSU) and 2021 winner (Alabama) averaging 48 points per game. The lesson is that you have to pass the ball more often, (and skillfully) to score a boatload of points … because it takes that many points to win at the highest level.
Is this the beginning of Mario Cristobal's progression as a coach, or is he trying to pull a Jerry Pettibone on the rest of the conference? As I stated, it generates more questions from me than was answered from the Spring Game, but I must say I like so much of what I saw. What are your thoughts about the direction of the offense?
"Oh, how we love to ponder about Our Beloved Ducks!"
Charles Fischer   (Mr. FishDuck)
Eugene, Oregon
Top Photo from Pac-12 Video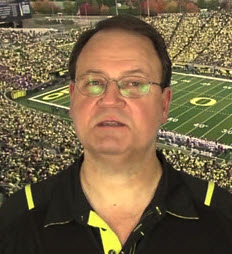 Charles Fischer has been an intense fan of the Ducks, a season ticket holder at Autzen Stadium for 34 years and has written reports on football boards for over 23 years. Known as "FishDuck" on those boards, he is acknowledged for providing intense detail in his scrimmage reports and in his Xs and Os play analyses. He and his wife Lois, have a daughter Christine, reside in Eugene Oregon, where he was a Financial Advisor for 36 years and now focuses full-time on Charitable Planned Giving Workshops for churches and non-profit organizations.
He does not profess to be a coach or analyst, but simply a "hack" that enjoys sharing what he has learned and invites others to correct or add to this body of Oregon Football! See More…
Articles EVERY DAY Again on FishDuck!
Our focus is now on this wonderful Oregon Sports Community, and we will have at least a short article every day to begin the Duck Discussion.
You are also welcome to post other current events or items about Our Beloved Ducks in the comments as well.
Our 32 rules can be summarized to this: 1) be polite and respectful, 2) keep it clean, and 3) no reference of any kind to politics. Easy-peasy!
Take note though, there are NO STRIKES, NO WARNINGS, and NO SLACK given. Violate the rules and you are gone, as this is what the 99% who post superb comments want. (The Ban could be for weeks, months or permanent)
FishDuck members….we got your back. No Trolls Allowed!