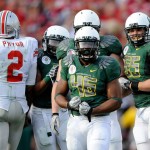 Every defense needs an enforcer. Michael Clay was emerging as that guy for the Oregon Ducks. Through two games he had 21 tackles, tied for the most in the conference. The Ducks have played two more since without him, and he's still fourth on the team in total stops, just behind Stuckey, Boyett and Pleasant, just ahead of Kiko Alonso.
photo right: Clay played in the Rose Bowl as a true freshman, tatooing Terrelle Pryor for a one-yard loss in the second quarter. (Photo by Kevork Djansezian/Getty Images)
They asked Spencer Paysinger when he left who might emerge to replace the departing senior leaders on the Oregon defense, and he pointed to Clay and Terrance Mitchell as future stars. The Ducks lost a lot of football intelligence, work ethic and preparation when Paysinger and Casey Matthews went to the NFL, and the agile Clay moved to the top of the depth chart. In spring, Nick Aliotti called him the leader of the defense. After two years as the principle sub in Oregon's rotation, Clay seemed ready for the role. In April, he told Ken Goe of the Oregonian, "There is a big hole to fill, but we're ready to fill it up as soon as possible," he said. "We'll be out there banging heads to fill it."
The 5-11, 225-pound linebacker started fast with the Ducks. As a true freshman he volunteered to be the longsnapper to get on the field, something he'd had experience with at Bellarmine Prep in San Jose. He wound up seeing a lot of time on defense, recording 32 tackles as a true freshman, including five against Washington State. Sophomore year he was the principle backup, again to the two veterans, and finished 3rd among the linebackers with 42 tackles.
In the  2010 Civil War he was the up man in punt formation. On 4th down deep in their own territory Chip Kelly called a fake punt, and Clay rumbled 64 yards to break open the game, looking like a fullback. He added an interception and two tackles as the Ducks clinched a trip to the National Championship. In Glendale, Clay had four solo tackles.
Clay's a smart football player, honorable mention for Academic All-Conference last year. He runs sideline to sideline as well as anyone on the defense, tops among the linebackers in testing with a time of 3.96 in the shuttle. Through the first two games he looked like he was putting it together as a football player, hitting and making plays, along with veteran junior safety John Boyett, giving the defense its backbone and identity.
Then in the last play of the third quarter of the Nevada game, with the Ducks leading by 42, he injured his ankle. He left the field on crutches, a big ice bag on his lower leg, the ankle hanging limply and a little to the side.
Chip Kelly doesn't disclose injuries. There's no prognosis, no update and no information. The intention is to protect the players and avoid aiding or comforting the opponent, and it's a firm policy. But Clay has missed two games now, and his teammates talk like they have to find a way to compete without him. Dion Jordan told Rob Moseley and the rest of the writers,  "What happened to Mike was a big loss," junior defensive end Dion Jordan said. "But I'm pretty sure we've got enough people that's ready to get in there and play. We do a lot of rotating and things like that, so somebody else is going to have to come in and fill his shoes, because he's down. Somebody else is going to have to pick it up."
Out two weeks and still in a boot, it's likely to be a high ankle sprain, and that's bad. It's an injury that doesn't heal quickly, taking several weeks and even months, sometimes even requiring surgery. Dez Bryant, LaDanian Tomlinson and Colt McCoy have had them in the NFL. Ask your buddy who drafted them on his fantasy team that year. It's a long rehab, because it involves tearing of the ligaments that join the tibia and the fibia together, the two major bones of the lower leg. For an athlete who depends on quickness and agility side-to-side, there's no playing through it or rushing the return. Michael Clay could be out most of the season, or even all of it.
As Jordan suggested, the someone is going to have come in and fill his shoes. It puts pressure on three guys to become playmakers in a hurry. Dewitt Stuckey, a fifth year senior who's waited for his chance, Kiko Alonso, the big, talented middle linebacker who's lost last season to disciplinary issues after a promising freshman year, and true freshman Rodney Hardrick, a few months removed from the senior prom and the hot lunch line in high school, now a principal reserve in the Oregon linebacker platoon, the role Clay played last year.
In limited duty Hardrick has show promise, already with two tackles for loss and good technique in the open field. He's a form tackler with good intensity, a quick study singled out by his high school coach for his work ethic as a student of the game, agile enough to play tight end as well as linebacker in high school.
Stuckey and Alonso combined for 19 tackles in the Arizona game, Stuckey with a big stick on Wildcat quarterback Nick Foles, driving him to the ground with a helmet in the chest for one of Oregon's five sacks. The defense got a scary grade from Oregon fans after giving up 480 yards of offense and 31 points, but these two showed progress in the middle. They were active and assertive. They made plays and ranged the field.
Oregon's defense will get better this year. The rotation is filling in, and players like Troy Hill, Erick Dargan, Brian Jackson, and Derrick Malone have gotten big chunks of valuable playing time and the opportunity to grow into supporting roles. Cliff Harris is back, and Cal may be the game he starts showing the talent and instincts that got him on all those All-America teams.
Meanwhile, for Michael Clay, the PRICE is right. PRICE is an acronym for protection, rest, ice, compression and elevation, and it's the only way to heal a tender, painful ankle injury. The Ducks will have do their best without him for several games.
These are articles where the writer left and for some reason did not want his/her name on it any longer or went sideways of our rules–so we assigned it to "staff." We are grateful to all the writers who contributed to the site through these articles.
FishDuck Has New Off-Season Schedule and see the OUR BELOVED DUCKS Forum!
FishDuck articles will now be on Monday-Tuesday-Wednesday only during the off-season, and then we will go back to seven days a week during the football season beginning in August.
We will have some occasional guest articles later in the week, but the hottest Oregon football information will be posted in the OBD forum!
The Our Beloved Ducks Forum (OBD) is where we we discuss the article above and many more topics, as it is so much easier in a message board format over there.  At the free OBD forum we will be posting Oregon Sports article links, the daily Press Releases from the Athletic Department and the news coming out every day.
Be a part of the forum and stay caught up!  When you wish to post there, do know that you are protected just as you were on FishDuck. Join us on the free forum right here!
Our 33 rules at the free OBD Forum can be summarized to this: 1) be polite and respectful, 2) keep it clean, and 3) no reference of any kind to politics. Easy-peasy!
OBD Forum members….we got your back.  No Trolls Allowed!