For the fans of Philadelphia—know that I hate this, but there are some important elements to Charles "Chip" Kelly you should know about and his unique offense.  I am taking time from our own bowl coverage to continue our mission at FishDuck.com, and that is inform and help other fellow fans learn about the Chip Kelly Oregon Spread Offense and what makes this coach so unique.
There are over FIFTY instructional videos and FORTY text articles with diagrammed screenshots on this website that can help you learn more about this amazing offense, but knowing the time component involved—let me give you some referrals that will bring you up to speed inside an hour of viewing and reading.  (Sportscasters have been so wrong in their coverage of Chip over the past two years, and why they didn't take this hour…is a mystery)  Go to the right margin and look for links that tell you what this site is about (What is a FishDuck?) and why we no longer use video.  Our visitor numbers have exploded whether we use video or text explanations….
Go to the grey tabs above and click on "Directory" and then scroll down and look for the Tutorials about the Oregon Spread Offense.  There are two coaching clinic articles (White Papers) Chip presented to NIKE Coaching Clinics in the past and they are quite interesting and help with his fundamental concepts.
http://fishduck.com/2012/04/coach-chip-kelly-explains-the-oregon-spread-offense/
http://fishduck.com/wp-content/uploads/2012/07/Chip-complete.pdf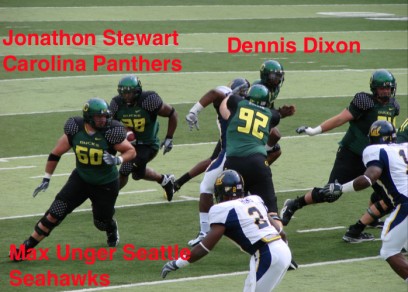 Some of that reading gets dry, and that is no surprise since it is geared to fellow coaches.  Want to learn about the offense through quick examples and then see real game action set to music?  Heck yeah!  These videos are the Flagship features of what FishDuck.com was founded upon.  We have grown into other areas since, but these videos are currently viewed between 30,000 to 40,000 times a month from fans, players and coaches around the world.  (I know…I get the emails)  This is a FUN way to learn, and I will admit right up front that I am not a coach or former college football player, but simply someone who wanted to learn and I got help from a ton of coaches in making these.  ENJOY!
The first one below is one of two primary plays that Chip bases his offense upon and is the cornerstone play, and the most watched video of all.  Play special attention as to WHY the Zone Read works well, in particular the shifting of blocking responsibilities.
http://fishduck.com/the-chip-kelly-oregon-spread-offense-analysis/understanding-the-oregon-offense/first-fish-tutorial-the-inside-zone-read/
If you're going to learn about the Inside Zone Read, then you better get versed on the other fundamental play of the Oregon offense, the Outside Zone Read. This was filmed at the home studio and includes our silly dog (Abbie) in this video.  I am not a video professional, just someone who wants to share and have fun with this while learning.
http://fishduck.com/the-chip-kelly-oregon-spread-offense-analysis/understanding-the-oregon-offense/a-fish-video-tutorial-the-outside-zone-read/
What play has scored the most touchdowns and made close first downs for Oregon?  The Power Play, and this is a key play in every NFL offense.  It is fun to note that many of the examples come from a USC game where Chip obliterates Pete Carroll's Trojans.  (Now at Seattle Seahawks) Chip has adapted the Power Play (Below) to the Spread Offense and made it deadly.
http://fishduck.com/the-chip-kelly-oregon-spread-offense-analysis/understanding-the-oregon-offense/a-fish-video-tutorial-the-power-play/
Oregon has the most unique Triple Option play on the planet; we do not attack one side of the LOS with three option choices like a Veer, but BOTH sides of the LOS and stretch the defense into big gaps.  Which way will the play go?  Unknown!  Since it could go either way (like we're straddling a fence) I call it Oregon's Straddled Triple Option below.  This play has also been altered in key games, thus recognizing the basic look is essential.
http://fishduck.com/the-chip-kelly-oregon-spread-offense-analysis/understanding-the-oregon-offense/a-fish-video-tutorial-oregon-straddled-triple-option/
Chip Kelly made a shift in his formation after the first four years of running the offense; he still runs the plays above in their old formation, but more often now runs them out of the new Universal Formation discussed below.  You still need the foundation videos above to understand the key components, but this video will help for what you will undoubtedly see on the field next fall.
http://fishduck.com/2012/04/fish-tutorial-5-chip-kellys-new-universal-formation/
Everybody knows about his up-tempo style and Spread Offense, but what few notice is his game planning for opponents.  Watch (below) how he outfoxes Stanford's (Now 49er coach) Jim Harbaugh.  This is one of my most entertaining, yet informative videos.
http://fishduck.com/2012/05/how-chip-kelly-game-plans-for-opponents/
There are two other videos that show examples of unique game plans below this one in the Directory and I highly suggest viewing them for good insight into how Chip will throw an opponent off balance.  This game plan below by Chip put more points on USC this year than any Pac-12 game…
http://fishduck.com/2012/11/chips-winning-game-plan-against-usc/
Does Oregon have a fifth fundamental play?  It would have to be the play featured in this video, and one that I thought would be the most important of the season.  It is a variation of the old Green Bay Sweep, with a touch of Chip Kelly Zone Read.  (Below)  It was also created with new video equipment and software for a better overall production value.
http://fishduck.com/2012/08/oregons-most-important-offensive-play/
Want more?  In two hours you can master the Chip Kelly Offense…it IS that easy!  Below are variations and additions to the offense that he augmented his playbook with this last season.
http://fishduck.com/2012/12/chip-kellys-strangest-play-ever/
http://fishduck.com/2012/10/chip-kelly-brings-a-fullback-to-the-oregon-spread-offense-wsu/
http://fishduck.com/2012/10/oregons-new-double-power-play-pounds-the-dawgs/
http://fishduck.com/2012/10/oregon-surprises-asu-with-a-new-power-read-play/
This has been a blast learning about Chip's Spread Offense and watching it evolve over the last two seasons.  There is no other site that has a team of analysts that have studied the components of this offense to the degree that we at FishDuck.com have.  Beware of the majority of journalists on this, as most in the college game have missed crucial parts in their telecasts, and NFL analysts had me laughing recently at some of their comments.  Sources to turn to are a couple of coaching websites, the infamous Chris Brown of Smartfootball.com, and FishDuck.com as the only really reliable sources for information about the Chip Kelly Oregon Spread Offense.
I can be reached at Charles@fishduck.com or 541-915-4541 (Media only please as always) for further consultation.  We have a forum for fan discussion (see grey tab above) and welcome comments below.  For Media outlets the FishDuck.com team stands ready to help.
If Chip Kelly stays at Oregon—it will be a most fascinating time to continue study of his emerging offense.  If he takes on the NFL challenge, then watching the integration of his coaching principles and offense will be one of the most entertaining projects to witness in our football lifetime.  We at FishDuck.com look forward to learning more regardless of the direction this exceptional coach takes.
Charles Fischer

Visit our Sister Site, the new Our Beloved Ducks Forum!
This new forum that is unlike anything you have ever seen between our civilized discussion, (NO TROLLS ALLOWED) complete directions available for easy usage and the delivery of all Oregon Sports News.  (That last part is a gradual transition up to Spring Football)
Go to the forum where we delve into today's article and so many more topics and the nuances within them over there.
We have a topic post begun over at the forum for today's article; it is a free site and offers more opportunity for the exchange of opinions on all the Oregon Sports subjects of the day. (And there are some very cool features!)
An introduction article about the new forum is right here.